Twelf ish Night by Launch Pad Theatre at Craigdarroch Castle. A review.
Twelf ish Night by Launch Pad Theatre (March 28-April 14 2018) is light and lively, as bubbly and effervescent as the glass of champagne served at the entrance to elegant and stately Craigdarroch Castle.
Launch Pad has hit upon an incredible formula for their "Castle shows" which also include a creepy late October production (to coincide with Hallowe'en) and the nostalgic Christmas radio plays (Radio, Mistletoe and My Man Godfrey).  Bard in the Ballroom (Twelf ish Night is the third in the series after The Charming of the Shrew in 2016 and Much (Less) Ado About Nothing in 2017) is Shakespeare abridged, cut to an hour, in the beautiful surroundings of one of Victoria's most significant historic properties.  Patrons have clearly embraced the esthetic of the evening and come attired for a wonderful night out; they represent a wide range of ages and on opening night were from as far away as the Mainland and the Okanagan—clearly this is no longer just Victoria's well-kept secret.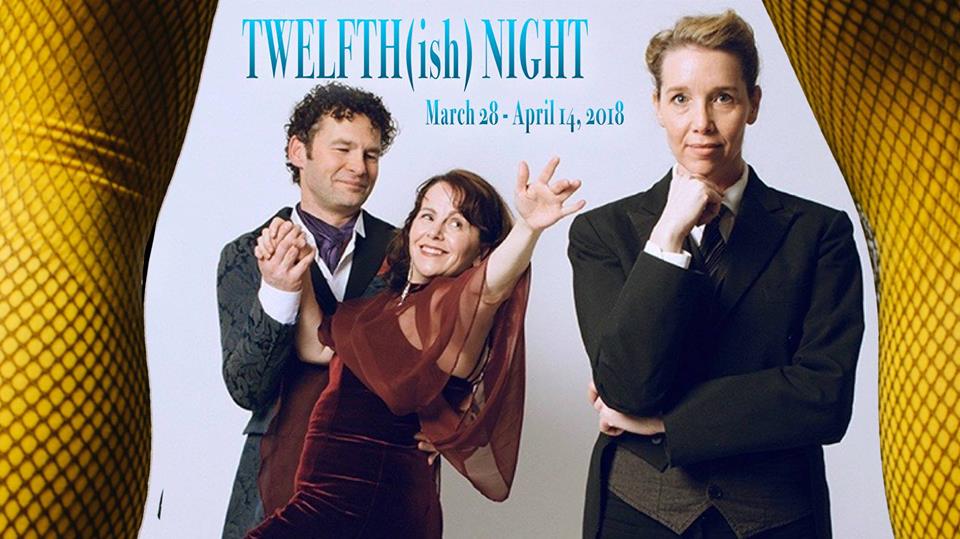 David Radford, Connie McConnell and Christina Patterson. Photo: Derek Ford
For the first half-hour guests are free to wander the first floor rooms, while entertained by the players on various musical instruments, before mounting the 87 steps to the fourth floor ballroom (be sure to take a glimpse from the landing windows—the views are some of my favourites).  Under the vaulted ceilings is one of Victoria's most intimate theatrical spaces—harkening back to a time when family and friends assembled often to entertain themselves, long before film, radio and television captured our collective attention.
Directors David Radford and Christina Patterson have judiciously trimmed the play from two-and-a-half hours to one and retained all the main plot points through careful narration and explanation by Griffin Lea (also playing Sebastian).
Emma Dickerson's mastery of foley special effects is clear from the onset as a violent storm breaks out at sea (with impressive rumbling thunder and cracking of mast)  Despite the best efforts of captain Antonio (Graham Croft) the ship founders and identical twins, Viola (Patterson) and Sebastian (Lea) are separated—each fearing the other dead.
Landing in Illyria, uncertain as to the political climate, Viola disguises herself as a young man Cesario and is swiftly employed by raffish Duke Orsino (Radford) as his messenger to the fair Olivia (Connie McConnell) who he is trying unsuccessfully to woo.  Dripping black and despair in equal measure, McConnell conveys the sorry state of a woman who has lost both father and brother in rapid succession, and wants little to do with a charming yet persistent suitor. Bedevilled by her guests, partiers Sirs Toby Belch (Cam Culham) and Andrew Aguecheek (Jared Gowan), she finds herself smitten more by the messenger than the message.
Comedy is highly accentuated by the troupe with exaggerated gestures and bold body language; coupled with a clear understanding of Shakespeare's rich language, and the ability to convey it with masterful command makes for a most entertaining hour.
Interactions between Sir Toby, Aguecheek and Olivia's maid Mariah (also McConnell in a delightful cockney brogue) as they plot to undo the pompous steward of the household—Malvolio (Ian Case)—are uproarious.  Case portrays the height of fussy propriety and rectitude—it isn't only the inhabitants of Olivia's house who wish to see him taken down a notch.  His turn as a simpering fool—cross-gartered and smiling as he's convinced of Olivia's interest—is hilarious.
Craigdarroch's multiple nooks, crannies and staircases allow for much coming and going, hiding and spying.  There's a delightful impishness to the trio's machinations and to Lea's narration–he enters as one character to re-appear moments later as another.
As the Fool, Croft is debonair and quick—adept at philosophical contortions that give pause and upend the fair lady's thinking.
Patterson and Radford have an easy and forthright style in their interaction and dalliances—Radford bemused at the young upstart; Patterson gruffly trying to assert her masculinity while falling deeply in love.  The majority of the ensemble has been performing together for years—McConnell and Lea are felicitous new additions—their esprit de corps is evident in ready banter and comic routines that play to the edges of possibility, eliciting every laugh imaginable from the audience.  Dickerson's highly synchronized sound effects add immeasurably to the humour and are essential to the action of the fight scenes.
Martha Burd has a long history of collaboration with the company—her costumes are truly works of art, lush in detail and decoration reminiscent of an era when craftsmanship was highly prized, and cut with a precision that allows for vigourous movement by the players.
Despite mistaken identities, misplaced romantic aspirations and simmering grudges Twelf ish Night reaches a swift and happy ending as the company capers joyously to the final song, ending a wonderful evening in perfect style.
Adapted and Directed by David Radford & Christina Patterson (Tara Firm and the Lunar War Chronicles, Much (Less) Ado About Nothing), this fresh take on Twelfth Night stars the husband and wife team of Patterson (Lieutenant Nun) and Radford, and a powerhouse cast of Victoria actors; Ian Case (Giggling Iguana Theatre Co), Griffin Lea (Rocky Horror Show, Hedwig & the Angry Inch), Connie McConnell (The Girl in the Goldfish Bowl), Cam Culham (The Prisoner of Second Avenue) Jared Gowen & Graham Croft (Arkenham Abbey). With FOLEY by Emma Dickerson, and costumes designed by Martha Burd, to woo you in this waggish and witty farce.

It's not Shakespeare as it would have been seen. It's Shakespeare as it should have been seen!
Twelf (ish) Night by Launch Pad Theatre
March 28-April 14 2018
Bard with Bubbly Wine $36 | Bard with Bubbly Water $32
Castle members will receive a discount on ticket price.
Craigdarroch Castle. 1050 Joan Cres. Victoria, BC.
Doors open at 7:20pm
Tickets: thecastle.ca or 250-592-5323
*Please note, the Castle boasts a beautiful oak staircase containing 87 stairs to the 4th floor ballroom with no elevator or ramps.
For more information, or to contact Launch Pad Theatre company visit www.launchpadtheatre.com
Disclaimer: I was offered a complimentary ticket to attend Twelf ish Night