Much (Less) Ado About Nothing by Launch Pad Theatre at Craigdarroch Castle. A review.
Launch Pad Theatre has hit upon a winning formula with their abridged and breezy versions of Shakespeare at Craigdarroch Castle–Bard in the Ballroom.  Their latest, Much (Less) Ado About Nothing—running Thursday through Saturday until April 8th—is vigorous and cheery, as befits a production that is, in theory, staged by a group of friends, circa 1920 in an English manor.
Guests are encouraged to don their finest cocktail wear, and are greeted by the assembled players, in tasteful and luxurious period garb (courtesy the fine needlework and costuming skills of Martha Burd), in the lobby of the Castle.  The first half-hour is whiled away with a glass of bubbly, listening to several musical selections in the drawing room and staircase, before mounting the 87 stairs to the fourth floor ballroom.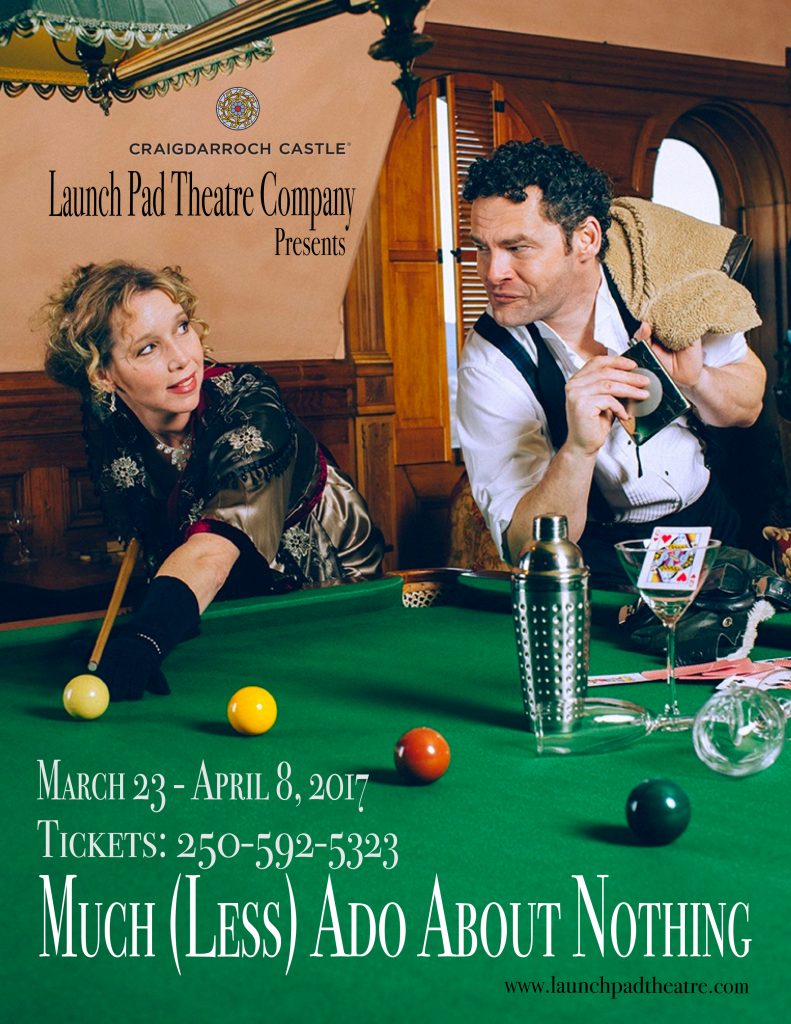 Christina Patterson and David Radford. Photo: Derek Ford
This is small intimate theatre, similar to what people actually experienced when entertainment was often home-grown, albeit with considerably more refinement.  The company, comprised of Launch Pad Theatre regulars and actors familiar from local stages (Greater Victoria Shakespeare Festival, Langham Court Theatre, Theatre Inconnu, Bema Productions, Paper Street Theatre) have crafted an entertaining hour of merriment. There is enough substance to please Shakespeare buffs, and those more unfamiliar with the Bard will see all the major plot points of the comedy thoroughly displayed.
First and foremost, great care has been taken with the language, which flows easily, like contemporary speech, making it accessible to anyone. The ensemble employs a highly physical style, greatly emphasizing the comedy—some noteworthy examples being Beatrice's (Christina Patterson) contortions as she spies on her friends, the tango scene during the masked ball—while Hernando's Hideaway is more contemporary than the period, its jaunty and well-known tune makes an amusing counterpoint—with the soldiers (Don Pedro, Benedict and Claudio) dressed as airmen in beaked masks and caps resembling birds, and Christina Upright as the confused constable Dogberry (in a turn that sees a mop and a broom stand-in as people).
Of course, the central plot point, that Benedict (David Radford) and Beatrice, despite swearing their antipathy for the state of marriage and for one another, are secretly falling in love, depends upon an energetic verbal and physical parry-and-thrust.  Partners on and off stage, Radford and Patterson light up a room with their antics—they are charming, opinionated, shrewd and fit for the task at hand.
Cam Culham as Leonato displays a stately and kind pomposity—it's easy to see why Beatrice rails against his assertions.  Jared Gowan's Don Pedro is passionate and commanding.  Michael Bell as Claudio is tempestuous—falling instantly in love with Hero (Monica Ogden) and just as easily out of love when he learns of her supposed infidelity. Ogden is a demur young maid, fighting mightily to defend her honour, and a swaggering Borachio—kitted out as a woman in air force gear.  In the villain Don John, brought to life by Graham Croft with his aggrieved and vexed manner, one can sense treachery and deceit from his first words. Croft also has a turn as the bumbling priest. Upright as Margaret dotes on her young charge Hero, unaware of the calumny she is, unwittingly, about to bring into her life.
Rather than have actors attempt fights in close quarters, or deal with extensive props, the company has chosen to employ Emma Dickerson's rapid and skillful foley effects to replicate everything from ice cubes in glasses to zinging swords.
As expected, other than the villain, left to gnash his teeth at his undoing, all ends happily.
David Radford has taken a script that is close to three hours in length, and sensitively trimmed it to retain the essentials of the story. Love, romance, deceit, treachery and a happy ending—all in an hour with verve and professionalism–what a feat!  It all makes for a splendid evening out—whether on a much anticipated date night, or gathering a group of friends to experience the rich heritage of the Castle coupled with artistic excellence.
Look for Launch Pad's other 2017 shows, Red Death in October and Radio, Mistletoe, & My Man Godfrey in December.
Much (Less) Ado About Nothing
adapted from William Shakespeare's Much Ado About Nothing.
Launch Pad Theatre at Craigdarroch Castle
March 23-April 8 (Thursday-Saturday) at 7:30pm
TICKETS: $28 and $35 by phone 250-592-5323. Castle members will receive a discount on ticket price.
Starring: David Radford, Christina Patterson, Monica Ogden, Christine Upright, Cam Culham, Jared Gowen, Graham Croft, Michael Bell, and the Foley art of Emma Dickerson. With luscious costumes by Martha Burd.
A fresh take on a classic play with a kingdom for a stage.

Re-imagined and refined, adapted and updated, to a witty and wonderful hour-and-a-half of enjoyment.

Following sold out runs of our Halloween production Arkenham Abbey, and our Christmas 1930's radio play Radio, Mistletoe, & My Man Godfrey, Launch Pad Theatre Co. invites you to bring in the spring with a feverish, fast paced farce.

Come in your snazziest cocktail attire (No stilettos please) to enjoy an evening of classy entertainment, a glass of bubbly, and a beautiful re-imagining of one of the Bard's most well-loved comedies.

Elegantly refined to an hour

Tastefully fitted to the castle

Perfectly tailored for you.
*Please note, the Castle boasts a beautiful oak staircase containing 87 stairs to the 4th floor ballroom with no elevator or ramps.
Disclaimer: I received a complimentary ticket to attend the opening night performance of Much (Less) Ado About Nothing.