Launch Pad Theatre Company presents Arkenham Abbey at Craigdarroch Castle October 19th – October 31st, 2016.
Media release.
The Dark Night returns to Craigdarroch Castle!
(M Award and Pick-of-the-Fringe winner) Launch Pad Theatre Company brings back their sold out Halloween Spectacular, Arkenham Abbey, a Batmanesque thriller that combines the best elements from the most Gothic Batman comics and spins them into a live horror-comedy.
Set in Post Edwardian England in an Abbey-turned-sanatorium for the unethically psychotic, the inmates of Arkenham Abbey, meant to perform a play for the public, have instead taken over the asylum and threaten to kill all of the visitors and staff.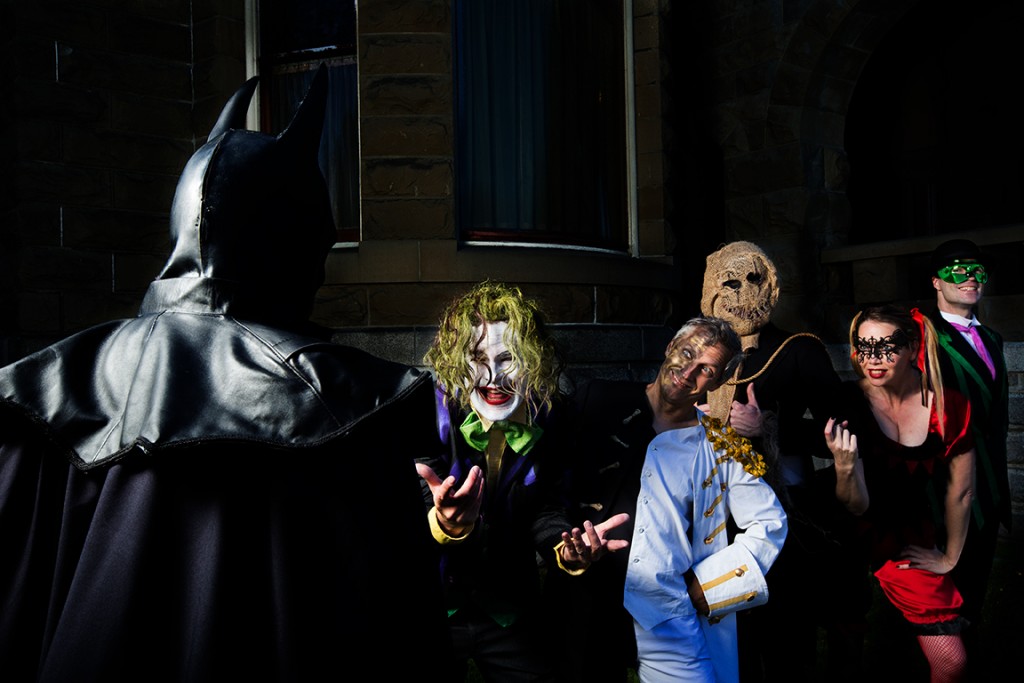 Photo: Derek Ford
Written by David Radford (Tara Firm and the Lunar War Chronicles, Dracula-The Blood is the Life), and starring: Radford, Justin Carter (Son of Africville), Christina Patterson (Lieutenant Nun), Jared Gowen, and Graham Croft. Directed by David Radford and Christina Patterson, with stunning costumes by Martha Burd. An homage to everything Batman, from the costumes, to the criminals, to a clever re-creation of all the characters themselves.
Warning: Due to the close proximity of actors to audience, parents with children under 10 years old should be advised that the show does contain blackouts, screaming, and moments of violence.
Launch Pad is a multi-disciplinary; Victoria based Theatre Company that intricately crafts original dynamic theatre, diverse in scale, subject, and medium.
Arkenham Abbey, presented by Launch Pad Theatre Company
Craigdarroch Castle, 1050 Joan Crescent, Victoria BC
October 19th -31st
Tickets: $28
Castle members receive a discount on ticket price. www.thecastle.ca | 250-592-5323 |
*Please note, the Castle boasts a beautiful oak staircase containing 87 stairs to the 4th floor ballroom with no elevator or ramps.
Performances: Wednesday & Thursdays at 8pm, Fridays & Saturdays at 7pm and 9pm, with 8pm shows on Sunday 30th and Monday 31st.
For more information: launchpadtheatre.com or email info@launchpadtheatre.com