I love the Victoria Fringe Festival! When my kids were growing up, I only attended the odd show here and there, but that all changed in 2006 when my second son moved away to take a job as a historical interpreter at the MacLean Mill in Port Alberni. Without two teenage boys to feed and house, there was suddenly disposable income.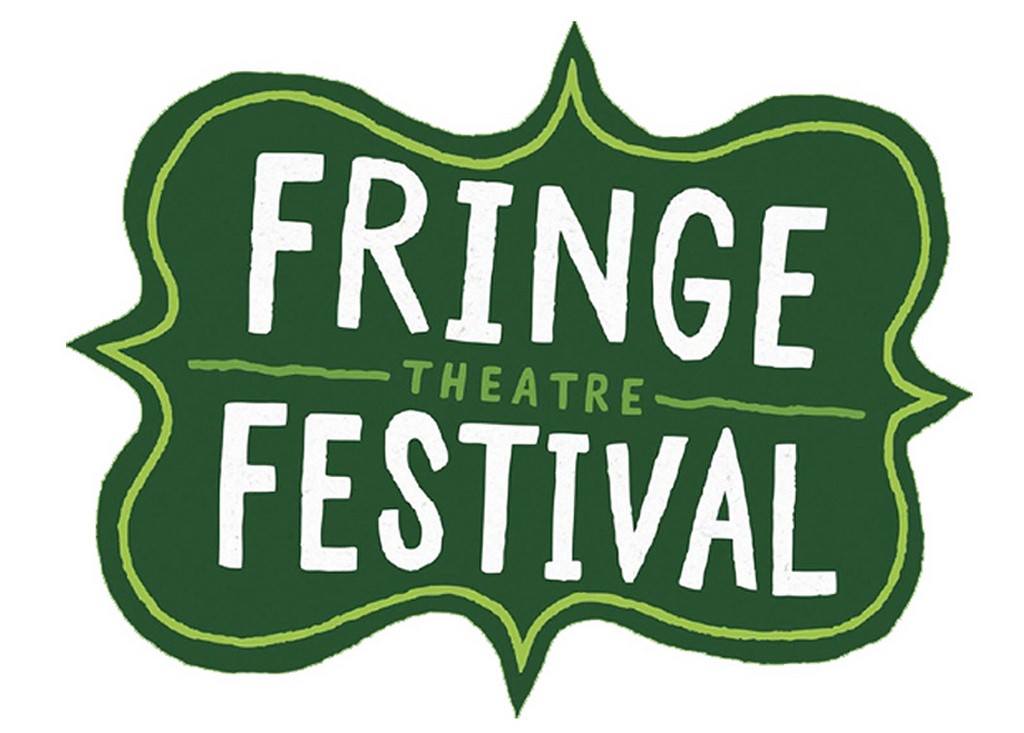 2006 was the 20th anniversary of the Victoria Fringe, and I managed to see more shows that year than in all the previous ones combined.  Thus was born my Fringe addiction.  In 2007 I began volunteering and attending even more shows.  My count for 2010 was over 30.
In addition, I volunteer for Theatre SKAM, the Canadian College of Performing Arts, Atomic Vaudeville, the Victoria Shakespeare Society, and Intrepid Theatre.  My recommendations are based on past experiences either with the company, the actors or the writers of the shows.  Please note, I am NOT a theatre critic. Your opinions could differ considerably from mine! The shows are not ranked, but are listed as they appear in the printed Victoria Fringe Festival program.
When in doubt – take a chance! That's the spirit of Fringe! Feel free to make up your own mind.
Venue 2:  Victoria Event Centre (1415 Broad Street)
[Title of Show]  (Urban Arts Productions)
Urban Arts was founded in 2010 with a mission to provide innovative, imaginative, quality theatrical experiences for our artistic community.
Performers in this production are well known to Victoria audiences through their work with Gotta Getta Gimmick, Theatre SKAM (both Sarah Carlé and Izad Etemadi performed in last year's hit Fringe production "Smalltown"), the Victoria Operatic Society as well as with Urban Arts.  Expect great singing, and much fun in this "hilarious, crude love letter to the world of musical theatre".
Venue 3:  Metro Studio (1411 Quadra Street)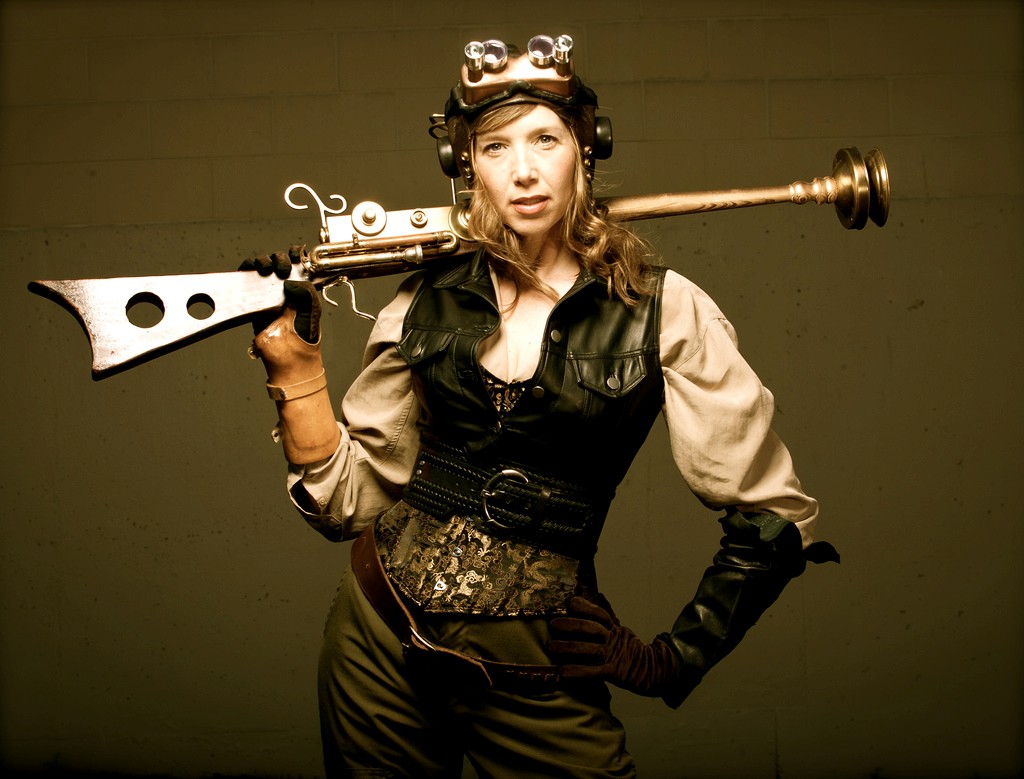 Tara Firm and the Lunar War Chronicles (Launch Pad Productions)
It's  Indiana Jones meets Futurama!
Charlie Ross (One Man Star Wars) is a Fringe legend. Rod Peter Jr is well known for his work with Atomic Vaudeville and The War of 1812 in the 2009 Fringe, as well as his stint as host of The Showdown. Christina Patterson and David Radford just completed Bike Ride (Theatre SKAM). You may also remember their performances in The Importance of Being Earnest in 2010 at Craigdarroch Castle (Giggling Iguana Productions).  Chris Cooley appeared with Christina and David in Bike Ride.
Aladdin, the Secret Voyage and The Magic Stone Soup (Story Theatre Company)
Family friendly theatre by Victoria's granddaddy of them all!  The Story Theatre Company celebrated 30 years in 2010 and tours regularly around the country bringing theatre to young audiences.
Grab the kids, the grandkids – borrow a friend's child if you have to.  Here's a chance to introduce theatre to children in an atmosphere where you won't have to "shush" their every word.
Out of My Head (Random Samples Theatre RST)
Jim Leard, the founder of Story Theatre Company, is a very funny man.  Become his studio audience as he creates a new sketch comedy variety show each night. Jim is putting together a pilot for a new TV series and will be taping these performances.  He's trying to exorcise the demons living in his brain, and you can be involved – "Nothing is Sacred!".
Are you prepared to find out?
Rerentless (One Dead Troll and a Cranny)
Wes Borg has been performing for over 20 years and was an original cast member of Three Dead Trolls and A Baggie (probably my favourite name for a Fringe group).  He returned to Victoria a few years ago, and has since performed irregularly with Atomic Vaudeville, as well as mounting The Money Fast at the 2010 Fringe, The War of 1812 for the 2009 Fringe, and Ha at the 2008 Fringe. Wes just completed Fire with Blue Bridge Repertory Theatre.
Morgan Cranny is a regular performer with Atomic Vaudeville and the inaugural season of Sin City, The Live Improvised Soap Opera and, with Wes, part of Random Selection of Chairs.
Join Wes and Morgan as they try to make rent…. again….. for the last time.
Two of Victoria's funniest performers!
Written with, and directed by, J. McLaughlin, an equally celebrated performer.
Venue 4:  VCM Wood Hall (907 Pandora Avenue)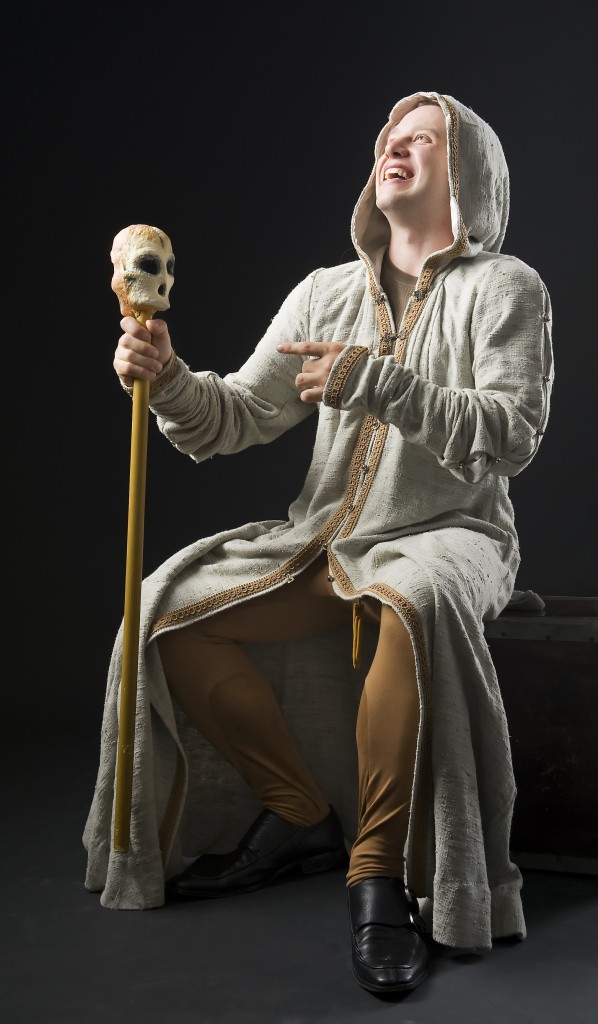 Canterbury Tales (Scrumpy Productions)
Join Julian Cervello for this 29 character, one man show – entirely in Middle English.
A 600 year old satire, so old that it's new.
A graduate of the University of Toronto where he originated this piece as part of a voice assignment, Julian has recently been appearing in Comedy of Errors with the Victoria Shakespeare Society in the role of the two Dromios.
I'm more than intrigued to see this show. Most of us remember Chaucer and the Canterbury Tales from English class – what will this retelling be like?
Venue 5: St Andrew's School Gymnasium (1002 Pandora Avenue)
Little Orange Man (Snafu Dance Theatre)
Ingrid Hansen has a knack for creating child-like stories that draw us in to her pretend worlds.
Co-creator of The Ginger Ninjas at the 2010 Fringe, she has toured with Story Theatre and is a puppeteer on the children's show Tiga Talk .  Audiences will also remember Pretty Little Instincts, a Pick of the Fringe winner at the 2009 Fringe.
Another all ages show that will be unlike anything you have seen before. Suspend disbelief and follow along. Simply magical.
Stalemate (Ready, Set, Theatre!)
I first met Marcus Stusek, the writer, through the Canadian College of Performing Arts. This summer, he and other graduates formed the River Road Theatre and performed three shows in Princeton BC. Marcus is also familiar to local audiences for his work with the Victoria Operatic Society.
Stalemate was part of Puente Theatre's WorkPlay series for emerging playwrights in 2009.
In the style of such classic comedic duos as Abbott and Costello, two men are locked in a battle of wits and wordplay.
Venue 8: Langham Court Theatre (805 Langham Court)
Love Letters for Georgia (Raving Beauty Productions)
Like so much in my life, I met some of the team behind this show through Twitter, and then later, Green Drinks.
After a 12 year hiatus, Raving Beauty Productions has re-formed to present quality fringe theatre for all the talented, smart, funny women of Victoria and everyone who loves them.
The creative team of Darlene Arsenault, Ellen McGinn, Lisa Preston and Ella Joseph present the tale of Georgia (Danda Humphreys), a short dark comedy featuring her loves, her fears and her past.  Come explore the space between life and death with them.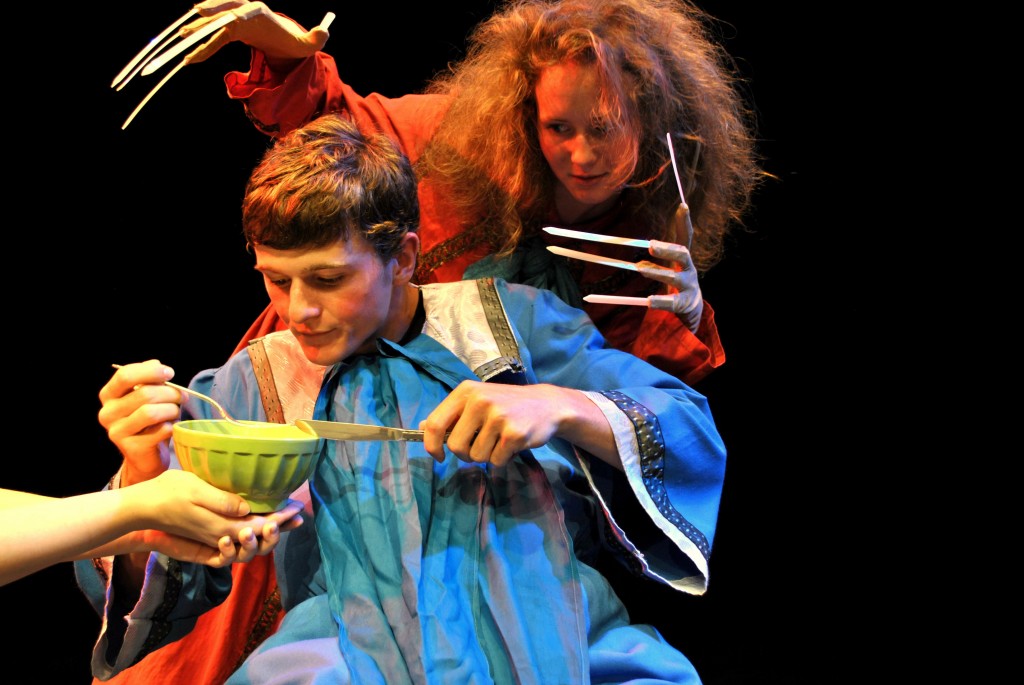 Struwwelpeter (Suspicious Moustache Theatre Company)
It's always a pleasure to see hard working grads and students of the University of Victoria's theatre program as they launch their careers!
Both Director Darcy Stroop and Cat Haywood have been involved with Blue Bridge Repertory Theatre; Darcy as Marketing Director, and Cat as Costume Designer. Together with Liam Volke, star of Someone Who'll Watch Over Me (2009 Pick of the Fringe – Best Drama) they've used guided improvisation to craft a re-telling of the gruesome tales in this 167 year old children's picture book.
$1 from the sale of every ticket will be donated to the Victoria Read Society to support children's literacy programs.
I don't know Struwwelpeter, and am excited to learn more! Will this bring back memories for you?
Suitable for children 10+
Venue 9: University Canada West (950 Kings Road)
Limbo
A favourite of younger audiences from his performances with iconic local troupe Atomic Vaudeville, Andrew is a talented monologuist. Expect complete honesty. Limbo was presented at the 2010 Uno Fest and is the final piece in his trilogy – previous episodes were Scrupulosity and Putz. Familiarity with his previous work is not necessary to understand this tale.
Limbo won the 2010 Vancouver Fringe Critic's Choice Award.
The Animal Show (Romantic Animal Theatre Posse)
Now based in Toronto, Katie Hood is a graduate of UVic's Theatre program. You may have seen her locally performing at the Phoenix Theatre or with Itsazoo Productions.
The Animal Show was workshopped at Uno Fest in 2009. It is based on Katie's experiences working in an animal shelter in Victoria.
I'm excited to bring the show back to the city where my experience working in shelters originated. I know many individuals care deeply about the issue of animal welfare, as well as for the workers who care for abandoned animals, so I'm hoping the show sparks conversation in both those regards.
Miss Rosie Bitts is a well known burlesque performer in Victoria, and on Vancouver Island. Wanting to educate people about the role of burlesque and censorship in society, Rosie enlisted the help of Wes Borg and J. McLaughlin to tell this story. Just back from her Fringe tour across the country, Rosie explores the politics of female nudity.
It's interesting to note that even recently, in Victoria, Rosie's event "Naked Girls Reading", part of a North America-wide franchise, featuring women reading fairy tales in the nude, behind closed doors, was cancelled when the liquor board threatened to shut down the venue if the show went on.
Is censorship alive and well? Find out by attending this show.
Venue 10 Dance Victoria (2750 Quadra near Hillside)
Photo Booth
Dave Morris is a talented improviser and story teller. You may have seen him recently in An Improvised Tennessee Williams. His 2010 Fringe show "Dave Morris is an A****" featured a new 45 minute piece every night as Dave took suggestions from the audience and began to weave his magic.
Imagine a show based on the images audiences take in a photo booth. Mind boggling.
If a picture is worth a thousand words, then a photo booth strip would be worth FOUR THOUSAND.
Plan on going more than once – it will be new each and every time!
Venue 12: Canadian College of Performing Arts (1701 Elgin St, Oak Bay)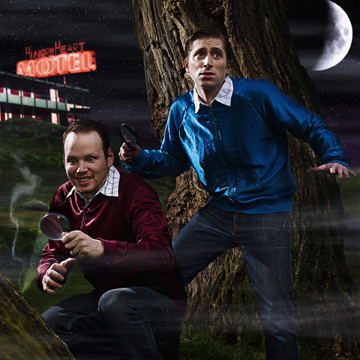 Peter 'n Chris and the Mystery of the Hungry Heart Motel
Since appearing at the Victoria Fringe in 2009, Peter 'n Chris have taken the Canadian Fringe scene by storm.  Locally they have performed with Atomic Vaudeville, Itsazoo Productions, and at the Phoenix Theatre.
They were awarded Outstanding Duo at the 2010 Ottawa Fringe and the Plank Magazine Buzz Award at the 2009 Victoria Fringe.
Hilariously funny. Get there early in the run, or risk sold-out shows!
Sizzle (Canadian College of Performing Arts)
Sizzle marks the debut of the Canadian College of Performing Arts at the Victoria Fringe. Well known as one of Canada's pre-eminent performing arts training centres, local audiences thrill to their yearly Broadway spectaculars at the McPherson Playhouse.  Come and see the work of Canada's future stars – today!
Expect high energy numbers from the cast of current students and alumni.
Venue 14: Fort Café (742 Fort Street)
Mike Delamont, one of Victoria's better known (and funniest) performers, has moved to Toronto. Performing with Atomic Vaudeville, he originated the classic characters: GOD, Jimmy Peekaboo, and Carlo Rossi.
In "God is a Scottish Drag Queen" he'll skewer everything from 'The Pope' and 'The Old Testament' to the 'iPhone' and the 'Mayans'.
If you're a fan, you'll want to be sure to grab a ticket. If you've never seen Mike before – here's a good chance before he's gone again.