It was a chance comment by Morgan Cranny about taking his show ReRentless (co-produced with Wes Borg) to the Edmonton Fringe that got me thinking. I knew that Ingrid Hansen (Little Orange Man), Mike Delamont (God is a Scottish Drag Queen) and Peter 'n Chris (The Mystery of the Hungry Heart Motel) had arranged a bring-your-own-venue at La Cité Francophone, but were there other Victoria-based or Victoria-connected performers appearing at this year's Edmonton Fringe?  To my amazement there are at least 9 shows represented (my research is not exhaustive). And, dear Edmonton fringe-goer – what shows! It's truly the crème de la crème for your viewing pleasure – award winning shows and artists with long lists of accolades.
I will admit to an extreme bias – I caught the Fringe bug in 2006 and expanded into viewing theatre and volunteering for numerous theatre companies.  I've had the opportunity to see most of the following individuals in multiple shows (Fringe and otherwise) over the intervening years.
I do not hesitate to recommend any (or all) of the shows on this list to you.  Don't wait to get tickets – they are sure to sell out.
Here is "Victoria Represents at the Edmonton Fringe".  Shows are listed in alphabetical order and linked to the Edmonton Fringe schedule.
Gametes and Gonads – Jeff Leard
Stage 10 – Acacia Masonic Hall – Corus Entertainment, 10433 83 Avenue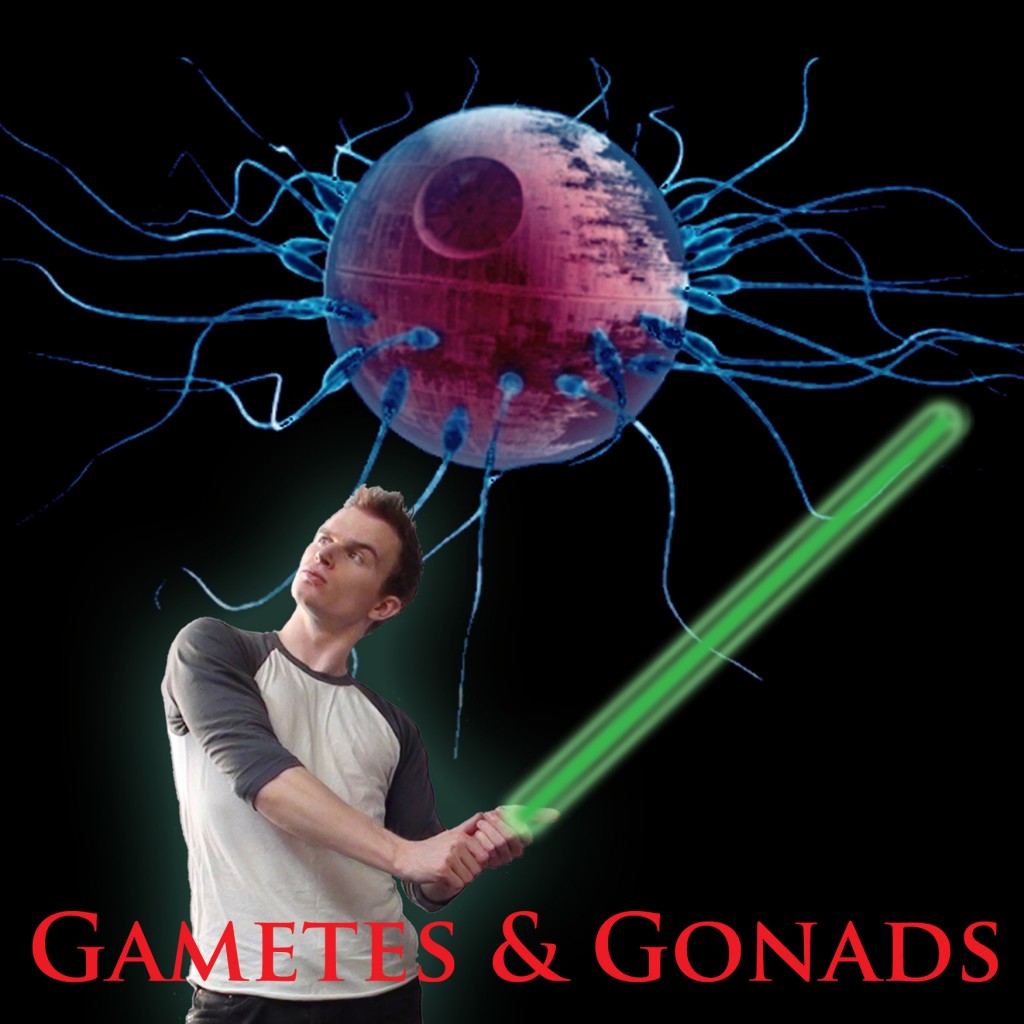 Life of the Courtyard Award – Ottawa Fringe 2011
Star Wars meets your genitals in this action-packed one-man show exploring the sci-fi universe that is the reproductive system. Get sucked off into a world of life, love and death before birth in Gametes and Gonads.
The apple did not fall far from the tree as far as Jeff Leard is concerned – his father Jim is the founder of Story Theatre Company.  Jeff shares his quirky and ribald sense of humour and performs multiple characters in rapid succession.
God is a Scottish Drag Queen – Mike Delamont
BYOV 44: La Cite Francophone – Suzanne Thibaudeau Auditorium, 8627 – 91St. (rue Marie-Anne Gaboury)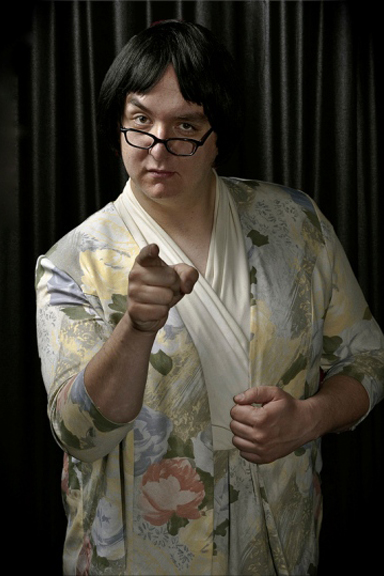 Victoria Fringe 2011 Best Solo Show
Canadian Comedy Award 2012 nominee
Best Comedy Performer 2011 – Monday Magazine's people's choice M Awards
Michael Delamont is well-known to Victoria and Vancouver Island audiences for his long-standing association with the cabaret troupe Atomic Vaudeville, his performances in The War of 1812 (Random Selection of Chairs), Oklahoma! (Chemainus Theatre Festival) and his solo shows (A One Night Stand with Mike Delamont).
He has created memorable characters over the years, but none compares to God!  Don't miss his musings as he skewers everyone and everything – including religion, the Mayans and hipsters.
Recently Mike headlined a comedy night I attended. His un-rehearsed riff on camping had the audience in stitches.
I Will Not Hatch
Stage 1 – Westbury Theatre – TransAlta Stage, 10330 84 Avenue
 Outstanding Ensemble & Outstanding Direction NOW Magazine's Toronto 2009 Fringe Wrap-Up
It is the ninth of November and on one ill-fated flight, well-meaning Suzie is taking matters into her own hands. Ten jet stream-crossed passengers have roughly thirty thousand feet to live as Suzie saves the world.

So please, return tables and trays to their upright positions and fasten your seatbelts as Suzie and her fellow commuters take to the skies.
I Will Not Hatch features a strong and large cast that includes Laura Ann Harris (Pitch Blond – Edmonton Fringe 2009) and Erin Fleck (Those Who Can't Do – Theatre Passe Muraille, Intrepid Theatre's Uno Fest).
In order to fund the mammoth undertaking of transporting a show with 10 performers, the creators launched an Indie Go Go campaign that exceeded their goals.
http://www.indiegogo.com/Hatch
[vsw id="44294257″ source="vimeo" width="425″ height="344″ autoplay="no"]
Little Orange Man – Ingrid Hansen
BYOV 44: La Cite Francophone – Suzanne Thibaudeau Auditorium  8627 – 91St. (rue Marie-Anne Gaboury)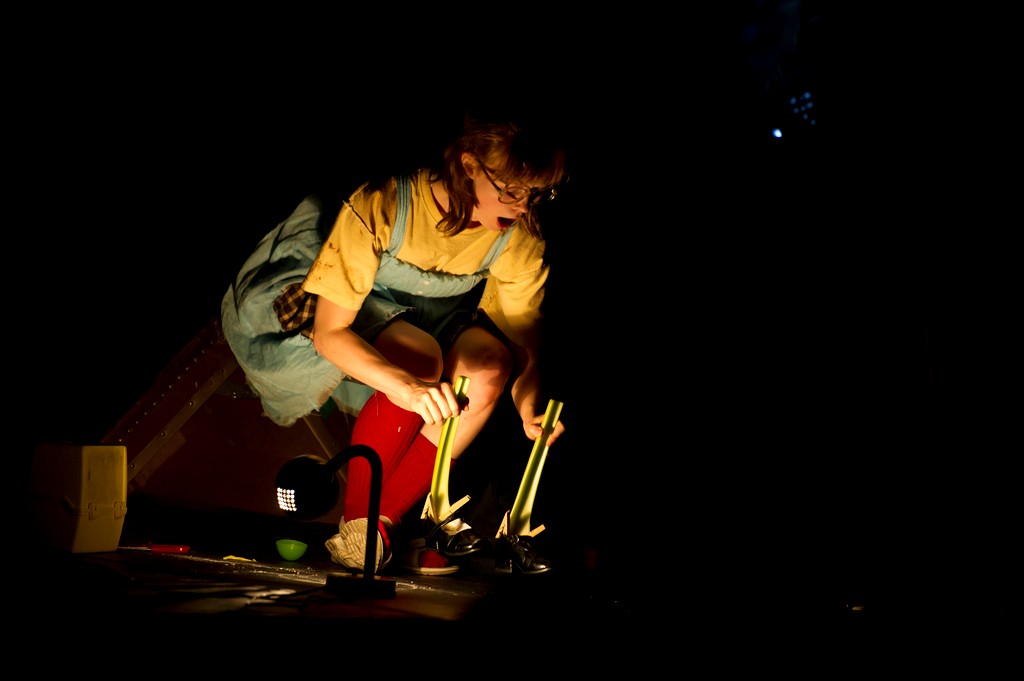 Outstanding Overall Production Ottawa Fringe 2012
Fringe Playhouse Award Vancouver Fringe 2011
Volunteer Choice Award Vancouver Fringe 2011
Pick of the Fringe Victoria 2011
Hansen plays twelve-year-old Kitt Pedersen, whose world-view has been informed as much by her grandfather's gruesome folktales as by Google and quantum theory. Kitt is undertaking a massive dream experiment — which requires access to the audience's subconscious.
Ingrid Hansen is one of this generation's most talented creative geniuses; by turns choreographer, puppeteer, dancer, musician, actor, costume designer, singer. Her productions are known for their beauty, ingenuity, complexity and audacity.  She is equally at home working in more "traditional" theatre and puppetry settings or in allowing full wing to her creative flights of fancy.
Little Orange Man appeals to the twisted child in all of us – if we are brave enough to leave our preconceptions aside.
Loon – the Wonderdeads
BYOV 44: La Cite Francophone – Suzanne Thibaudeau Auditorium  8627 – 91St. (rue Marie-Anne Gaboury)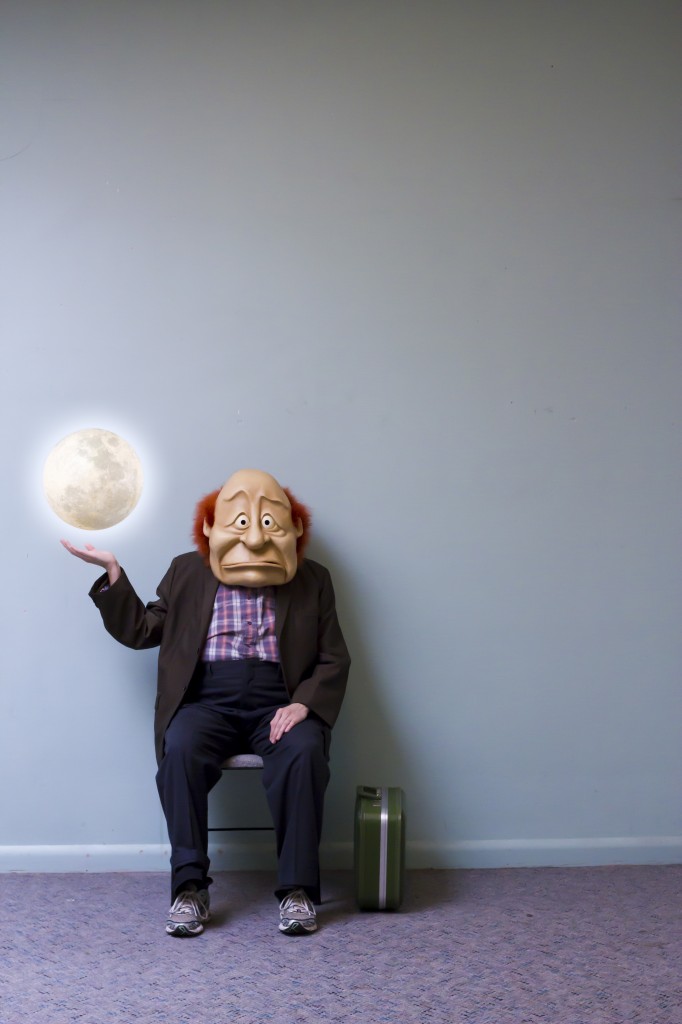 I knew I'd miss someone, and what a show to miss! Kate Braidwood from the Wonderheads emailed me to let me know she too is a grad of the UVic Theatre program.  Their previous show, Grim and Fischer (which I saw in Victoria in 2011) is a winner of five Best of Fringe awards (Edmonton, Calgary, Victoria and Vancouver) as well as the Cultchivating the Fringe award in Vancouver, which gives them a run during the 2012/13 season at the Vancouver East Cultural Centre.
A man. The moon. A most peculiar love story.

Acclaimed physical theatre duo WONDERHEADS, present a love story that whisks a man to the moon and back!  Featuring their larger than life masks, fantastical puppetry and a style that has been described as "Live action Pixar", the WONDERHEADS wonder, can a man truly love the moon?
Silently and magically, the WONDERHEADS conjure eternal stories that appeal to every age and stage of life.  Take the family!
Medicine – TJ Dawe
BYOV 37: Strathcona Library – r8331 – 104 Street
Photo of TJ at TEDxManitoba by Richard Ray on Flickr
…..is about a retreat TJ attended a year ago, led by Gabor Mate, MD and best-selling author (In the Realm of Hungry Ghosts, When the Body Says No, Hold on to Your Kids, Scattered Minds), involving the ingestion of the Peruvian shamanic plant medicine ayahuasca. What happened takes about an hour to describe. But involves the exhumation of a mighty big secret. It's set to tour the country this summer. It's his twelfth solo show.
TJ Dawe is truly the grandfather of the Fringe monologue.  He's toured the Fringe circuit for the last decade and helped mentor an entire new generation of performers, providing dramaturgy and direction as well as inspiration.
His work is cerebral and scholarly, delving into the inner workings of his personality, and his relationships – to his family, society as a whole, and others.
Peter 'N Chris and the Mystery of the Hungry Heart Motel
BYOV 44: La Cite Francophone – Suzanne Thibaudeau Auditorium 8627 – 91 St. (rue Marie-Anne Gaboury)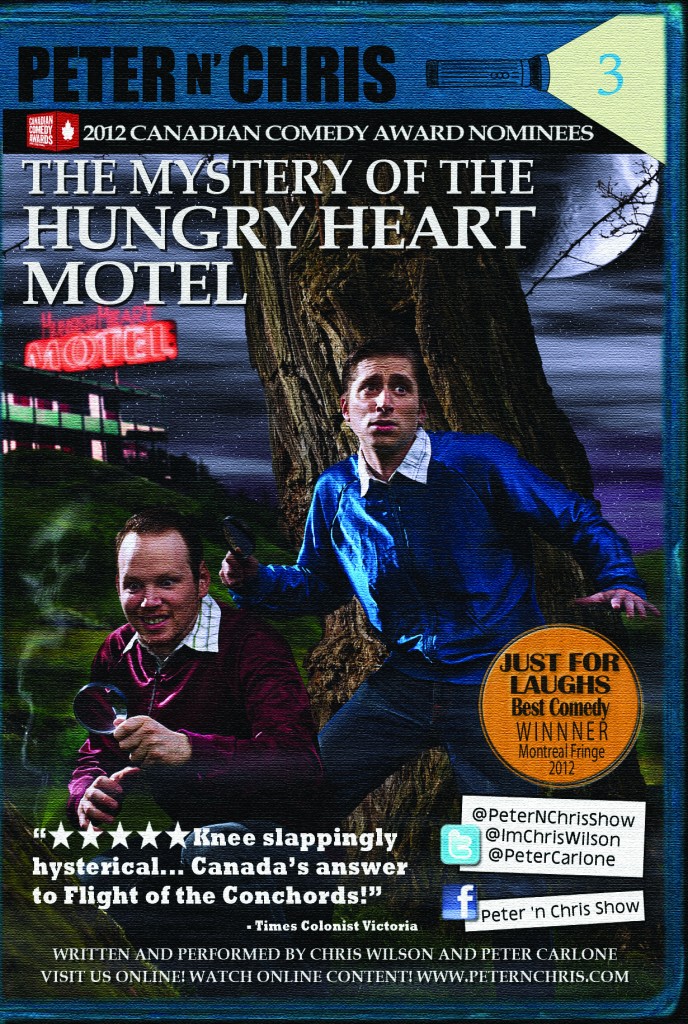 Just for Laughs comedy award Montréal Fringe 2012
Best of Fest Winnipeg 2012
Comedy Network's Canadian Comedy Award for Best Sketch Troupe 2012 – nominees
Pick of the Fringe in the Vancouver 2011
Pick of the Fringe Victoria Fringe 2011
Outstanding Duo Performance  Ottawa Fringe 2011 and 2010
Outstanding Production" and "Critic's pick" Toronto Fringe Festival 2011 by Now Magazine
Audience Choice Award Toronto International Sketch comedy Festival 2011
Based on whodunit detective stories like The Hardy Boys and horror movies like The Shining, this hysterical spoof places our hilarious heroes in the thick of a series of murders at a seedy roadside motel. But who could the murderer be?  Okay, the answer is the motel manager – but that's not the real mystery. Maybe the mystery is why their mattresses are so dirty? Or what this dynamic duo might learn about themselves when they check in? If they ever check out!
Peter and Chris (as evidenced from a growing list of awards) are an excellent team of comedic performers with wonderful transitions, great physical comedy and an amazing story arc.
ReRentless with Wes Borg and Morgan Cranny
Stage 3 – Walterdale Playhouse – Sutton Group, 10322 83 Avenue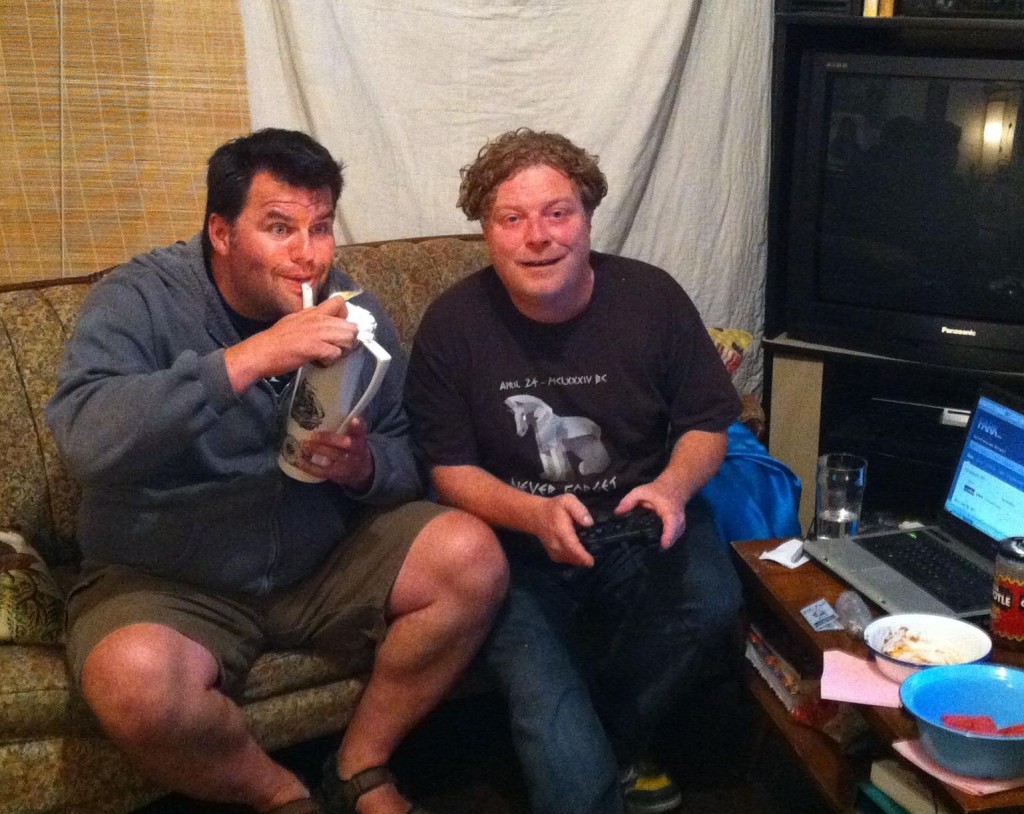 Join former Edmontonian, Sterling Award Winner & Victoria's current "Favourite Comedy Performer" Wes Borg and his good buddy, the award-resistant Morgan Cranny as they bring you a story of two stoner roommates trying and failing to pay rent… again… for the last time.

The show seems on one level to be a simple farce about pot and video games, but beneath that is a real, honest- to- god love story that is part bro-mance, part bro-nography and ultimately defies convention.
Borg and Cranny are gifted comedic performers, veterans of sketch, stand-up and cabaret who have the "stoner" persona nailed perfectly.  You will chuckle at their antics.
The Adversary – Andrew Bailey
Stage 7 – Yardbird Suite – Chianti Cafe & Restaurant, 11 Tommy Banks Way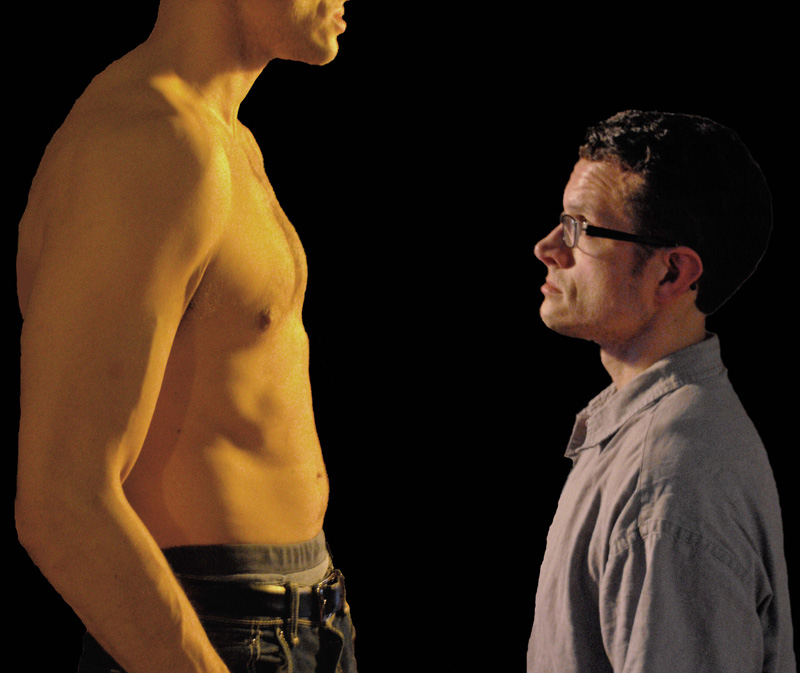 2010 VancouverFringe Critics' Choice Award for Limbo
Co-Winner Best of Fringe Show of 2008 by the Vancouver Courier for Putz
Best Solo Show, Victoria Fringe 2005 for Scrupulosity
Imagine Woody Allen stuck in The Wire. Award-winning comedian Andrew Bailey draws on a decade's experience as an inner-city church caretaker to explore how justice is brought to those who don't call the police.

The Adversary is the latest show from the acclaimed monologist of Scrupulosity, Limbo, and Putz
I admire Andrew Bailey's honesty and his ability to unravel the complexity of human character with humour, wit and great intelligence. He travels to places most of us would rather never explore, and does so with great openness and heart.
Tinfoil Dinosaur – Sam Mullins
BYOV 37: Strathcona Library, 8331 – 104 Street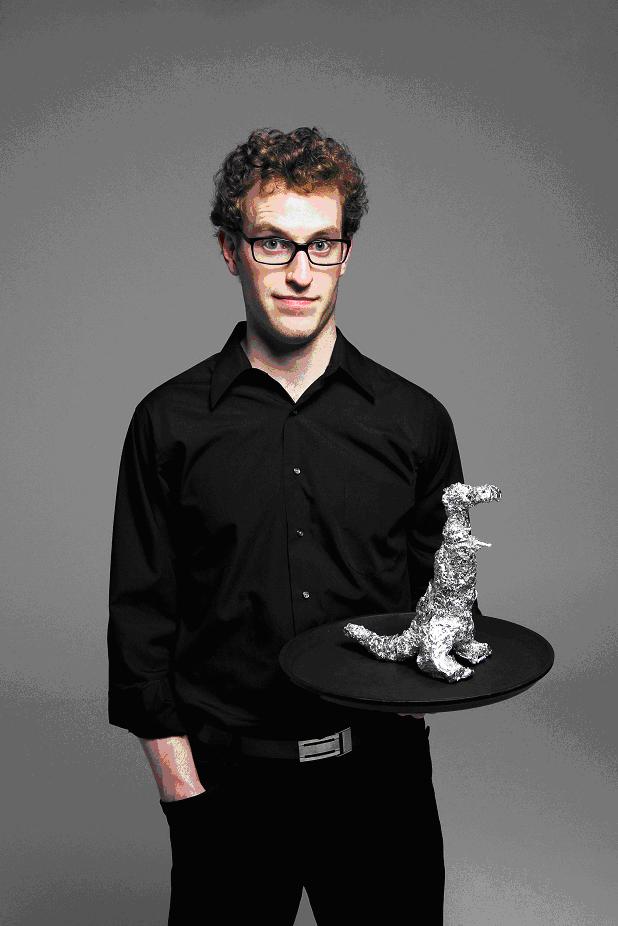 Patron's Pick Toronto Fringe  2012
Best of Fest – 2011Winnipeg Fringe Festival
Sam Mullins is a Vancouver-based actor/writer/comedian and graduate of the Universityof Victoria's Theatre program.  He is the producer and creator of the sketch comedy show The Furious Anger Fun Hour, as well as The Swear Jar – a Vancouver-based storytelling series.  He is a frequent contributor to theCBC Radio 1 program Definitely Not the Opera and the 2010 Vancouver Story Slam Champion.
Tinfoil Dinosaur – a comedy about crippling anxiety, epic failure and how the smallest and strangest of things can change everything.

What if you were not only cast in the worst play of all time – but you also had to perform – in blackface?  Sam Mullins relives the hilarious true story of how – as a young actor – he found himself reluctantly walking the fine line between brilliant performance and accidental racism.

The fiasco leads him to Vancouver– where he starts to build a new life for himself in the big city.  Just like he had always dreamed.  Waiting tables.  Living in a high-rise.  Dating a wonderful girl.  Acting on camera.

But as he starts to integrate himself into the urban way of life, things start to unravel.  And as he watches his hopes, dreams and bank account slowly deflate, he is swallowed whole by a full-blown existential crisis.  He hits rock bottom and finds himself looking over the ledge into the abyss.  Ready to jump.

Then one night… someone asks him for a Tinfoil Dinosaur. And that changes everything.
 Have fun at the 2012 Edmonton Fringe. If you have recommendations for shows travelling to the Victoria Fringe, I'd be happy to have them!  Comments gladly taken either via the comment form below or the contact form on the site.