A man and a chair, with no props and only a few lighting cues. It's a testament to the captivating power of story as recounted by the exceptionally gifted Sam Mullins in Weaksauce. (Currently at Intrepid Theatre's Uno Fest)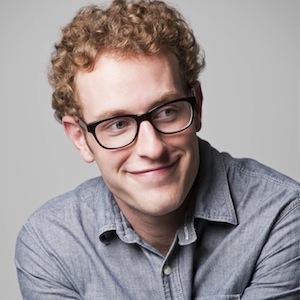 Mullins' pacing is thoughtful, each word carefully considered.  He's taken the pain and confusion of moving through the teen years, with all the inherent pitfalls and missteps, and translated his experiences into vignettes and tales that touch the audience with their universality.
Weaksauce is by turns awkward, sweet, honest, tender and heart-felt, starting off steadily and burning slowly before bursting into flames.
The audience meets Sam during two summers—at 13, immediately before high school when he is actively working to boost his "cool" factor with girls (with hilarious and disastrous results) and again, at 16 when he's a hockey camp counsellor. In this second episode, Mullins' is equally convincing as fellow counsellor and hated rival, Brit pro-player David Oliver, and as love-interest Amanda. Conversations are low-key and, without histrionics, carrying the full weight of a teen's pre-occupations.
At a time when teen sexual awakening is celebrated in raucous, hormone-filled movies it is affirming to be reminded of the gentler nature of this rite of passage.
Whether Sam at 16 had the ability to measure his motivations and behaviours, or whether the adult Sam, with the benefit of hindsight, has been able to come to terms with them—Weaksauce is perceptive and moving.  It's also hilarious—his encounter with a baboon while chaperoning a busload of campers during an excursion to a game park will have you laughing gleefully.
Weaksauce is slang for lame; this production is everything but.
Mullins has contributed to This American Life, The Moth Radio Hour, CBC's Definitely Not the Opera and The RISK! Podcast; he writes on staff for the CBC sketch comedy program The Irrelevant Show.  As a Fringe performer, his one-man show Tinfoil Dinosaur won "Best of Fest" at the Winnipeg, Toronto and Montreal Fringe Festivals, and was nominated for the 2012 Just for Laughs Award for Best Comedy. Weaksauce was awarded "Best Script" at the Montreal Fringe, was named "Best of Fest" at the Edmonton Fringe and was also nominated for the 2013 Just for Laughs Award for Best Comedy. This summer (2014) he tours the Fringe with his new solo show The Untitled Sam Mullins Project
http://samsmullins.com/2013/11/19/the-moth-and-me/
Weaksauce, Intrepid Theatre Club, # 2-1609 Blanshard Street
Tickets $20, $79/5 Show Pass, $100 Karma 5 Show Pass
Ticket Rocket online, in person or by phone 250 590 6291
Wednesday May 21 6:30 pm*
Friday May 23 9 pm
Sunday May 25 6 pm
Created and performed by Sam S. Mullins (Toronto)
$20 – 55minutes – comedy
samsmullins
 Disclaimer: I received a complimentary ticket to attend Weaksauce. As always, I retain full editorial control over all content posted on this website.