Alice vs Wonderland at Blue Bridge Theatre. Interview with Director Sara-Jean Hosie.  November 23-December 14, 2014 in Victoria BC.
The second show in Blue Bridge Repertory Theatre's "Gold Standards" seventh season features a re-mixing of Alice in Wonderland by Brendan Shea, Alice vs Wonderland billed as "Lady Gaga meets Lewis Carroll".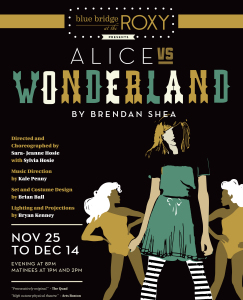 Sara-Jean Hosie last directed My Fair Lady for Blue Bridge in 2013, and was approached by Artistic Director Brian Richmond at this year's Stratford Festival (when she was assistant directing Man of La Mancha and he was doing research on Alice  Through The Looking Glass, part of their 2014 season).
Hosie grew up as a "theatre kid" in Victoria, and says "it's a wonderful gift to be teaching and directing the next generation".  Her mother, noted choreographer and drama educator, Sylvia Hosie joins her as assistant and "her outside eye".
"She's perfect in this role (of working with the younger ensemble members) since she has the language to communicate with them".
Shea's version of Alice vs Wonderland features Alice in seven versions, and includes 11 of Victoria's next generation of performers alongside four adult cast members (Shauna Baird, Jacob Richmond, Kevin Kruchywch, and Kale Penny—who is also the musical director).
The younger actors range in age from 11-18; each of them has already trained extensively in the disciplines of theatre and music. While several have performed professionally—Grace Vukovich was recently seen onstage as the young maid Nancy in Blue Bridge's Gaslight and Molly Lydon appeared at the Belfry in Let's Make an Opera/Little Sweep (in collaboration with Pacific Opera Victoria)—for many, this will be their first professional production.  Audiences will recognize some of the others from productions by Kaleidoscope Theatre and Four Season Musical Theatre.
"It's a good challenge in that the kids have to rise to the bar, but at the same time they are getting an education—it's a drama class, and vocal coaching as well.  They are being given the tools, rather than being told how to get there.  They have picked up the choreography quickly.  Sylvia (Hosie) works with them once they've learned the basic routines, to help them tidy it up"
When asked what sets this version of the Alice story apart, Hosie points to the setting—"it's different because it's set in the world of today, and concerns this generation and their language. In re-imagining Wonderland, we had to ask ourselves 'what is the contemporary rabbit hole?'  For us, it's the Internet.  People—in this case, Alice—are trying to find their true identity.  They can be who they want to be online—even several people.  Mary Anne (the Wonderland version of Alice) idolizes Alice, who is a YouTube sensation.  In Wonderland, the audience will meet iconic characters like the White Queen, the Caterpillar and Tweedledee and Tweedledum, who appear as heightened versions of people we would meet in our world.
"I've been working with an amazing design team—Bryan Kenney, whose work for BlueBridge has been seen in Gaslight, Judy and The Glass Menagerie (projections) and Brain Ball (costumes). Together we are building a whimsical world. It's a layering process that you need to be patient with. We start with rehearsing the script, then add the music and the choreography, and finally the costumes, projections and lights."
There is a huge potential audience for this re-mixed Alice, according to Hosie.  "It's fast-paced and energetic. All the music is pop—Lady Gaga, Avril Lavigne, Big Data and more—which will appeal to a younger audience, while at the same time, there is a certain sophistication, and even darkness to the action that is definitely on an adult level."
Hosie imagines Alice vs Wonderland as a coming-into-self tale.  In the end, both Alice and Mary Ann come to accept and love who they are. "There's always been a very abstract quality to Alice—it's a series of vignettes when you really think about it. We've created a through line to tie these episodes together."
Alice vs Wonderland by Brendan Shea
directed and choreographed by Sara-Jeanne Hosie
Blue Bridge at the Roxy, 2647 Quadra (in Quadra Village)
November 25-December 14, 2014
Tickets: $20-$42
Ticket Rocket, online, in person #2-1609 Blanshard at Fisgard or by phone 250-590-6291