Alien Creature: A Visitation from Gwendolyn MacEwen at Theatre Inconnu. A review.
If the measure of a successful theatrical production is the number of questions it poses to an audience, who then rush immediately to the library or internet for more information and answers—can any director, actor or company hope for more?
Every time I attend a Theatre Inconnu production I am confounded with my own cultural ignorance—the gaps in my learning.
Alien Creature—A Visitation from Gwendolyn MacEwen by Linda Griffiths—currently at Theatre Inconnu February 19-March 7—sparkles with life and creativity and exposes the dark side of a brilliant and far-ranging mind.  It is incandescent with ideas, mythologies, symbolism and glorious word pictures. Griffiths writing is as awarded as MacEwen's was and is no less delicate or educated.
In her directorial debut, Jocelyne Lamarche takes an erudite topic and infuses it with light, love and longing, revealing all the self-deprecating humour, as well as the sharp digs at the Toronto (Hogtown) establishment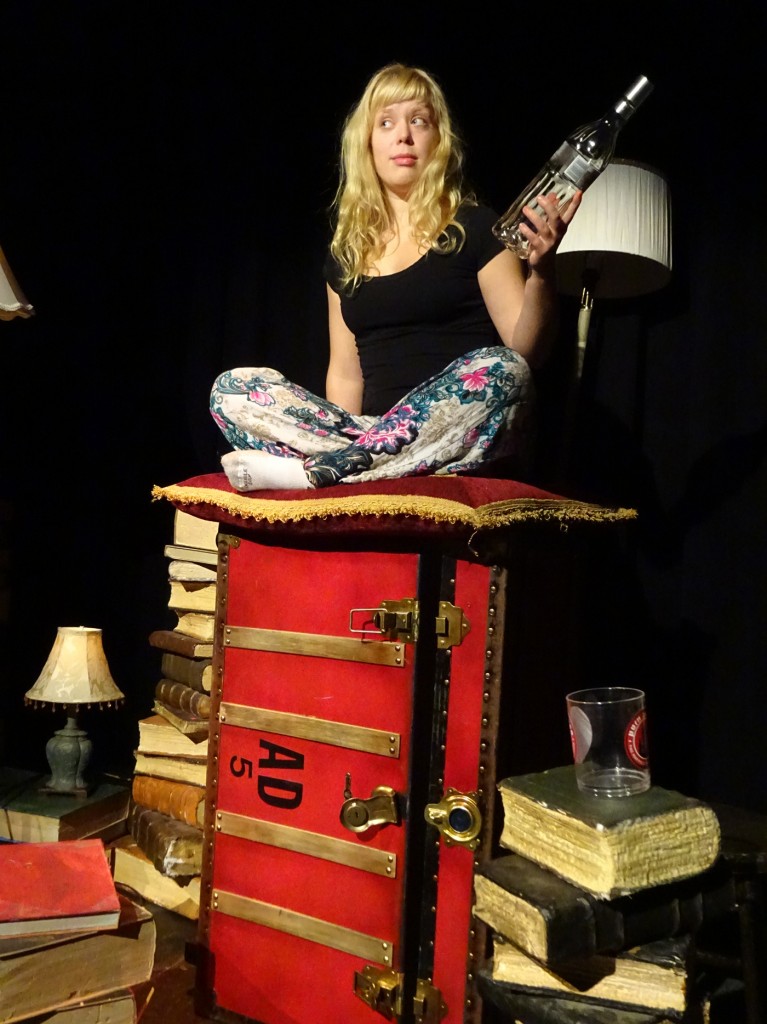 Tannis Perry as Gwendolyn MacEwen. Photo: Theatre Inconnu
Tannis Perry moves by turns sensuously and authoritatively around the small stage, cluttered with books and floor lamps—physically different from the poet, she suggests rather than mimics MacEwen's particular life force.  One can only gasp at the struggles endured for the sake of art. Dedicated at a young age (her first poem published at 17) MacEwen was that rare creature by today's standards—an autodidact who taught herself to not only speak Hebrew, Arabic, Greek and French but also translate works from those languages into English.
Metaphor and symbolism weave throughout text, gesture and production design—Lamarche captures elements of inside/outside dualities through the ample use of a large steamer trunk, which, upended becomes a platform, podium or pinnacle; Clayton Jevne's lighting design glows and darkens according to the author's moods and states of mind. The sound design (also Jevne) is delicate and intricate—a complement to the complexity of words.
As a writer MacEwen lived within—nowhere are the devastating effects more evident than in one of the final scenes, as the poet draws ever reducing chalk circles on the floor.  Once, life was full of wonder and possibility, large and expansive and full of promise. Once she was published and in love, the talk of the literary world.  Then—slowly, painfully and irreducibly—the circles tightened, the spaces decreased, the light dimmed. Forever.
Perry's performance—this is her first one-woman show—is made all the more spectacular by the fact she has most often been part of the behind-the-scenes crew.  The results are irresistibly audacious and gripping—what could have been sad commentary on a wasted life is elevated to the highest art. Dare to dive deep into the power of the creative female in this encounter with MacEwan and Griffith's genius.
I walk away pondering—as a society, are we doomed to cannibalize our brilliant ones?  What is it in the stories and myths we tell ourselves about tortured artists that stunts their growth and leads to such human tragedy?  What value do we place on art in society today?
Gwendolyn MacEwen was one of Canada's greatest poets and Linda Griffiths was one of Canada's finest playwrights. Griffiths has created a magical text of story-telling in which the ghost of MacEwen visits a contemporary audience to tell tales of her life, her work, her inspiration – and her death.  Griffiths does not try to emulate the inimitable style of MacEwen's writing, but wisely, and theatrically, follows her own instincts as a playwright so that we are in awe of both the content and the form. This play was a Governor General Award nominee.

"An engrossing and convincing evocation of the creative spirit." The Globe and Mail
Alien Creature – A Visitation from Gwendolyn MacEwen by Linda Griffiths
Directed by Jocelyne Lamarche.  Starring Tannis Perry
Theatre Inconnu, 1923 Fernwood Road
February 17-March 7, 2015
Tickets: $14, $10 (seniors, students)
2015 subscription (4 shows) $42, $30 seniors and students
Preview  8pm: February 17
8pm: Feb 19, 20, 21, 24*, 25, 26, 28, Mar 3, 5, 6, 7
2pm:  Feb 21, 28, Mar 7
* Pay What You Can
Reservations and Ticket Sales
TICKET ROCKET:  http://ticketrocket.org/  or   250-590-6291 (price will include a $2.50 surcharge).
The show is approximately 70 minutes in length, with no intermission.
Subscribers and complimentary tickets: to make a reservation, please reserve directly through Theatre Inconnu at 250-360-0234, or by email.
We are handicap accessible.  And for those with special seating needs, please make your reservations directly through Theatre Inconnu (see above).
Theatre Inconnu is located at 1923 Fernwood Road (across the street from the Belfry Theatre).  For parking we suggest the side streets west of Fernwood Road as these do not have parking restriction signs.
Further reading:
http://www.library.utoronto.ca/canpoetry/macewen/
http://www.brocku.ca/canadianwomenpoets/Macewen.htm
http://www.uwo.ca/english/canadianpoetry/cpjrn/vol28/potvin.htm
http://www.uwo.ca/english/canadianpoetry/cpjrn/vol28/potvin.htm
Disclaimer: I was provided with complimentary tickets to Alien Creature. As always, I retain complete editorial control over all content published on this website.