Ah, those Victorians – they certainly get a bum rap as stuffy, given their adventurous natures. One wonders if our descendants will laugh as much at our sexual antics as we do at theirs in "In the Next Room, or The Vibrator Play" currently at Theatre Inconnu.
A doctor (Julian Cervello) invents an electrical device to treat hysteria in women (and sometimes, men).  Misconceptions about sex, desire and orgasm abound in this rollicking and rapid tale of 7 intertwined lives – a doctor and his wife, his nurse, their "help", and several patients.
Story lines cross and criss-cross at a fast clip; Naomi Simpson, in her directorial debut, navigates the intersections carefully. It's a story verging on the titillating, handled here with care, attention, empathy and humour.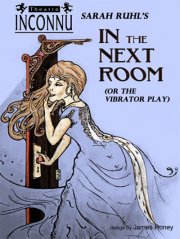 In the Next Room was commissioned by the Berkley Theatre in 2008, and is the first of Sarah Ruhl's plays to debut on Broadway, opening at the Lyceum Theatre in 2009. In 2010 it was awarded the Will Glickman Award for Best New Play to Premiere in the Bay Area!
Julian Cervello, more often seen in the role of youthful innocent, brings gravitas to the character of Dr Givings, aided by his nurse Annie (Celine Richmond), a calming presence in unsettling circumstances. Young Mrs Givings (Odile Nelson) strains at the bounds of conformity in a lively and quick performance hinting at her inner turmoil.  Jason Stevens' dramatic training is evident – he plays the smaller part of Mr. Daldry as a loud and bombastic man, so sure of himself as to be unaware of the unsettling effect he has on his young wife (Emma Condé).  Condé portrays Mrs Daldry as quicksilver, her frenetic nervousness smoothing out gradually as the play progresses.  It's a bit of costume wizardry that even her dress seems ill-fitting, not quite in place, complementing the sense she is completely out of her element.
Elizabeth Marsh (Elizabeth the wet nurse) provides amazing and profound insight into the ordinary travails of life – birth, death, love – in a touching soliloquy as the play ends, while James Roney's Leo, an artist, is fey and romantic without hitting excesses.
Set and lighting design by Simpson produce two clearly separate rooms – replete with the accoutrements of the upper middle class. Lights (a luxury at this beginning of the age of electricity) flick on and off, raise and lower to highlight the action in a rather decorous fashion, exciting without being prurient.  Costumes (Kat Jeffery) are very detailed, elegant and multi-layered while serviceable enough to be easily removed – disrobing is a key component to the action.
In the Next Room, or The Vibrator Play is funny, witty, and, most of all – human – in its treatment of sexual and personal relationships. Once again, Theatre Inconnu cast, crew and creative team make daring theatre with finesse. Don't wait to go, it will sell out during the remainder of the run.
In a chat with the director after the play, I learned that the vibrators used onstage as props are indeed authentic – one an early 1900s model ordered via eBay and the other from the 1930s.
A play of love and longing, commissioned by Berkeley Repertory Theatre, In the Next Room (or The Vibrator Play) illuminates the lives of six lonely people seeking relief from a local doctor — but, despite his expertise with a strange new technology, all they really need is intimacy. It's a tender tale that takes place in the twilight of the Victorian age, an elegant comedy lit by unexpected sparks from the approaching era of electricity, equality, science, and sexuality.
The play has been adapted for film as Hysteria.
In the Next Room, or The Vibrator Play by Sarah Ruhl, Directed by Naomi Simpson
Theatre Inconnu, 1923 Fernwood Road
February 12 – March 2nd
Tickets: $14/$10 (plus a $2 charge) at Ticket Rocket online, in person, or by phone 250 590 6291
From Theatre Inconnu directly:
250-360-0234 / mail@theatreinconnu.com 
www.theatreinconnu.com
Starring:
Julian Cervello Dr Givings
Jason Stevens Mr Daldry
Elizabeth Marsh Elizabeth
Emma Condé Mrs Daltry
Odile Nelson Mrs Givings
Celine Richmond Annie
James Roney Leo
Production Team:
Stage Manager Tannis Perry
Set Design Concept Naomi Simpson
Costume Design Kat Jeffery
Lighting Design Naomi Simpson
Sound Design Kevin Stinson
Set Building Steven Aleck, Guiseppe Buccolioero, Clayton Jevne