What Happened Was by Theatre Inconnu Feb 18-Mar 8 2014. A review.
Just like many a first date, What Happened Was (currently at Theatre Inconnu from February 19th –March 8th, 2014) is quirky, awkward and vulnerable. It also has a deliciously dark twist that elevates it from standard rom-com territory, and takes it into the realm of bold social commentary.
All the action takes place in "real time" in the period slightly prior to, and during, the date.  Jackie (Catriona Black) is employed in a law office; she awaits the arrival of Michael (Michael Romano)—nervously making the last preparations for dinner and consuming several glasses on wine.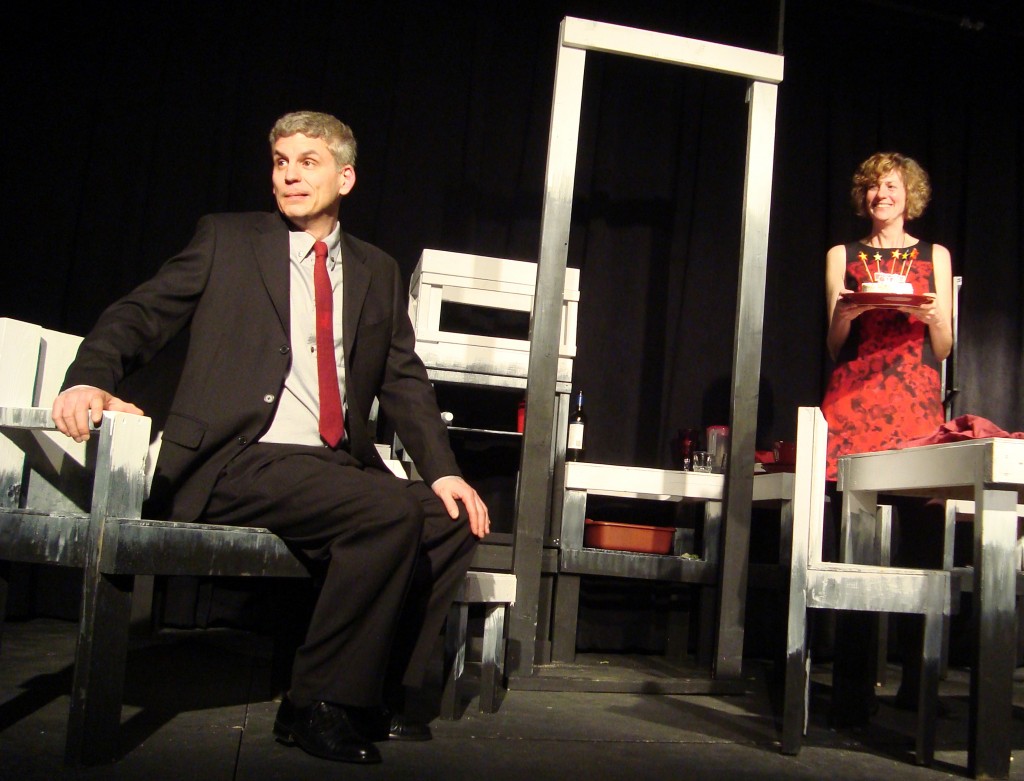 Michael Romano (Michael) and Catriona Black (Jackie). Photo: Clayton Jevne
Staging a play in "real time" makes many demands of an audience, particularly in today's culture obsessed with speed and rapid plot developments.  Jackie and Michael give us little clues to their previous relationship—it turns out they are co-workers—and we slowly settle in.  Nothing is comfortable; most of us can appreciate the courage it takes to invite someone over to your home and serve them a meal, especially when it is someone you care for.  There are so many possibilities that things can go wrong.
Black and Romano are perfectly matched in their hesitation and concurrent need to impress; as such, they are a mirror for many individuals leading ultimately lonely lives, stuck in the routine of work, solitary dinner and TV before bed.  How do we signal to the other that we have redeeming qualities?  What separates us? Are there connections?
Jackie and Michael both happen to be closet writers—Michael hopes to reveal the inner workings of the law office in a scathing exposé and Jackie writes children's stories.  At first Jackie defers to Michael's apparent superior knowledge and class—he lived in a tony neighbourhood and went to Harvard while she grew up in a sprawling and large family on Long Island—then, suddenly, the action and power dynamic shift in very dramatic fashion.  Here is the genius of Tom Noonan's script.  The audience—and Michael—are taken on a twisted and dark joy-ride through Jackie's story What Happened Was.  I can't reveal more than this for fear of spoiling the thrill.
Black and Romano do great justice to the arc of the story as they negotiate the complexities of possible romance; their emotional attachments shift and change slowly over the course of the evening.  What Happened Was is definitely heftier than either the premise or the length would originally suggest.  Director Clayton Jevne (who is also the designer) imbues the play with a sense of great portent and meaning with Jackie and Michael as archetypes for every person who is single in our modern society—sometimes happy to be alone, but often longing desperately to find a sense of deeper connection.  We can laugh at their foibles for we share their fears.
Jevne's set is symbolic—representative furniture, windows and doors painted in monochromatic tones, in sharp juxtaposition to the real food consumed during dinner.  The sound track mimics Jackie's beloved rock classics (Ooh-oo child Things are gonna get easier) and sets up what I like to think of as a "big city vibe".
What Happened Was… was written over twenty years ago by Tom Noonan (recently best known for playing the Reverend Nathaniel Poole in Hell on Wheels), and adapted for film.  The film won the Grand Jury Prize at Sundance in 1994.
Its themes are timeless and universal.  I left the theatre pondering the lives of the main characters, and the intersections with my own.
Theatre Inconnu presents – the Canadian premiere of:  
What Happened Was… by Tom Noonan
Feb 19 – Mar 8                                                                                                                 
Directed by Clayton Jevne, and starring Catriona Black (Who's Afraid of Virginia Woolf?, 2009) and Michael Romano (The Golden Dragon, 2014)
Preview (half price)  8pm:  Feb 18
8pm:  Feb 19, 20, 21, 22, 25, 26, 27  &  Mar 1, 4, 6, 7, 8
2pm:  Feb 22, Mar 1 & 8

Running time for the show is approximately 90 minutes with one intermission.
Reservations and Ticket Sales – reservations are recommended as seating is limited.
Through TICKET ROCKET:  ticketrocket.org  or   250-590-6291
Regular priced tickets are $14 / $10 Students, Seniors, and the unwaged.
Feb 18 – Preview is $7
Wednesday, Feb 26 is Pay-What-You-Wish admission (reserve through Theatre Inconnu-see above).
Theatre Inconnu is located at 1923 Fernwood Road