All My Sons at Blue Bridge Repertory Theatre May 29–June 10 2018. A review.
Brian Richmond has always had an expansive artistic vision and nowhere is it more evident than in the magnificent Blue Bridge Repertory Theatre production of Arthur Miller's All My Sons, onstage at the Roxy Theatre May 29-June 10, 2018.
Over the past decade, since founding the company in 2009, he has steadily gathered together an ensemble of artists that would be the envy of any company in any city—it's especially been a pleasure to watch early career professionals grow and develop in their craft.
Audiences who treasure smart, beautiful, deeply-layered theatrical experiences will be particularly appreciative of the efforts that have gone into the design aspects of All My Sons (some of which are outlined in the program notes), all of which, as noted in The Costume Rag magazine "honour the story" and expand on the understanding of the time in which it is placed.
Graham McMonagle, set and costume designer, took as his inspiration, Young Corn, a painting by American Regionalist painter Grant Wood (most famous for American Gothic) to illustrate the tensions between an idealized vision of a rural America fast giving way to the industrialized present.  With the action of the play taking place entirely in the backyard of the Keller home it was important to provide enough visual interest to keep people's attention through three acts.  McMonagle succeeds wonderfully, creating fantastical trees and greenery, an expansive lawn and back porch, with hints of the neighbouring residences and street beyond, while suggesting the interior life of the house through opaque windows.  Seated close to the stage it was possible to examine the stippling effect reminiscent of pointillism that provided extra depth and perspective.
McMonagle has a background in dance; his costumes are always designed to provide effortless movement for the actors, with flowing and elegant lines. Dresses for Ann Drever (Laura-Jane Tresidder) are particularly note-worthy with tight-fitting bodices and full skirts, as befits her position as the "big city girl" come back to her home-town, and in contrast to the more everyday wear of Kate Keller (Jan Wood), Sue Bayliss (Cyllene Richmond) and Lydia Lubey (Madeleine Humeny). George Deever (Victor Dolhai) sports an ill-fitting suit that perfectly matches his unease.
Sound designers Jason King and Brian Richmond chose a rich score comprised of music drawn from the works of American composer Aaron Copland—at times triumphant, at others almost dirge-like—complemented by the sounds of everyday life—the thundering storm proceeding the first act, birds twittering in the early morning, the incessant and distant barking of dogs, children's playful shouts.
Giles Hogya lighting tapestry heightens or dampens the emotional charge, moving through an entire day—a sun washed morning, the brightness of noon day, soft afternoon and dark of night—often foreshadowing the moments to come.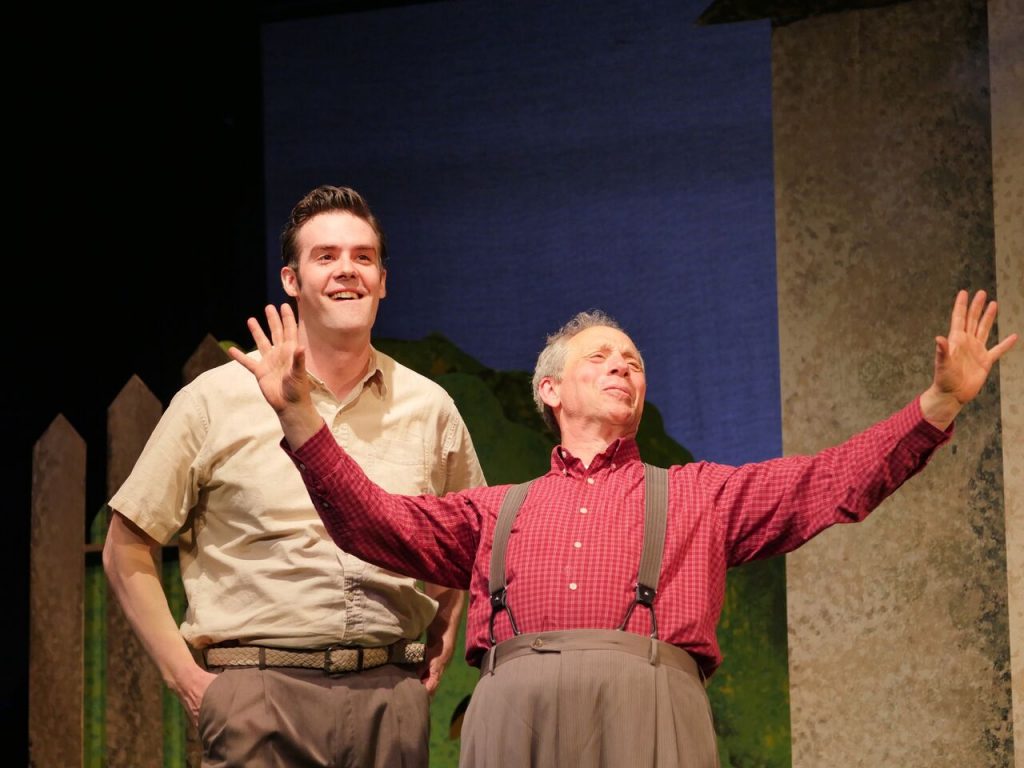 J Lindsay Robinson and Brian Linds. Photo: Jam Hamidi
Miller's script is a great mystery, hinting at and then disclosing the many intricacies in the relationships of the characters through slow and often taciturn or laconic dialogue; patrons will be teasing out the connections and main conflicts by carefully listening throughout much of the first two acts before the bombshell ending.
What begins with easy conversation between father Joe Keller (Brian Linds) and neighbours Dr Jim Bayliss (Michael Armstrong) and Frank Lubey (Trevor Hinton) at the crack of dawn is soon disturbed with the notion all is not quite right.  Underneath his affable nature Joe hides many secrets, and a fierce bluster waiting to be released—this careful game of cat-and-mouse constitutes the main tension in All My Sons. Who knows what, who suspects, who judges and why? Underneath the placid surface, animosity and vindictiveness lurk.
Cyllene Richmond as Sue Bayliss illustrates this perfectly in her interaction with Laura-Jane Tressider (Anne), slowly twisting the metaphorical knife as she seeks to undermine the latter's happiness. Unfulfilled in her marriage to an idealistic and irresponsible doctor (Michael Armstrong) she blames Anne's beau Chris Keller (Lindsay Robinson) because he inspires others to be better, rather than accepting hard everyday facts.
Here is the second tension—the tug and pull of reality and fantasy.  Jan Wood, in her Blue Bridge début, is outstanding as Kate—in appearance fragile, in need of much cosseting from family and friends, clinging to the belief her oldest Larry, a fighter pilot who disappeared three years previously, is still alive, and yet with a steely resolve in upholding appearances.  On one hand, she's the bustling mom filled with homespun advice, on the other, a Cassandra filled with dire predictions and warnings. As everything comes undone, her complete and utter devastation moved the audience to tears.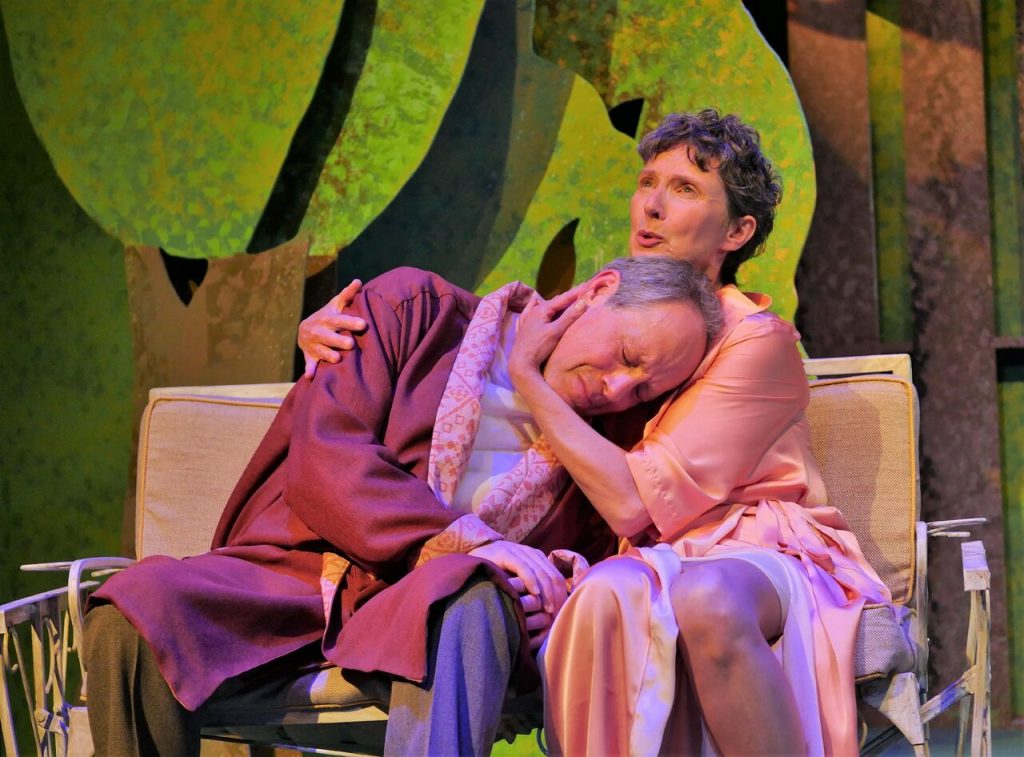 Brian Linds and Jan Wood. Photo: Jam Hamidi
The younger generation bears the brunt of their parents' mistakes, struggling mightily between loyalty to their families and a desire to break free from the mistakes of the past—nothing is as simple as it should be, the ties that bind are tightly wound.  Both Robinson and Dolhai provide conflicted examples of deep personal struggles—Robinson's Chris is easy in nature, filled with potential until a spate with his belligerent father tips him over the edge while Dolhai's George is agitated, hopped up with a relentless obsession to right the scales that have weighed so heavily against his father Steve, Joe's former business partner. Caught in the middle is Anne—Tresidder conveys the delight of a woman in love, happy to succumb to feelings she's harboured for Chris, while trying to understand her brother's concerns (and harbouring her own dark secret).
In Miller's world, secondary characters like Frank, Lydia, Jim, Sue and Bert reveal as much about themselves as they do about the main characters and conflicts, and provide many moments of tension-relieving humour.
Hinton's Frank is a cheery conundrum, a working man with a passion for astrology, a mainstay to Kate in maintaining her fantasy—and yet, firmly planted in the now and grateful to be so. Humeny displays a forthright and ironic sensibility as the young mother of three, caught up in her responsibilities and moving forward from a past that included George.  Jude Culham-Keays is excellent as Bert, a youngster fascinated with Joe's stories of jail—the playful and sometimes tender interactions between the two illustrating Joe's deep abiding love for his own sons. Michael Armstrong as Jim Bayliss is world-weary and cynical, a caution to young lovers of the hard truths and compromises involved in daily living.
Then there is Joe himself—Brian Linds' nuanced portrayal, of a man who has so successfully lied to himself as to have forgotten his culpability, is masterful. When the ultimate realization hits him—he is staggered. All his sacrifice—for nought.
All My Sons is a Greek tragedy for the modern age, timeless in its application—while our problems may not be those of the Kellers, the play serves as stark reminder of personal moments of duplicity or complicity, and of the terrible costs of our mistakes.
Director Brian Richmond, cast, crew and creative are to be congratulated on creating a superior production that will make you feel what it is to be human—something that is not to be overlooked in this era of breezy dramas and light-hearted comedies that so often only flutter over the surface of human emotion. Verklempt, devastated, stunned and undone, my theatre partner and I sat at the end—too shocked to even applaud at first—tears streaming down our faces and gasping for air.
This is undoubtedly one of Blue Bridge Repertory Theatre's finest shows. What a fantastic way to celebrate ten years.
All My Sons by Arthur Miller directed by Brian Richmond
Blue Bridge Repertory Theatre at the Roxy 2657 Quadra Street in Quadra Village
May 29-June 10, 2018
Tickets: $20-47 through the Box Office online, by phone 250-382-3370 or in person Wednesday to Saturday between 12pm-4pm
Creative Team
Director Brian Richmond
Set and Costume Designer Graham McMonagle
Lighting Designer Giles Hogya
Sound Designers Jason King and Brian Richmond
Dialect Coaches Iris Macgregor Bannerman and Michael Armstrong
Stage Manager Leah Hiscock
Assistant Stage Manager Kirsten Iversen
Cast (in order of appearance)

Brian Linds Joe Keller
Michael Armstrong Jim Bayliss
Trevor Hinton Frank Lubey
Cyllene Richmond Sue Bayliss
Madeleine Humeny Lydia Lubey
Lindsay Robinson Chris Keller
Jude Culham-Keays Bert
Jan Wood Kate Keller
Laura-Jane Tresidder Ann Dreever
Victor Dolhai as George Deever
Disclaimer: I received complimentary tickets to attend the preview of All My Sons.