All My Sons at Blue Bridge Repertory Theatre. A preview.
Director Brian Richmond's biggest hope for the coming production of All My Sons by Arthur Miller (May 29-June 10, 2018), who he considers to be "quite possibly the greatest American playwright of the 20th century", is that audiences will be "brought to tears by the cathartic experience of a play that allows you to connect fully with other human beings and leaves you, ultimately, with hope".
For Richmond, in a "post-ironic age" it's a rare and cherished treat to delve into a script where ethics and morality are at the centre, not only in the large decisions—the macro level—but also at the micro or personal level.
Real life partners Jan Wood and Brian Linds (who play Kate and Joe Keller) are veterans of Victoria's theatre scene where they have appeared as a stage couple in A Christmas Carol at the Belfry Theatre and Hockey Mom/Hockey Dad with The Other Guys Theatre Company.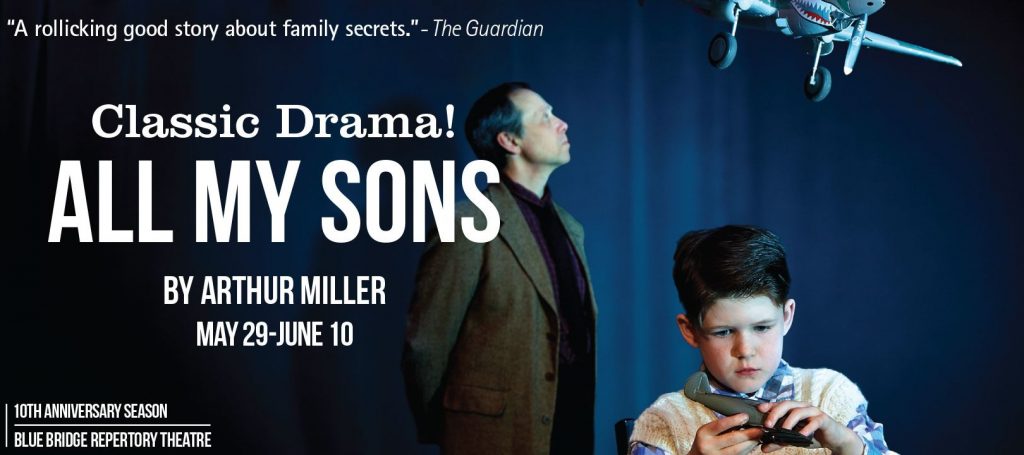 Wood is an assistant professor at the University of Victoria as well as an actor (Reverberation—Belfry Theatre SPARK Festival, Half Life, The Life Inside—Belfry Theatre). Blue Bridge audiences will remember Linds from War of the Worlds, Our Town, Waiting for Godot, True West, Blithe Spirit, Of Mice and Men, Brighton Beach Memoirs, Arms and the Man, Death of a Salesman, As You Like It, Uncle Vanya, and for his sound designs for Private Lives, Arms and the Man and Who's Afraid of Virginia Woolf. He designs sound and acts for theatres across Canada and has an extensive list of credits with the Belfry Theatre, the Chemainus Theatre Festival, the Arts Club and others.
As a couple, they've developed a "shorthand" that comes from being very comfortable with one another. Linds points out that during the rehearsal process they have the advantage of being able to work on their scenes during off-hours. "We've been through situations in real life that we can bring into our work with the play" he says.
All My Sons asks questions about the ambiguity of situations, and our responsibility to live a moral life. Joe Keller is driven, above all, by love for his family—he doesn't set out to commit a crime. He simply tells a story that isn't true and then won't accept culpability
"If I was in those circumstances, what would I do?" says Brian Richmond. Wood adds "it's hard to be a moral person; everyday you're faced with overlooking—for the good of myself, I will overlook".
"I hope the audience will empathize with the characters and events as if they actually happened to them" states Richmond.  "When we were in rehearsal the other day there was a reservoir of grief that cracked like a storm in mid-summer, a tragic shock. I think audiences will be grateful they've been provided that experience".
On the intimate stage of the Roxy—as Linds mentions, "up close and personal"—Blue Bridge Repertory Theatre aspires to the standard of Toronto, Broadway and London.
Over the past decade the ensemble has grown, with actors returning season after season. Richmond and Wood are pleased to be working with many former students, alumni of the University of Victoria.  This year's cast includes Laura-Jane Tresidder (Private Lives, The Importance of Being Earnest), Lindsay Robinson (War of the Worlds, The Caretaker), Michael Armstrong (Our Town, Born Yesterday, Of Mice and Men), Cyllene Richmond (Our Town), Trevor Hinton (The Caretaker, Waiting for Godot), Victor Dolhai (Private Lives, Glass Menagerie, The Fantasticks). Joining Wood in her Blue Bridge debut are Madeleine Humeney a recent graduate of the Canadian College of Performing Arts (The Little Prince—Kaleidoscope Theatre, Rocky Horror Show—Atomic Vaudeville, Love's Labours Lost and Macbeth—Greater Victoria Shakespeare Festival, Jesus Christ Superstar—Company P) and Jude Culham-Keays (A Christmas Carol—Belfry Theatre).
All My Sons by Arthur Miller directed by Brian Richmond
Blue Bridge Repertory Theatre at the Roxy 2657 Quadra Street in Quadra Village
May 29-June 10, 2018
Tickets: $20-47 through the Box Office online, by phone 250-382-3370 or in person Wednesday to Saturday between 12pm-4pm
Starring

Brian Linds Joe Keller
Jan Wood Kate Keller
Laura-Jane Tresidder Ann Dreever
Lindsay Robinson Chris Keller
Michael Armstrong Jim Bayliss
Cyllene Richmond Sue Bayliss
Madeleine Humeny Lydia Lubey
Trevor Hinton Frank Lubey
Victor Dolhai as George Deever
Jude Culham-Keays Bert
Designed by Graham McMonagle, Giles Hoyga and Jason King