Born Yesterday at Blue Bridge Repertory Theatre May 30-June 11 2017. A review.
What felicitous and preternatural ability did Brian Richmond, Artistic Director of Blue Bridge Repertory Theatre, possess to program the never-more-topical Born Yesterday by Garson Kanin for the second production of the 2017 season?
Harry Brock (Jacob Richmond) is a wealthy junk dealer, come to Washington in the hopes of making the deal of his career by bribing a senator (Malcolm Harvey as Senator Hedges). He quickly learns that his paramour Billie Dawn (Kassianni Austin), a former showgirl, is a hindrance, and hires political journalist Paul Verrall (Jonathan Mason) to make her over.
Under Janet Munsil's crisp and probing direction, the cast powers through the pithily written dialogue while hitting all the important arguments and comedy of Kanin's script.  Set in the luxurious surroundings (set design Barbara Clerihue) of a posh hotel overlooking the Washington Monument, where every accoutrement reeks of class and influence, and officious minions–assistant manager (Chase Hiebert), Helen the maid (Kelly Hudson), hotel staff (Nicolas Guerreiro, Caitlin Holmes, Danielle Janess)–carry out their duties with carefully choreographed, almost dancelike, precision, this tale of a small city crook-cum-tycoon who bends others to his will but is ultimately undone by his lover, is full of delightful one-liners and trenchant observations about the nature of power, and of personal transformation.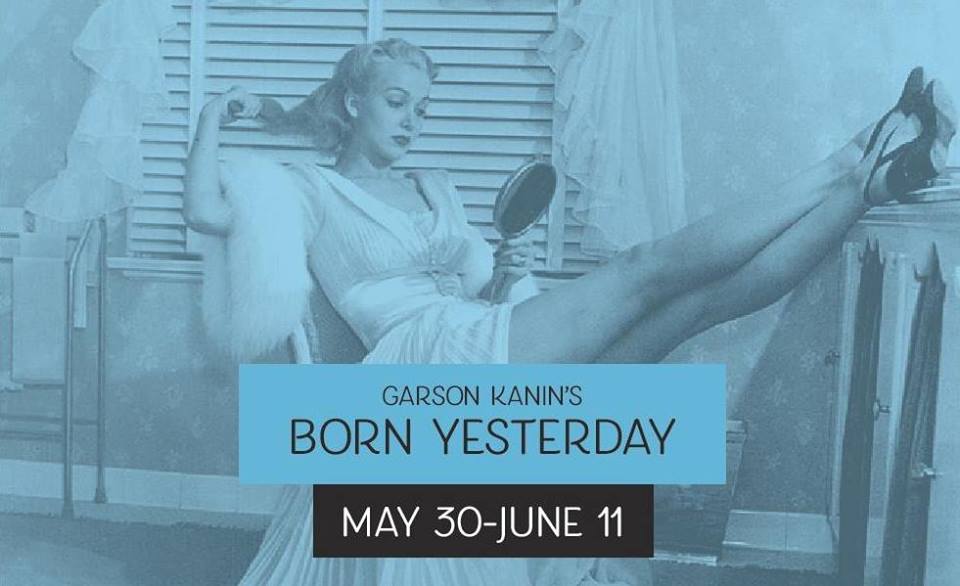 Richmond's Brock lumbers around the room, shouting orders—he's a brutish bully and a lout, who isn't afraid to intimidate and threaten, or even use physical force.  Over the course of the play (which covers two months), as Billie Dawn gradually becomes educated and aware, his grip loosens.  In the final scenes, he's like a punch drunk heavy-weight fighter, about to go down for the count to a roundhouse blow.  The louder his rants, the more people ignore him.
Austin begins as quintessentially ditzy, her Billie Dawn bopping incongruously to interior music during drinks with Senator and Mrs Hedges (Iris Macgregor Bannerman), speech high and nasal, manner bored and clueless.  Under Verrall's careful and respectful instruction (Mason's portrayal is incredibly pure-hearted—and at complete odds with the broken, disaffected tone of Brock's sleazy lawyer Ed Devery—played to weary perfection by Tim Machin).
Set designer Barbara Clerihue images a spacious, airy hotel penthouse through the judicious placement of an upper entrance platform, with steps down to the living room, and exits left and right to bedrooms.  Large picture windows, elaborately curtained and topped with ornate valances, flood the room with light. Classic furniture pieces—tables, chairs, sofa and sideboard—are arranged symmetrically throughout.  Lighting designer Giles Hogya creates moody atmosphere during scenes set in the demi-darkness of night.  Sound designer Carolyn Moon plays with music of the period, departing (according to the script) with Sibelius' Opus 47, underlining a conversation between Billie Dawn and Verrall.
Costumes by Graham McMonagle convey vast wealth with expensive suits, sleek cocktail dresses, beautiful swing coats and detailed hotel uniforms, alongside Verrall's more modest garments, Devery's rumpled suits and Eddie's sleek gangster look, proving that in 1946, clothes definitely made the man (or woman).
How little things have changed. Born Yesterday may have been written over 70 years ago, but its relevance to the current political climate is astonishing.  Sycophants, advisors and henchmen still roam the quiet corridors and back rooms. Power-hungry individuals lord it over others.  The formerly oppressed find quiet inner strength and begin the long journey of self-awareness.
Billie Dawn doesn't have it all figured out, but she's willing to step outside the comfort and security of what she has known for the uncertainty of personal freedom unlike Brock's other hangers-on.
With Born Yesterday, Blue Bridge Repertory Theatre proves, once again, why timeless classics are as important today as ever, their messages as pertinent as when they were written.
Born Yesterday by Garson Kanin, directed by Janet Munsil
Blue Bridge Repertory Theatre at the Roxy Theatre, 2657 Quadra Street (in Quadra Village)
May 30-June 11, 2017
Tickets $20-47 online, by phone 250 382 3370 or in person at the Roxy Theatre box office Tuesday-Saturday, 12pm-4pm
Creative Team
Directed by Janet Munsil
Set Design by Barb Clerihue
Lighting Design by Giles Hogya
Costume Design by Graham McMonagle
Sound Design by Carolyn Moon
Dialect Coach: Iris MacGregor Bannerman

Cast List:

Billie Dawn | Kassianni Austin
Harry Brock | Jacob Richmond
Paul Verrall | Jonathan Mason
Ed Deverey | Tim Machin
Norval Hedges | Malcolm Harvey
Mrs Hedges | Iris MacGregor Bannerman
Eddie Brock | Michael Armstrong
Asst Mgr | Chase Hiebert
Helen/Manicurist | Kelly Hudson
Hotel Staff | Nick Guerreiro
Hotel Staff | Danielle Janess
Hotel Staff | Caitlin Holm
Disclaimer: I received a complimentary ticket to attend the opening of Born Yesterday.