I've been waiting impatiently to share the details of An Improvised Film Noir with you.
Long an aficionado of the genre, one winter I sat through a marathon of old movies doing research for a musical theatre project.  If you love films like The Maltese Falcon, The Big Sleep, The Blue Dahlia, Black Widow, The Postman Always Rings Twice, you'll not want to miss Paper Street Theatre's homage to the genre.
 He's standing in the streetlight as the fog clears, his face hidden between his hat and the upturned collar of his trench coat. He's here to dance with a dame, but she's dirty. She steps out from the shadows and…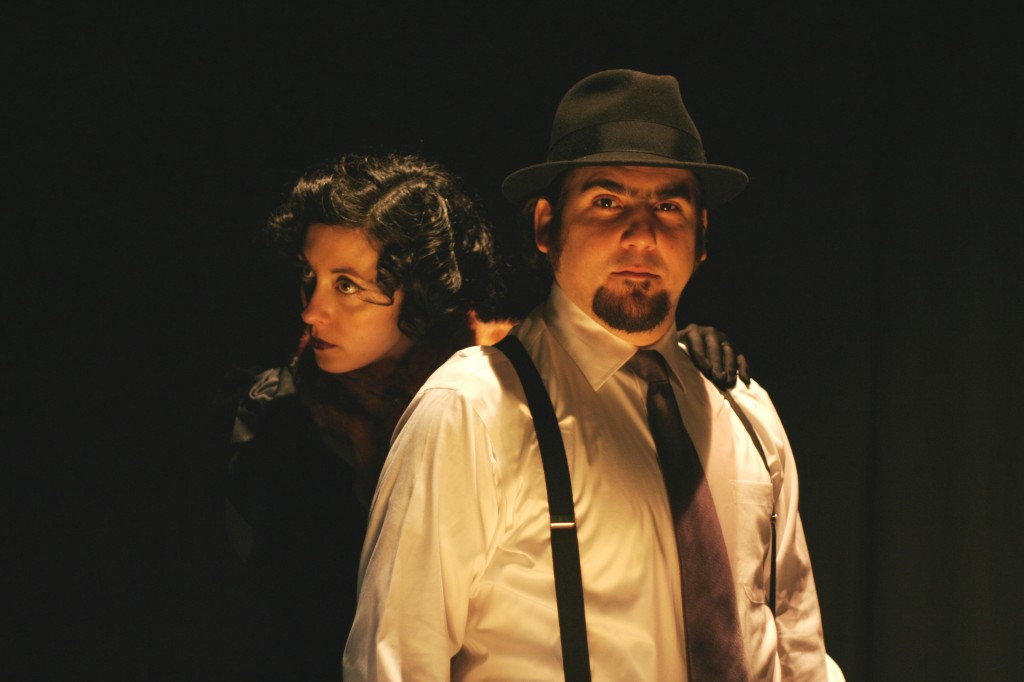 Missie Peters and Dave Morris. Photo: Steven Ray Orr, used with permission
In its third full-length improvised show Paper Street Theatre Co. brings classic film noir to the stage with An Improvised Film Noir. Led by Pick of the Fringe performer Dave Morris, the cast includes local improvisers Missie Peters, Chris Gabel, Scott Thompson and Byron Kjeldsen.
 "Often Film Noir is improvised as parody – but that's not what we're doing," explains director Dave Morris. "We want to recreate what makes film noirs so great – the witty banter, the value of the intellect and the grey morality of the post-war world."
An Improvised Film Noir
Friday, March 30
Saturday, March 31
Intrepid Theatre, 1609 Blanshard
Doors @7:30, Show @8pm
Tickets $12 @ the door
Paper Street Theatre Co. is a Victoria improvised theatre company that produces quality, experimental improv. Other shows this season have included An Improvised Tennessee Williams and An Improvised Samuel Beckett.
(I'm a big fan of their work, and hope you would consider attending an example of some incredible and daring theatre).
For more information on Paper Street Theatre visit http://www.paperstreettheatre.com/.Find the event on Facebook: https://www.facebook.com/events/271196256289608/.
There's a wonderful list of film-noir here:  Locally, in Victoria, you can source many old film-noir movies at Pic a Flic on Cook Street, and through branches of the Greater Victoria Public Library.