Antigone by Jean Anouilh at Theatre Inconnu May 8-24 2014. A Review.
Antigone by Jean Anouilh is a modern classic, elegantly and subtly interpreted in the current Theatre Inconnu production (May 8-24, 2014).
Antigone (Melissa Blank), a Theban princess, daughter of the late king Oedipus, defies the tyrant Creon's (Clayton Jevne) decree and buries Polyneices, her rebellious brother. In so doing—she has sealed her own death.
To most readers and audiences this would make Antigone the heroine, and Creon the villain. While the original, written by Sophocles in the 4th century BC represents Antigone as virtuous, Anouilh's version (first staged in Nazi-occupied France) is well-known for its ambiguity, resonating with occupiers and resistance alike.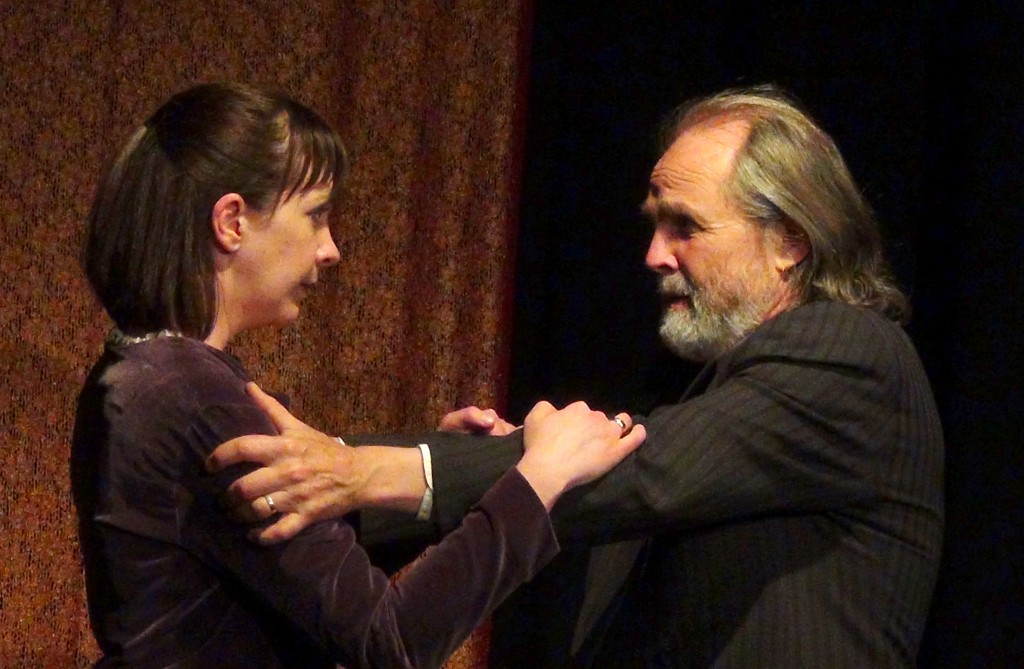 Melissa Blank as Antigone and Clayton Jevne as Creon. Photo: Theatre Inconnu
The choice by director Jevne to use different styles of acting to emphasize the dichotomies between the characters is thoughtful and intriguing.
The nurse (Geli Bartlett) and guard (Bingdon Kinghorn) speak with British accents, and a naturalistic or common manner that reflects their class, with the guard being faintly reminiscent of Shakespeare's comic characters like the gate-keeper in Macbeth. Their everyday concerns are humourous when situated against the life and death battle Antigone has embarked upon.
The passion and even-tempered good-nature of Antigone's fiancé, Haemon (Michael Bell) and her sister Ismene (Odile Nelson) contrast with the ritualistic, dry, matter-of-fact and to-the-point delivery of both Antigone (Melissa Blank) and Creon (Clayton Jevne) who appear as if weighed down by their roles.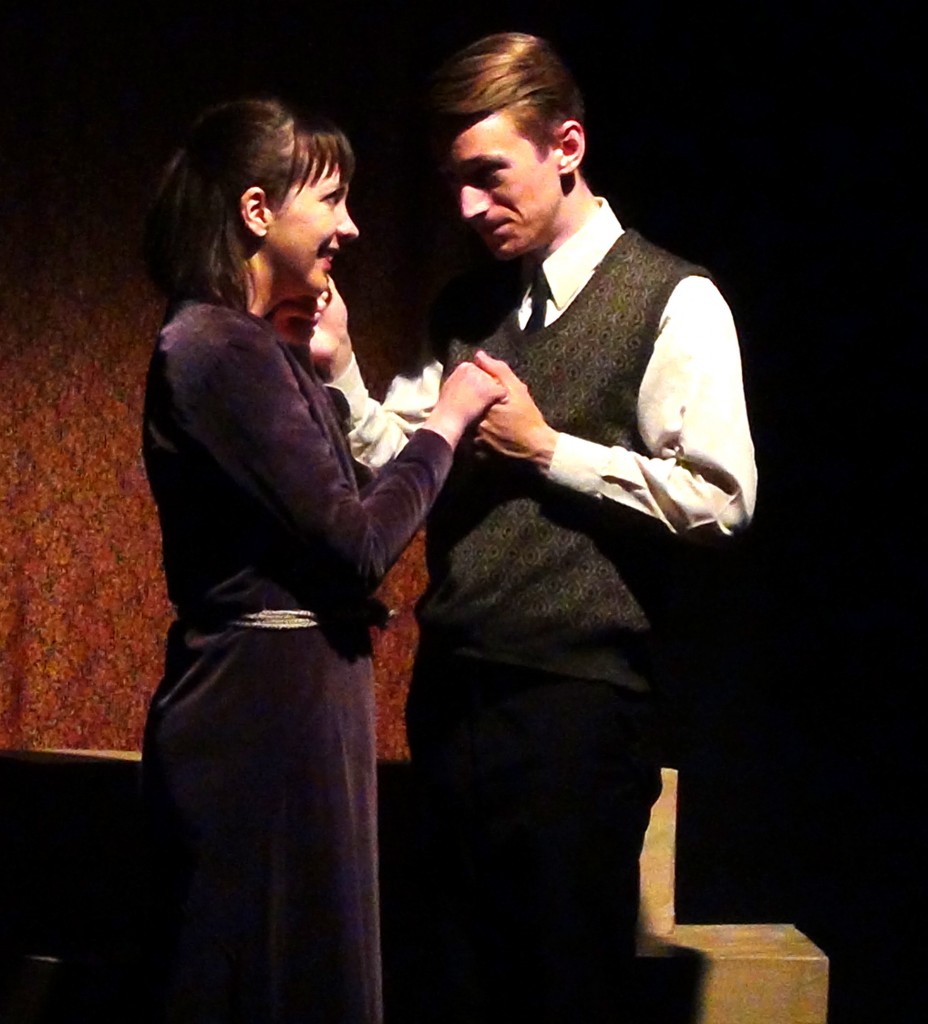 Melissa Blank as Antigone and Michael Bell as Haemon. Photo: Theatre Inconnu
The latter are convinced of the rightness of their choices; there is no wavering. They remain un-moved by pleas and considerations. The most heart-breaking of scenes are reserved for the young lover Haemon, and the sister Ismene as they separately enjoin Antigone to abandon her course of action. Bell and Nelson achieve fine-tuned balance when pitted against the haughty pride of both Antigone and Creon.
The audience already knows the story—as sketched by the Chorus—a suave and sophisticated Justin Guthrie; everything lies in the interpretation, in the dialogue and the beauty of the words—a lyric and well elucidated translation (2002) by British composer and director Jeremy Sams.
In the culminating and skilfully-rendered scene, Jevne and Blank reach a restrained fever-pitch as reasonable Creon argues with impetuous Antigone. Our sympathies are torn; allegiances shift as rapidly as the words fall. Ultimately, there is no right or wrong.
The play is set in recent time, with modern costumes and a stark set (Clayton Jevne).  Minor characters (the Messenger, Euridyce, the Page) are masked and hidden behind the curtain, only to be revealed when backlit. The only sound effects are 40s-era songs before the show begins, and at the intermission.  Nothing distracts from the words.
Antigone made me wonder and philosophize about the motivations of each set of characters, and their juxtaposition to the roles each one of us plays in the "grand scheme of things". Can we be content with our "little lives" or do we feel bound by events, larger than ourselves, that have placed us on a track from which there is no escape or reprieve?
Antigone by Jean Anouilh, translated by Jeremy Sams, directed by Clayton Jevne
Theatre Inconnu (1923 Fernwood Rd), May 8th – 24th, 2014
Tickets $14/$10. Wed May 14th is Pay-What-You-Wish admission
Available through Ticket Rocket, online, in person or by phone 250 590 6291
Cast
Geli Bartlett Nurse
Michael Bell Haemon, Messenger
Melissa Blank Antigone, Euridyce
Justin Guthrie Chorus
Clayton Jevne Creon
Bindon Kinghorn Guard
Odile Nelson Ismene, Page
Production Team
Clayton Jevne Director/Designer/Stage Construction
Kristen Iversen Stage Manager
Steven Aleck Set Painter
Robert Randall Poster Designer
Gordon Knappet Box Office Manager

Theatre Inconnu is located at 1923 Fernwood Road (across the street from the Belfry Theatre). For parking we suggest the side streets west of Fernwood Road as these do not have parking restriction signs.