Since 1978 Victoria's Theatre Inconnu has been challenging audiences with topical and difficult drama. Their latest work, A Day in the Death of Joe Egg, is no exception. Originally written in 1968 by the British playwright Peter Nichols, it is loosely auto-biographical and chronicles the life of a lower middle class couple, Brian (James McDougall) and Sheila (Melissa Blank), parents of a severely handicapped child, Joe (Similkameen O'Rourke), as they struggle with the question of placing Joe in a facility to save their marriage. By turns funny, dark and moving, it is also incredibly painful and irreverent, full of uncomfortable moments as we ask ourselves "Should I really be laughing?"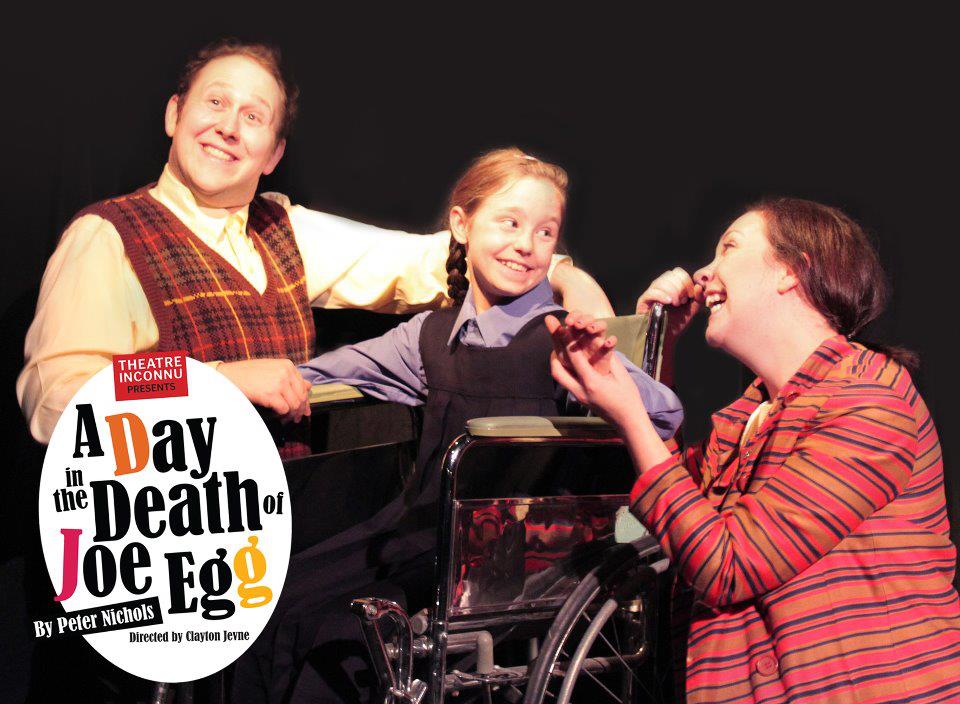 Photo: Graham McDonald used with permission of Theatre Inconnu
The small intimate space at little Fernwood Hall is transformed into a minuscule flat, replete with the psychedelic trappings of the 1960s – zigzag wallpaper, macramé plant pot holders and patterned pillows.  Music of the era fills the moments before the play begins.
Joe Egg launches its audience immediately into the action as Brian a teacher, breaks the fourth wall and addresses his class of badly disciplined students. So convincing was this portrayal that theatre-goers in front of me were following his orders.  The text is dense, full of historical references and jokes, as well as lengthy soliloquies from each of the characters. A less accomplished cast would be lost. Even on preview night,  they imbued this difficult piece with life and heart.
It's been a pleasure to see Melissa Blank go from small roles in Theatre SKAM's Bike Ride, to playing Hamlet with the Victoria Shakespeare Society, to this role as Sheila, the mother of Josephine (Joe).  Never losing her hope amidst the grinding day to day routine of caring for her child, she's able to grasp brief moments of happiness, relishing in her new volunteer activity with the local drama group. There is great strength, range and believability in this characterization.
James McDougall, a recent arrival in Victoria, appears for a third time with Theatre Inconnu after harrowing performances in Pornography and Shining City.  He has the considerable task of re-creating several lesser characters as Sheila and Brian play out their interactions with well meaning and baffled doctors, specialists and curates. McDougall's very plastic physical presence moves him convincingly through these transitions.
A real revelation is Similkameen O'Rourke as the "handicapped" child Joe.  Speechless and mostly motionless, her presence is such that Joe remains central to all the action, whether onstage or off. Her Joe is dignified, and never a caricature.  In one heart-wrenching scene at the end of act one, we have the opportunity to see, fleetingly, what she might have been, "if only she could be running about".
Clayton Jevne's sure and even direction is evident in the second act when members of the drama troupe, Pam (Lorene Cammiade) and Freddie (Graham McDonald) return to the flat with Sheila. Pam is definitely non-PC and particularly cringe-worthy in her assessment of "weirdies" and people who are "not like me". Cammiade nails her – accent, nose-wrinkles, purse-snapping and all. What a scathing indictment of the British upper-middle class and their view of the world. We squirm, because, in our heart of hearts, we all contain a small part of Pam!  McDonald as Freddie tries to be the conciliator of the bunch, but there is no easy answer to the deep philosophical questions this dilemma raises.
A brief appearance by Grace, Brian's mom (the ever excellent Geli Bartlett) caps off the night, as facades slowly fall, and Brian's long hidden fantasies reveal themselves. There is much slamming of doors, and exiting, in a fine simulacra of British comedy.
I would be amiss if I did not mention the wonderful costumes by Patricia Reilly and set design by Clayton Jevne that keep the true tone of the era in which this play is situated.
If you don't mind attending theatre that raises more questions than it answers, or going to the dark places of the soul while laughing – this production of A Day in the Death of Joe Egg is for you!
A Day in the Death of Joe Egg by Theatre Inconnu
Little Fernwood Hall 1923 Fernwood Road, Victoria BC
Previews November 29, December 1 at 8pm
December 2, 3, 7,8,9, 10, 14, 15, 16, 17 at 8pm
Matinees December 3,4,10,11,17 at 2pm
Tickets through Ticket Rocket online or by phone 250 590 6291
$10-14 Previews $7