Blue Bridge Repertory Theatre 2017-2018 season. Tenth anniversary.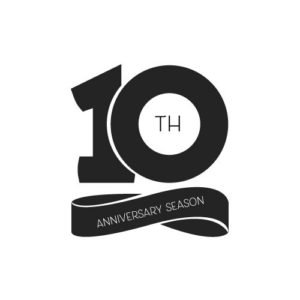 Blue Bridge Repertory Theatre is excited to announce their 2018 (and 10th Anniversary!) Season:
April 24-May 6 – Swan Song (and Other Farces)
An evening of hysterical one-act plays by Anton Chekhov, including Swan Song, The Proposal, The Bear and On The Harmfulness of Tobacco.
May 29-June 10 – All My Sons
Arthur Miller's masterpiece about the ties that bind and one American family's dark involvement in the 2nd World War.
July 3-July 15 – The Drawer Boy
With this pivotal comedy in Canadian Theatre History, playwright Michael Healey contemplates the search for a definitive Canadian identity in the countryside of southern Ontario.
July 31-Aug 12 – Sweeney Todd: The Demon Barber of Fleet Street
Stephen Sondheim's classic musical will be atmospherically brought to life, with a select number of early bird ticket buyers able to purchase a meal of "pie and mash" (plus suitable libations) to enjoy during the show.
Purchasing a subscription saves you 25% of the single ticket price (plus all fees!), and they range in price from $66.95(Previews) to $136.25 (Friday/Saturday Evenings) with discounts for students and seniors! Call the Box Office at 250-382-3370 or check out our website (bluebridgetheatre.ca) for more prices!
PLUS for the first time, you will be able to purchase a subscription for our Radio Plays, which means you could save up to 33% on the single ticket prices!
2018 Radio Play Offerings:
Oct. 31st (7pm+9pm) – War of the Worlds
Dec 15th and 17th (8pm) and 16th (2pm) – It's a Wonderful Life
Dec. 14th and 16th 98pm) and 17th (2pm) – Shop Around the Corner
Blue Bridge Sings!
Thursday November 30, 8pm

a 10th Anniversary celebration of Blue Bridge and the musical ….
Starring Sara-Jeanne Hosie and Kholby Wardell with guests Sarah Carle, Tracey Moore, Sarah Jane Pelzer, Kale Penny, Jacob Richmond and Brian Richmond under the musical direction of Chris Donison, Artistic Director of Bamfield's 'Music by the Sea'.
Singing songs from The Fantasticks, Hank Williams, Fire, Little Shop of Horrors, My Fair Lady, Patsy Cline, Judy! – the Judy Garland Story, Cruel Tears/Lagrimas Crueles, Red Hot Cole! – the music of Cole Porter and a special sneak peak of our upcoming musical Sweeney Todd – the demon barber of Fleet Street. 
Thursday, November 30, 8 pm
The Roxy Theatre, 2657 Quadra St., Victoria
OPENING NIGHT GALA!
Norwegian Hall, 1110 Hillside Avenue
6 – 7:30 pm, Thursday November 30
Featuring pre-show food, award winning wines, pre-show entertainment and plenty of great silent and live auction items.
Tickets $ 100 each or $ 150 per couple.
Call 250-382-3370 for further details and to reserve your place today!