Cafe Daughter at Belfry Theatre SPARK Festival 2018. A review.
Café Daughter, the fictionalized story of the life of Senator Lillian Eva Quan Dyck, by noted Cree playwright Kenneth T Williams, currently at the Belfry Theatre SPARK Festival 2018 March 20-24, is a deep dive into systemic and internalized racism through the eyes of a child, told with humour and grace.
Yvette Wong (Tiffany Ayalik), growing up in small town Saskatchewan in the 50s and 60s, has a secret—although she looks Chinese, her mother is Cree and she is to tell no one about this part of her ancestry.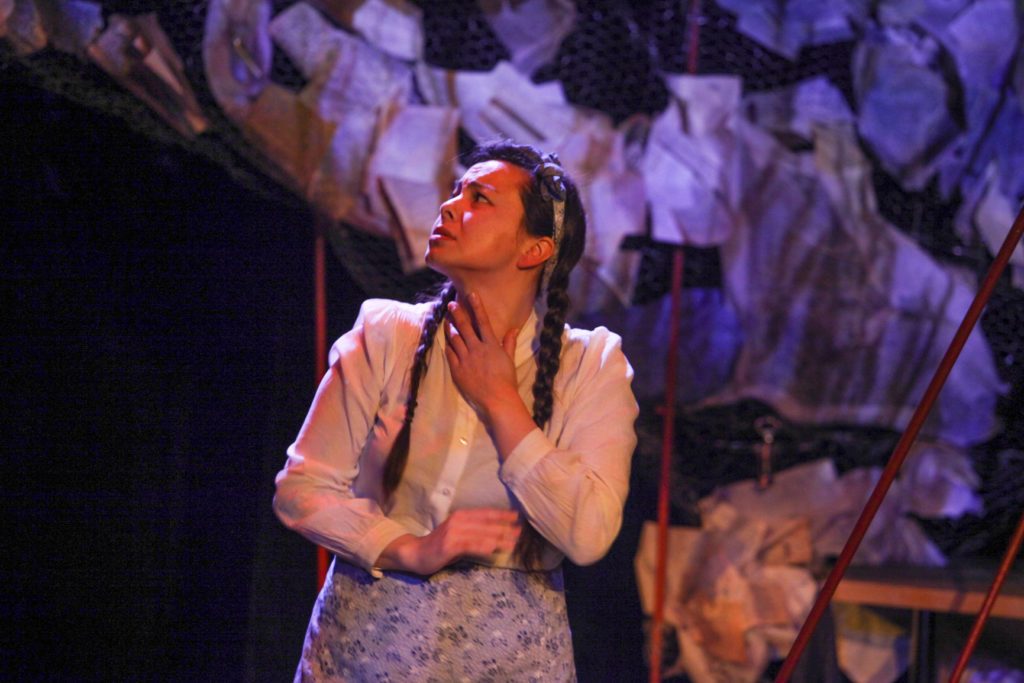 Tiffany Ayalik in Café Daughter. Photo: Ed Ellis
With little more than subtle changes in posture and inflection, Ayalik creates a dozen characters, switching from small child to beloved Kokum (grandmother) or Mosôm (grandfather) with ease, inflecting her speech to reflect their Cree-accented English. Charlie, Yvette's father, is portrayed as a brisk no-nonsense man with clipped tones while her mother is warm and loving, open and assured. There are beloved teachers who take an interest in this brilliant and motivated student, and snippy Miss Jones who can't believe she'll have one of "those people" in her class; bullying classmates and a kind village doctor; and finally, a confidante and friend—the glamourous and "exotic" Maggie, part Micmac, part English, who brings a hint of danger into her circumscribed life.
From the wide-eyed innocent wonder of a child in love with learning to the steely determination of a driven teen who refuses to let go of her dream to be a doctor, Ayalik fills the moments with insight—there is much laughter to be found in the precocious and self-aware nature of this delightful youngster.  Hidden in the script are hints at underlying social conditions and laws that ensured young Yvette would be an outcast wherever she went. Playwright Williams touches lightly on the sordid history of residential schools, alcoholism—on reserve and in families, the Immigration Act, employment laws in Saskatchewan that forbade Chinese men from hiring white women (it's how Senator Dyck's parents met, when her mother worked in her father's café) and exclusion.  Racism rears its ugly head in comments made to both daughter and father—an incident with a young unhappy patron in the restaurant makes Charlie—for the first time it seems—explode in anger, triggering a move from rural small town to Saskatoon.
Williams, a member of the George Gordon First Nation, was moved to write Café Daughter when he met Dyck (also a member) because he did not know of Saskatchewan's former employment laws. Café Daughter confronts Canada's colonial past and forces audiences to examine myths of a caring nation while remaining a story of individual and hopeful triumph.
Director Lisa Ravensbergen has carefully choreographed a taut 90 minutes; not one is wasted and time fairly flies by. Yvette is a compelling character; the audience cannot help but want to know more about her life. Ayalik moves assuredly from café (suggested by counter and stool) to forest whose tall poles surmounted by fantastical vegetation also become a teepee.  Several drum skins form part of the set—designer T. Erin Gruber projects moving images against them to suggest grain fields, river valley, night sky, café interior and even bicycle. Lighting is delicate and soft befitting a play steeped in memory. For much of the story the costume (also Gruber) is that of a young girl, but with a few simple changes, Yvette becomes, for a short period of time, a teen out for a good time. Shawn Gan's sound design situates the period with contemporary songs and hints at the rural nature of the small town.
Café Daughter was originally commissioned by Whitehorse's Gwaandak Theatre and premiered to much acclaim in 2011 before touring and then appearing at the National Arts Centre.  This excellent production is a collaboration of Edmonton's Workshop West Playwrights' Theatre in association with Alberta Aboriginal Performing Arts.
Thank you to the Belfry Theatre for bringing this important work to the 2018 SPARK Festival–it is a privilege to bear witness to the extraordinary life of Senator Dyck and to re-examine the prevalent colonial narrative.
Nine-year-old Yvette Wong helps out in her parents' cafe?. She's incredibly smart but is put in the slow learners' class because of her skin colour. Her mother has charged her with a secret – to never tell anyone she's part Cree. Based on the true story of Senator Lillian Eva Quan Dyck, Cafe? Daughter is the powerful, funny and touching tale of one woman's journey to reclaim her heritage.
Cafe Daughter, written by Kenneth T. Williams
Performed by Tiffany Ayalik
Directed by Lisa C. Ravensbergen
Belfry Theatre SPARK Festival
March 20-24, 2018
Tickets $30 online or by calling the Box Office at 250 385 6815
Performed by Tiffany Ayalik
Written by Kenneth T. Williams
Directed by Lisa C. Ravensbergen
Workshop West Playwrights Theatre, Edmonton