SPARK Festival 2018 at the Belfry Theatre March 8-25, 2018
Victoria has an abundance of theatre festivals and the Belfry Theatre SPARK Festival is one of my favourites.  It kick-starts the festival season in early spring; there are many FREE events (mini-plays, Belfry 101, play readings, concerts and a Hootenanny); there are opportunities to see vibrant, current work by artists not often seen on Victoria stages; it attracts a different audience than is typical of the mainstage productions; the young adults of Belfry 101 present their creations.  To learn more about this season's SPARK Festival, the media release is posted below.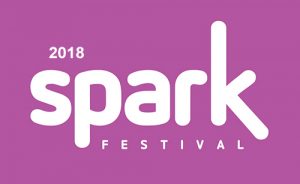 From March 8 to 25, 2018, the Belfry Theatre will present its annual SPARK Festival, highlighting some of the best new theatre in Canada. One of the ambitions of the SPARK Festival is to play with the notion of what theatre is, what it could be, and how it's changing.
Highlights of this year's festival include True Crime (performed by Campbell with live music by Julian Brown), the return of Daniel MacIvor with his piece, Who Killed Spalding Gray?, and Inuit actor and storyteller, Tiffany Ayalik in Cafe? Daughter (based on the true story of Senator Lillian Eva Quan Dyck).
Iconic musician and provocateur Torquil Campbell was inspired by real life con-man Clark Rockefeller. Rockefeller, now serving a life sentence in California, duped hundreds into believing he was the scion of the wealthy clan, with cataclysmic consequences. Check out Vanity Fair's The Man in the Rockefeller Suit for the full story.Torquil's dogged investigation and impersonation challenges us to find the truth in True Crime and confront our cultural addiction to a good story.On March 12, in the Belfry lobby, we invite the audience to be a part of an exhilarating choral adventure. Why We Are Here!, created by Brian Quirt and Martin Julien, is a unique and stand-alone experience that invites audience members to become a choir and sing in a site that they would not normally be able to sing in.Why We Are Here! was a tremendous success at last year's festival.Daniel MacIvor has been called Canada's Spalding Gray, so it's especially intriguing to see one monologist take on another in Who Killed Spalding Gray? (March 13 – 17). Daniel has always pushed and reshaped the boundaries of a good story and to see him perform is a real treat.Currently on tour in the UK, Norah Sadava and Amy Nostbakken will be performing their incredible show, Mouthpiece, at SPARK from March 13 – 17. Please note – advance sales for Mouthpiece are very strong and we expect the show to sell out prior to opening.
"…we were speechless. Mouthpiece touches on every part of the female experience from birth to death using dance, music, and wicked humour with just a bathtub for scenery. It's impossible to describe and truly unforgettable." Jodie Foster & Alexandra Hedison
On Sunday, March 18 we'll host the New Play Cabaret featuring new work from UVic's Creative Writing Department, read by UVic Theatre students.
Intrepid Theatre's Sean Guist will direct a reading of Jordan Tannahill's Sunday in Sodom on Monday, March 19. Both readings are free events.
In the third week of SPARK, high school students from the Belfry's education outreach program, Belfry 101, will begin rehearsals with Dave Morris (Paper Street Theatre) and Erin Macklem, the Belfry's Artistic Associate and Outreach Coordinator.
Canadian Inuit actor and storyteller, Tiffany Ayalik will arrive to perform Cafe? Daughter (March 20 – 24), written by Kenneth T. Williams (adapted from his book). Based on the true story of Senator Lillian Eva Quan Dyck. Cafe? Daughter is the powerful, funny and touching tale of one woman's journey to reclaim her heritage.
That week (March 20 – 24) Calgary's Ghost River Theatre offers up an unforgettable immersive audio experience created for a blindfolded audience.
That's right – everyone in the audience will be blindfolded to experience Tomorrow's Child, adapted from Ray Bradbury's short story by Eric Rose, Matthew Waddell and David van Belle. Like Mouthpiece, Tomorrow's Child is almost sold out.
SPARK will close on March 25 with Belfry 101 Live – a show created by the students of Belfry 101 in response to the performances they've seen at the Belfry over the past seven months. Their remarkable take on the themes and stories they've witnessed is always eye-opening.
Scattered throughout SPARK will be a host of free events, including concerts, an all-ages dance party (Hootenanny on March 11), and the perennially popular mini plays – 10-minute plays performed throughout the building.
Torquil Campbell (Creator /performer of True Crime) and Lisa C. Ravensbergen (director of Cafe? Daughter) will host professional development workshops on March 10 and March 24 respectively.
Tickets for SPARK are on sale now. For further information check out www.sparkfestival.ca – our satellite site for the festival.
Ticket Information
Tickets are available at 250-385-6815 or online at tickets.belfry.bc.ca. Prices are subject to change.
Ticket Discounts
High School Students – 50%
University / College / Post Secondary Students – 15%
Seniors – 15%
Members of the Military – 25%
SPARK Festival Schedule (March 8 – 25)
| | | |
| --- | --- | --- |
| Date | Time | Event |
| Thurs, March 08 | 7:30 pm | True Crime |
| Fri, March 09 | 8:00 pm | True Crime |
| Sat, March 10 | Call Us | PD Workshop – Torquil Campbell |
| | 8:00 pm | True Crime |
| Sun, March 11 | 4:00 pm | Hootenanny |
| Mon, March 12 | 7:00 pm | Why We Are Here! |
| Tues, March 13 | 7:30 pm | Who Killed Spalding Gray? (P) |
| | 7:30 pm | Mouthpiece (P) |
| Wed, March 14 | 7:00 pm | mini plays |
| | 7:15 pm | mini plays |
| | 7:30 pm | Who Killed Spalding Gray? (O) |
| | 7:30 pm | Mouthpiece (O) |
| Thurs, March 15 | 7:00 pm | mini plays |
| | 7:15 pm | mini plays |
| | 7:30 pm | Who Killed Spalding Gray? |
| | 7:30 pm | Mouthpiece |
| Fri, March 16 | 7:00 pm | mini plays |
| | 7:20 pm | mini plays |
| | 7:40 pm | mini plays |
| | 8:00 pm | Who Killed Spalding Gray? |
| | 8:00 pm | Mouthpiece |
| Sat, March 17 | 7:00 pm | mini plays |
| | 7:20 pm | mini plays |
| | 7:40 pm | mini plays |
| | 8:00 pm | Who Killed Spalding Gray? (C) |
| | 8:00 pm | Mouthpiece (C) |
| Sun, March 18 | 7:00 pm | New Play Cabaret |
| Mon, March 19 | 7:30 pm | Sunday in Sodom by Jordan Tannahill |
| Tues, March 20 | 7:30 pm | Café Daughter (P) |
| | 7:30 pm | Tomorrow's Child (P) |
| Wed, March 21 | 7:00 pm | mini plays |
| | 7:15 pm | mini plays |
| | 7:30 pm | Café Daughter (O) |
| | 7:30 pm | Tomorrow's Child (O) |
| Thurs, March 22 | 7:00 pm | mini plays |
| | 7:15 pm | mini plays |
| | 7:30 pm | Café Daughter |
| | 7:30 pm | Tomorrow's Child |
| Fri, March 23 | 7:00 pm | mini plays |
| | 7:20 pm | mini plays |
| | 7:40 pm | mini plays |
| | 8:00 pm | Café Daughter |
| | 8:00 pm | Tomorrow's Child |
| Sat, March 24 | Call Us | PD Workshop – Lisa C. Ravensbergen |
| | 7:00 pm | mini plays |
| | 7:20 pm | mini plays |
| | 7:40 pm | mini plays |
| | 8:00 pm | Café Daughter (C) |
| | 8:00 pm | Tomorrow's Child (C) |
| Sun, March 25 | 7:30 pm | Belfry 101 Live! |