Charisma Furs Intrepid Theatre Uno Fest 2017. Interview with Katie Sly.
Can you speak to the creation process for Charisma Furs—how long it was in development, the collaboration with Jonathan (Seinen)?  What sparked the creation of this show? 
Jonathan and I met in 2012, when he was co-facilitating a performance mentorship program for LGBTQ youth at Toronto's Buddies in Bad Times Theatre. I was one of the youth lucky enough to participate in the program. At that time I was newly out of the closet, I had never sex with a woman, and I had never performed publicly. I was fresh, terrified, and hungry in every sense. Jonathan and I really connected early on in the program, and with his faith and guidance, I developed two short-form performance pieces and stepped into live performance for the first time. Jonathan and I stayed friends thereafter.
Jet forward two years. In 2014, at an open mic storytelling event at lemonTree creations in Toronto I took the mic and, off the top of my head, told a story about the first professional dominatrix I'd ever met– and how she changed my chemistry. Jonathan happened to be in the audience at that open mic. On my way home, I got a text from him that read, "I want to make a show where you tell that story." We didn't know it yet, but that text message was when Jonathan and I started creating what would become Charisma Furs.
Jonathan and I applied and were selected for a week-long residency at lemonTree. We worked in-studio all day for the week, knowing we had little time and resources, and that we wanted a full script for a show at the end of the week.
It was the fastest and most adamantly I've ever created: all day in-studio, Jonathan and I would share artistic influences, research the narrative of my family online, and then we'd turn on a recorder and I'd tell Jonathan my personal stories. At the end of each day in-studio, Jonathan would send me home with a list of things to write about, I'd get home by 7pm, sleep for a few hours, wake up around 11pm, write, go back to sleep around 4am, and then I'd be back in-studio with Jonathan at 10am.  While I'd be writing all night, Jonathan would take home our day-time recordings, transcribe them, and work on how to order my stories into a script.
We had no money, no development budget, we couldn't pay ourselves for the work we were doing: Jonathan worked voraciously because he believes in me, and I worked voraciously because I believe in him. By the end of the week, we had a full script.
On the back of a workshop showing of that script, we got a grant through Buddies in Bad Times Theatre and the Ontario Arts Council's Theatre Creators Reserve program to work on the staging of the piece. Toronto's Videofag stepped in at that point and gave us a week in-residence in their space, so that we could edit the script, work on the staging of the piece, and do another workshop presentation.
After that, we debuted Charisma Furs at SummerWorks 2015. So in one sense, Charisma Furs was developed in 2 weeks. In another sense, Charisma Furs is the result of years of mutual respect, mutual admiration, and is a reflection of what is possible when there are mentorship programs available to queer youth.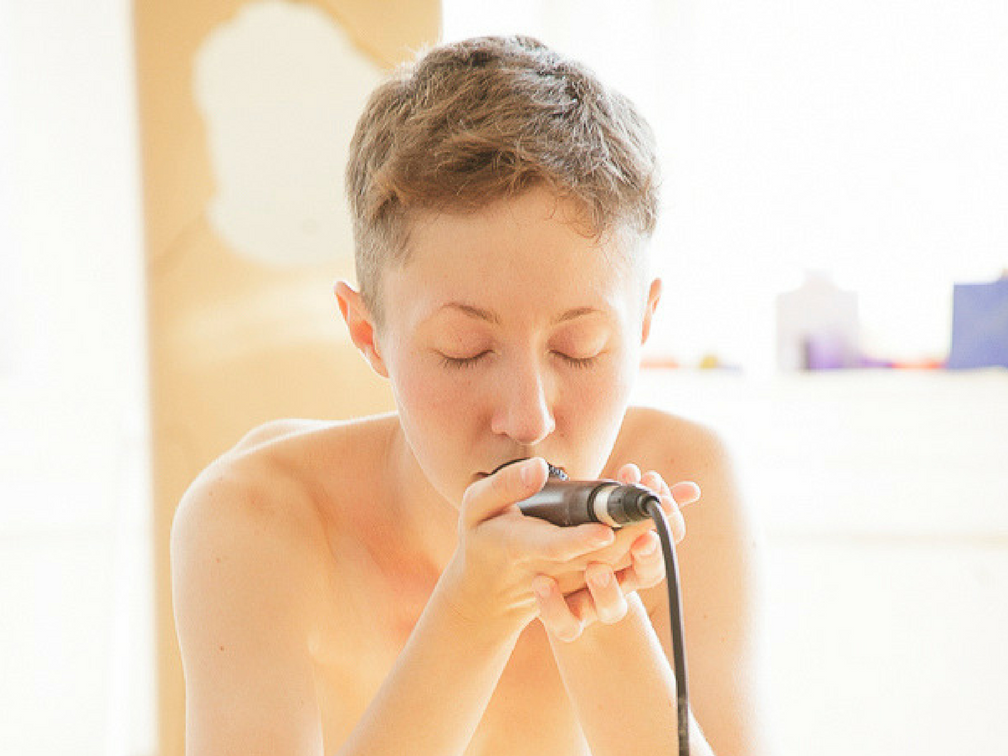 Can you comment on the design aspect of your show, its esthetic? 
I've been on my own, without financial support from family, since I was 18. Being a queer artist and a poor artist means that the aesthetics of my work are defined primarily by I can afford, which I think is an inherently queer way to work. For example: paper is an important aesthetic element in Charisma Furs. Metaphorically, paper is frail, yet transformable and full of possibility. Logistically, paper inexpensive and easy to transport.
An important aspect of the design of Charisma Furs is that it require presence, on my part and on the part of the audience. There's no theatrical lighting in the piece, or any distance or delineation between myself and the audience. We are sharing space. We make eye-contact. We may touch. There is no back row. The form of the piece requires equal amounts of vulnerability, from myself and the audience.
What do you hope to inspire in your audience?  
My hope with Charisma Furs is that I reveal myself enough to those who attend, that they are moved to reveal themselves, in their own lives, to friends, family, and lovers, in a way that helps them feel grounded, authentic, and excited to pursue exploring their curiosities and dreams every damn day.
Who will be interested as a potential audience member?  What would you say to entice someone to come?
This show is for anyone who has ever wondered:
Where do we find ourselves, our sense of value and self-worth, and how do we hold the balance between our pleasure and our pain?
If that's not enticing enough, I would add: if you come to Charisma Furs you will see my vagina, and my vagina is gorgeous.
What's next? 
I will be debuting a new play I've written, called Serenity Wild, in Toronto at the SummerWorks Performance Festival in August.
I am currently the artist-in-residence with the frank theatre company in Vancouver. As part of that residency, I am facilitating a performance mentorship program for LGBTQ youth called Telling It Bent— the same kind of youth mentorship program that connected me and Jonathan. In July, I'll be directing the show the youth in Telling It Bent collectively create. I'm humbled and honoured to play the role of mentor now, where I used to be student.
Also as part of my artist residency with the frank, I am developing a performance called How to Self-Suspend. Part live photo-essay, part dance, and part rope bondage demonstration, How To Self-Suspend is a multimedia performance art piece about the chemical impact of long-term trauma on the brain and body, the instinct for revenge, internalized rage, and the process of learning how thrive in the space between crushing despair and abundant hope. I plan to do a workshop presentation of How to Self-Suspend in early 2018.
Significant accolades or awards? 
In 2016, I was the grand prize winner of the Wildfire National Playwriting Competition for playwrights under the age of 30, for the script of Serenity Wild. (http://mmmtheatrecollective.com/wildfire/)
Also in 2016, I was awarded Buddies in Bad Times Theatre's Queer Emerging Artist Award. (http://buddiesinbadtimes.com/wp-content/uploads/Buddies-Queer-Emerging-Artist-Award-PR.pdf)
This year, I have been nominated for a Digital Publishing Award for Best Personal Essay, for an essay called When queer sexual mentorship comes in the form of cling wrap, which I wrote for Daily Xtra. (http://live.digitalpublishingawards.ca/Nominees?ref_src=homepage_intro) I'll find out if I've won on June 1, 2017.
I am currently in the midst of an artist-residency with the frank theatre company in Vancouver, which is possible through the highly-competitive artist-in-residence program offered by the Canada Council for the Arts. (http://thefranktheatre.com/about/staff/)
Visiting everything from a first time submitting to a dominatrix, to a party that plays Ginuwine's Pony every hour on the hour, Charisma Furs is an intimate performance about Katie Sly's difficult relationship with love. Episodic, bizarre, nostalgic, and candid, this show is at times a storytelling piece, at times a dance work, and at times stand-up comedy. Looking at growing up on social assistance, coming out as queer, and exploring sexual masochism (with a few poetic pit-stops in between), the aesthetics are DIY and the text is raw. Expect eye contact, adult language, adult subject matter, nudity, and origami. Come early and Katie will teach you how to make something.
Charisma Furs by Katie Sly and Jonathan Seinen (Tender Container)
Performed by Katie Sly
May 22 at 8pm and May 23 at 8:30pm.
Martin Batchelor Gallery, 712 Cormorant Street
Tickets $18 via TicketRocket. May 22 is Pay What You Can