After the Beep at Intrepid Theatre Uno Fest 2017. Interview with Pamela Bethel.
What sparked the creation of this show? Is this your first one person show?
When I finally got up the nerve to listen to these old answering machine tapes, I started thinking that I wanted to do something with them, I wanted to share them.  And when I started talking to anyone who would listen about them I heard so many other people's "answering machine stories" and other personal archives.  One thing that makes these kinds of recordings special is that they are an unintentional archive – answering machine messages aren't really supposed to be saved.  So they have a really beautiful real unfiltered quality, especially because most of the voices are of teenagers.  As well, some of the messages that sound quite ordinary remind me of extraordinary experiences…and some of them contradict memories that I had had for years – listening to the "evidence" has proved my memory wrong on a few occasions in this process.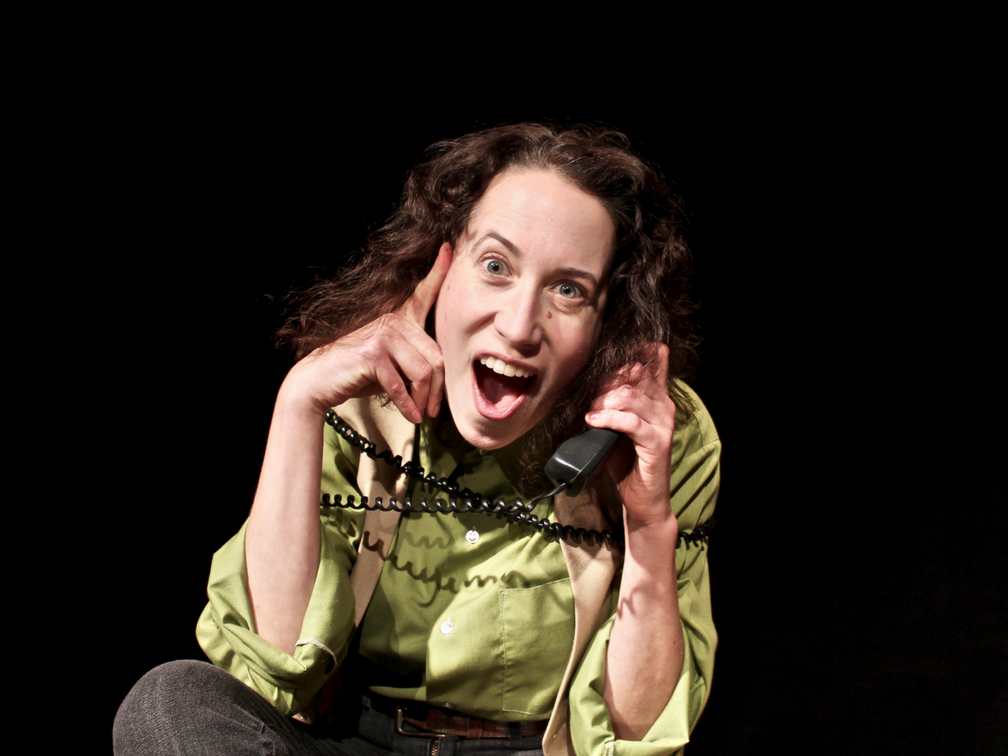 When did you debut the show (or is this its debut), and how has it changed since the debut?
I did a workshop version of it about a year and a half ago (as part of Intrepid Theatre's YOU Show), just to try out sharing the material and my thoughts about it in front of an audience.  It was essential to me to make sure this stuff might actually be interesting to an audience and that I wasn't just going to hold people captive for a navel-gazing show and tell!  People enjoyed it so I kept working on it.  I was super lucky to get to work with Andrew Bailey as my dramaturge.  He helped me develop more of a story arc and a through-line for the piece.  He saw through all my BS.  It's more whole and focused now.  And the rehearsal process (currently in progress) has added another layer – working with both the pages of script and the recordings plus my style of presentation.  In a way it's been a bit de-constructed again, which is to say if you think there are flaws in the story arc don't blame Andrew!  Blame Geoffrey Ewert, my lovely director.
Can you comment on the design aspect of your show, its esthetic?
We're just putting the finishing touches on the physical design now but it's rooted in the idea that we (the audience and I) are meeting in a mutually agreed upon place so I can share my recordings and thoughts with them.  So it's pretty simple and pragmatic to match the realness of the sonic elements (the messages).
What do you hope to inspire in your audience?
I hope that people will get to reflect on their own experiences as teens with some openness and maybe even some love.  I hope everybody goes home and finds their own relics that they have been afraid to re-visit.  I hope people consider the kinds of mementos they are creating today and who they are making them for.  And they need to laugh or I will be, like, omygod gag me with a spoon.
Who will be interested as a potential audience member?  What would you say to entice someone to come?
Anyone who had an answering machine and/or was a teenager.  It might stress out someone that currently has a teenager (just kidding….sort of).
What's next?
The show will be at this year's Victoria Fringe…beyond that it's an abyss of possibility.
Significant accolades or awards?
Well I was on the Lord Byng Secondary Honour Roll in 1995 so there's that.
Is there anything I haven't asked you that it would be important to know?
There's no such thing as a one-person show – I'm running out of room on my list of thank you's for the program!
Part confessional, part story, part show-and-tell, After the Beep uses forgotten voice recordings from Pamela's teenage "private" phone line. Instead of erasing the messages, she's sharing them, 25 years later with a live audience. It's like The Breakfast Club meets the Watergate tapes…in 1990's Vancouver.

Pamela Bethel wants to know…When do we become adults? What forges us into the grownups we become? What are the accidental rites of passage for teenagers of the Western First World? What the hell was she thinking when she broke up with Ben?! He was, like, so cute. And could she pull off wearing tights and jean shorts again?

After the Beep explores the secret languages of adolescence and memory. It delves into the messiness of this in-between period of life that shapes all adults but that many of us would prefer to keep off the record.
After the Beep by Pamela Bethel (Theatre SKAM)
May 18 and 19 at 6:30pm
Intrepid Theatre Club 2-1609 Blanshard Street
Tickets $18 via Ticket Rocket. May 18th show is Pay What You Can
75 minutes; comedic monologue