Company C presents Cabaret. Interview with director and cast.
The largest Company C cohort ever, 16 highly trained triple-threat performers, tackles the inimitable Cabaret for their final show January 26-February 3 at the CCPA Performance Hall.
From the original 1966 Broadway production to the many subsequent revivals–1986 (Broadway), 1993 (London), 1998 (Broadway), 2006 and 2012 (London) and 2014 (Broadway)—and the iconic 1972 movie starring Joel Grey and Liza Minnelli, the songs and characters of Cabaret have entered the collective consciousness.
Edmonton-based (and multiple Sterling award-winner) director Ron Jenkins (who last directed Gatsby for CCPA in 2015, with other local directing credits including Good Night Desdemona/Good Morning Juliet and The Trespassers for the Belfry Theatre), describes Cabaret as "one of the greatest musicals of all time" and "completely relevant in today's political climate".  He's always wanted to cast a woman as the MC for the challenge it presents.
Kristina Roberts looks forward to balancing the shifts from male to female, and showing the MC's gritty side. Keelin O'Hara—Sally Bowles—is happy to play such a well-known role, particularly one who is "a big person who is loud and not afraid to say what she thinks".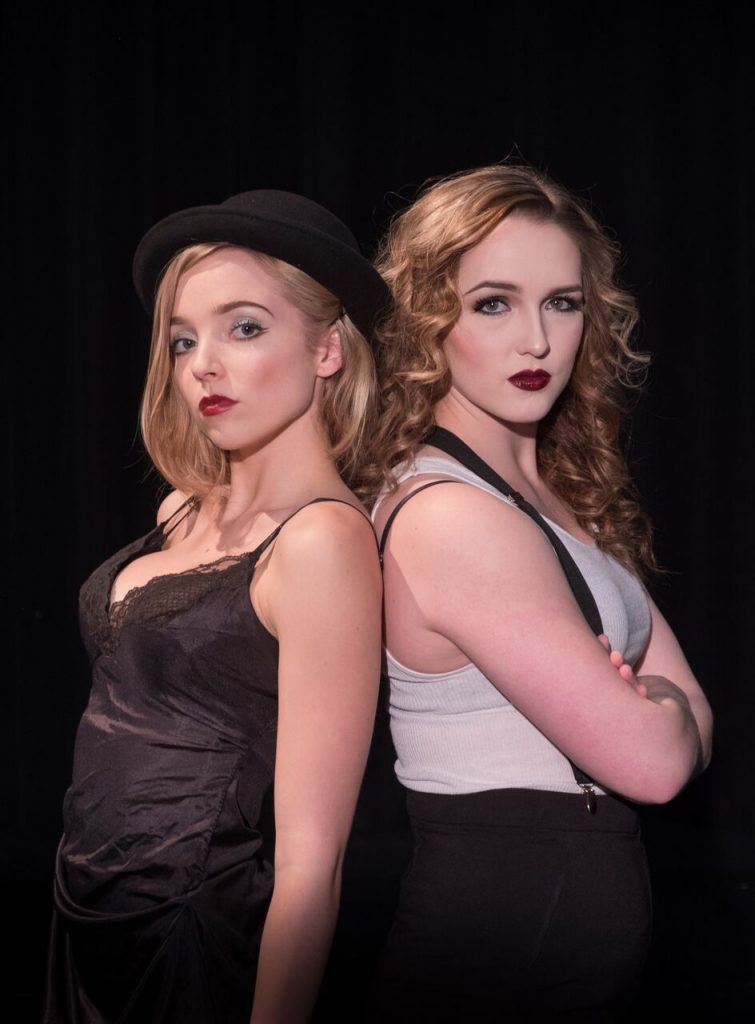 Sally (Keelin O'Hara) and the MC (Kristina Roberts). Photo: Chris Edley
Both Roberts and O'Hara have been training since they were tots—O'Hara started dance at the age of two and Roberts has taken piano lessons since she was five.  Every member of the ensemble shares a similar trajectory, and there will be decades of collective experience onstage for a production that Jenkins promises will be "entertaining, first and foremost" but will also "take audiences to a place they didn't think they'd go".
Founded in 2005 to offer a third year repertory program to graduates of the Canadian College of Performing Arts, Company C involves ensemble members in every aspect of creating a show. From performing to costumes and choreography, sets and lighting, music and sound, stage management and front of house, public relations and ticketing—each company member will have a multitude of responsibilities. It's an opportunity for local audiences to see young performers on the cusp of their careers, and a unique chance to say "I remember when….".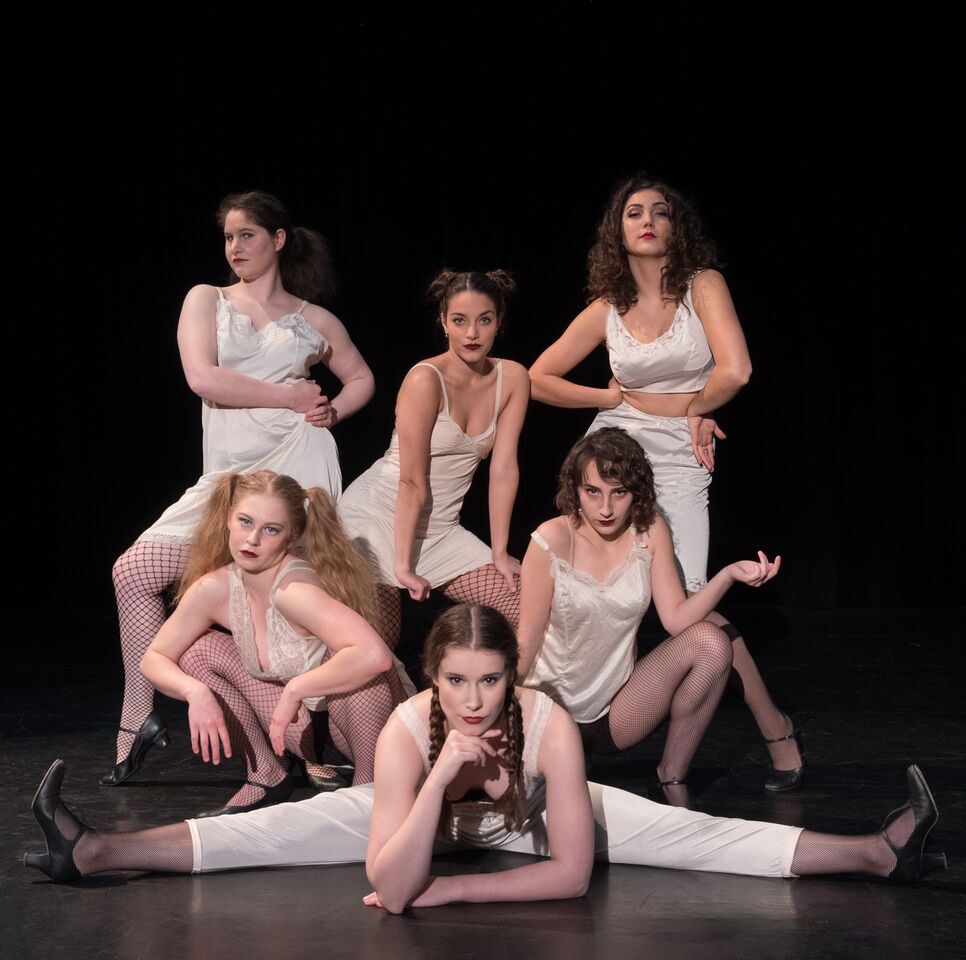 The Kit Kat Girls. Photo: Chris Edley
Cabaret, winner of eight Tony Awards including Best Musical, is set in the seedy Kit Kat Klub of Berlin as the Nazi party rises to power in the early 30's. It follows the story of English nightclub performer Sally Bowles, and her relationship with American writer Cliff Bradshaw (Colin Milne). Overseeing the events of the show is the Emcee and Master of Ceremonies at the Kit Kat Klub. Between the rise of the Nazi party, the love affair of a German boarding house owner and a Jewish fruit vendor, a prostitute, and the dancers of the nightclub, Cabaret delivers a raw and honest depiction of Berlin that eerily parallels the world we live in today.
Music director Heather Burns has assembled a talented group of frequent musical collaborators.  Choreographer Laura Krewski (Home is a Beautiful Word and 25th Annual Putnam County Spelling Bee—Belfry Theatre) has a troupe of "dance heavy" performers for classics like "Wilkommen", "Money" and "Two Ladies".
Cabaret the musical is based on John Van Druten's 1951 play I Am a Camera, which was adapted from the short novel Goodbye to Berlin (1939) by Christopher Isherwood.
Cabaret, music by John Kander, lyrics by Fred Ebb, and book by Joe Masteroff
Company C, Canadian College of Performing Arts
CCPA Performance Hall, 1701 Elgin Road, Oak Bay,
January 26 to February 3.
Tickets can be purchased at ccpacanada.eventbrite.com, or by calling the box office at 250-595-9970.
Performance Schedule
January 26 / 7:30 pm
January 27 / 2:00 pm and 7:30 pm
January 28 / 2:00 pm
January 31/ 7:30 pm
February 1 / 7:30 pm
February 2 / 7:30 pm
February 3 / 2:00 pm and 7:30 pm