Double Bill Triple Threat by the CCPA Alumni Troupe May 30-June 14, 2015. A review.
I've come to expect nothing less than poised and perfectly polished productions from the Canadian College of Performing Arts, and the new Alumni Troupe, currently performing in Double Bill-Triple Threat with two new shows, specifically created for them, more than lives up to these high expectations.
Created as a means of showcasing the college to new audiences, the alumni troupe had the daunting task of putting a call out for scripts, auditioning potential cast members, and then rehearsing and mounting the shows—Art Isn't Easy (by Avery Brennan) and The Blind Pig (an adaptation of Twelfth Night by Sarah Murphy)—all in less than a month.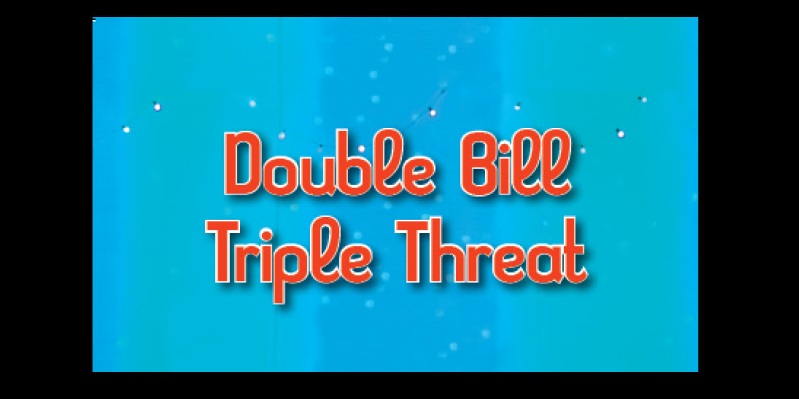 Stylistically the shows are very different. Brennan was inspired by the challenges that arise in making art to create a musical revue with songs by great composers and lyricists like Sondheim, Bernstein, and Schwartz (to name but a few), while Murphy riffed on the themes of Twelfth Night and set her musical in Prohibition Chicago to the tunes of Fats Waller.
The songs in Art isn't Easy span over seventy years of Broadway hits by the greatest composers of all time and go from serious to saucy, funny to tragic in the space of a tight 40 minutes.
Attired professionally in blues and blacks the six person ensemble—three women, three men—throw themselves into an explanation of the motivation it takes to produce great art. Brennan took his original idea—a celebration for his mother's 50th birthday—and fleshed it out into a fifteen song extravaganza, an explanation of the highs and lows of an artist's life, as well as the importance of art in today's society.
Moods range from the wistfulness of waiter Vaughn Naylor in "It's an Art" to the sultry tones of Cate Richardson in "Sooner or Later, You're Gonna be Mine", the poignancy of Ingrid Moore in "Ordinary Mothers", the tenderness of Gabriel Macdonald in "Maria", the sass of Sarah Carlé in "Smile Girls" and the playfulness of the ensemble in "Beethoven's Birthday" where I particularly noted the choreography of Siobhan Barker.
The decision to retain the set from Smokey Joe's Cabaret was judicious and visually very appealing. In Art Isn't Easy it allowed the actors to create tableaux at different heights, highlighted in many scenes by vivid jewel tones behind the central screen (lighting design by RJ Peters) which lent a very sophisticated air to the staging.
Music Director Brad L'Écuyer was the sole instrumentalist, a formidable task, accomplished with flair by this musical theatre veteran (and also graduate of CCPA). Volumes allowed the actors to perform without microphones and created an intimate space in the CCPA Performance Hall.
The title song, "Art Isn't Easy by Sondheim", says it all, "bit by bit….putting it together. Piece by piece—only way to make a work of art".
Switching styles and periods, the ensemble moves to Prohibition-era Chicago where small town girl Violet Vincent (Ingrid Moore) on the hunt for her missing brother, tries to infiltrate The Blind Pig, a less than salubrious establishment run by gruff Tony Ilyrio (Gabriel Macdonald) and kindly Mabel Moretti (Sarah Carlé). Turfed out, unceremoniously, she is befriended by the neighbourhood barfly Frank (Connor Parnall) who advises her to disguise herself as a young man. Once inside she meets the lovely Olive Illyrio (Cate Richardson) Tony and Mabel's niece, and bartender Oscar McCoy (Vaughn Naylor). In typical Shakespearean fashion there are mistaken identities, misplaced loves, jealous fathers, long-held secrets and quarrels.
From the opening notes of "The Joint is Jumping" the ensemble is in fine fettle. Murphy has a flair for matching music to mood, capturing the danger ("What Did I Do to Be So Black and Blue") and allure ("Ain't Misbehavin'") of the period. With bold nostalgic numbers, and plenty of wise-cracking repartee, The Blind Pig is Shakespeare re-imagined in a fashion that condenses the story to its essential without losing any of the intrigue and surprise of the final reveal.
The cast, under the direction of RJ Peters (a fellow CCPA alumni and now staff member) performs with panache and great personality, re-creating a perfect and genuine window into the ethos of the era. I could have been sitting at a table near the bar as they bantered and finagled, blustered and bluffed.
Avery Brennan and Sadie Fox raided the vast CCPA costume loft to find the perfect attire for this slightly outside-the-law group of individuals.
What amazes me, even after all these years of close association with the college (my son graduated in 2007 and I've lent my support ever since as I am able) is the consistently high standard set by everyone involved. There's an inherent ease which simply belies all the hard work. What appears so airy and effortless is in reality the result of countless hours of planning, plotting, rehearsing, repetition and mining the smallest details to create the maximum effect.
Bravo to this first iteration of the Alumni Troupe on an engaging evening.
Double Bill Triple Threat by the Alumni Troupe of the Canadian College of Performing Arts
featuring Art Isn't Easy by Avery Brennan and the Blind Pig by Sarah Murphy
May 30/31, June 5/6, 12/13 (7:30 with matinées at 2pm on Saturday June 6 and 13)
CCPA Performance Halll, 1701 Elgin (Oak Bay)
Tickets: $20/$10 (seniors, students, alumni)
Disclaimer: I was graciously provided with at complimentary ticket to attend Double Bill Triple Threat.