August: Osage County at Langham Court Theatre April 22-May 9 2015. A review.
Important note: August: Osage County begins at 7:30pm and late-comers will not be seated until the end of Act I. It runs three hours with two intermissions.
Woohee! August: Osage County, currently at Langham Court Theatre (April 22-May 9, 2015) is like throwing gasoline on a smouldering campfire & running like hell. .
Playwright Tracy Letts stands in the great American tradition of writers Eugene O'Neil, Arthur C Miller and Tennessee Williams in this multi-generational tale of an Oklahoma family thrown together in the sweltering August heat during a time of family tragedy.
After a brief introduction in Act One, during which he hires Johnna (Keshia Palm) to care for his ailing wife Violet (Susie Mullen), patriarch Beverly Weston (Nick Stull) goes missing. His daughters Barbara (Lorene Cammiade), Ivy (Shara Campsall) and Karen (Renee Yakemchuk) come, somewhat reluctantly, to their mother's aid, as do Mattie Fae (Hilary F Allan), Violet's sister, and Charles (Peter McNab) his brother-in-law.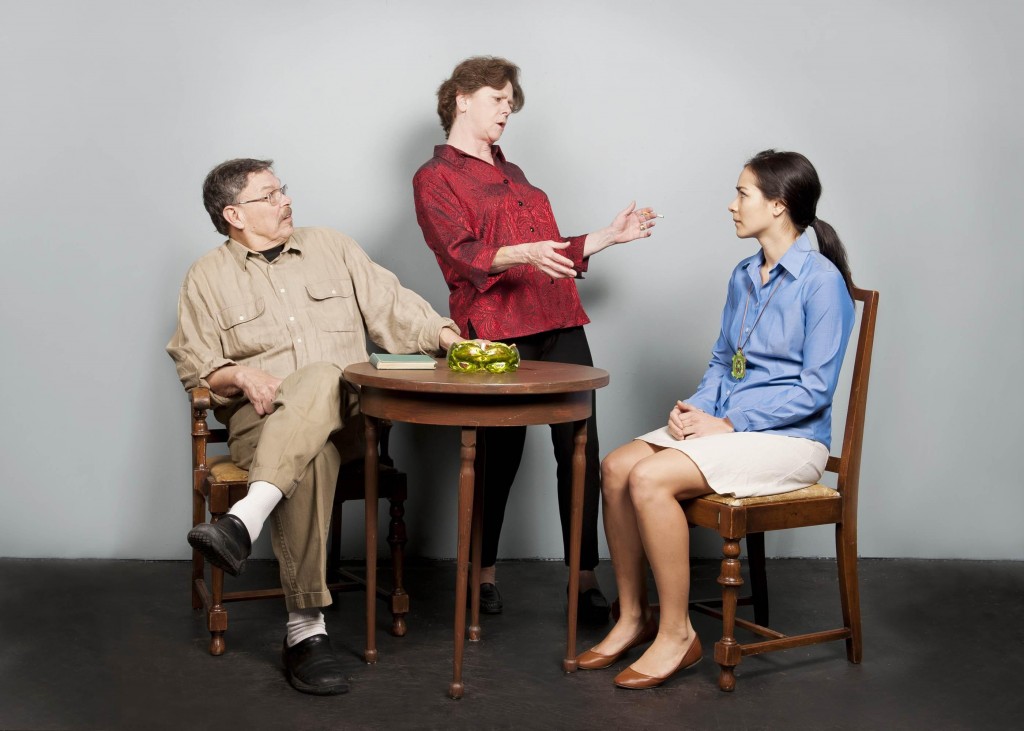 Beverly Weston (Nick Stull), Violet Weston (Susie Mullen), Johnna Monevata (Keshia Palm). Photo: David Lowes
If there were to be a poster family for dysfunction, it would be the Westons.
At the heart of a tangled and complicated web of family relationships is Violet—played superbly in all her titubating glory by Mullen—dark, brooding and ready to release venom on her hapless victims. No one escapes her scathing tongue, least of all her daughter Barbara (Lorene Cammiade) with whom she vies for control. Barbara is capable of giving as good as she gets and the battle royale that ensues between these two equally matched actors is epic.
Indiscretion, resentment and simmering feuds fester in a toxic brew as long-felt hurts rise to the surface. Imagine walking in a Hawaiian lava field at the edge of a volcano, never knowing when a small fire is about to erupt. Below the surface of a relatively normal middle-class family, with all the accoutrements of success—university educations, professional careers and accomplishments—lie real and imagined slights.
Throughout August: Osage County Letts mines the family dynamic, and delivers moments that are ripe with the comedy (and hurt) of everyday interactions. Who hasn't experienced a family dinner, complete with table for the "youngsters" and everyone cross-talking, when someone gets out of hand? Or known a wise cracker of a teen (Amanda Wear) bent on small acts of rebellion? Archetypes of the large sprawling family abound; the n'er do well child who doesn't quite live up to family expectations—a wonderfully ditzy Renee Yakemchuk as Karen; the family scapegoat—Mark Riishede as shy and bumbling cousin "Little" Charles; the bossy older sibling—Lorene Cammiade; the steadfast middle sister Ivy (Shara Campsall); the feuding couple—Cammiade and her separated husband Bill (Wayne Yercha).
Like some gigantic Gordian knot, the audience is left to unravel the situation and remains largely in the dark until the final explosive and heart-rending moments.
Although contemporary in nature (teenage Jean was born in the era of the first Bush), the set design (Dan Thachuk) remains firmly anchored in the past, as if Violet and Beverly never really moved beyond the 1970s when they were young and vibrant. Thachuk has incorporated unique elements with angles that are never quite square, rooms perched high in the attic, multiple stairs and doorways that lead from one level to the other, and jagged cut-away walls to expose not only the rooms within, but also the landscape outside and the home's exterior. In this way, the claustrophobic and pressure cooker elements of the drama are confined and amplified—particularly given the lack of set changes.
Lighting design (Karrie Ayotte) highlights the blazing August sun, the blessed relief of a cooler night, and the dimness of an interior shuttered and closed off from the outside world. The house, never quite at rest, is filled with sounds (Alan Mackenzie) of human activity—TV on low in the corner, Violet's beloved Eric Clapton on the turntable—even as the day subsides into evening and crickets chirp.
In a nod to cinema realité, directors Keith Digby and Cynthia Pronick craft a world where tables are set and food is actually consumed (properties Maureen Colgan & Debbie Laverty; set décor Linda MacNaughton). The family dinner scene is a particularly fine example of directorial clarity and ensemble work with multiple conversations occurring amid all the business of the actual meal. Suddenly, in the hullabaloo, attention becomes laser-focussed on Little Charles and Ivy, with almost devastating consequences. The tension is palpable as the situation is defused.
Another equally shocking moment takes place at the very end of the play, in an off-the-cuff remark from Violet to Barbara. Suddenly, everything stops as the implications become all too apparent.
In any volatile situation, there are always calm elements. Standing in great juxtaposition to the Westons are Keshia Palm, a quiet, measured and pragmatic Johnna the caregiver; Michael Gosselin as Sheriff Deon Gilbeau, Barbara's former beau, and Peter McNab as Charles Aiken, the long-suffering husband of fault-finding Mattie Fae.
Sleaze is provided in ample measure by Karen's very sketchy fiancé Steve (Perry Burton), particularly in his interactions with Jean—complicit camaraderie as they drink and smoke dope quickly becomes sexually charged.
Letts' brilliant and tragic tale receives splendid attention from this talented cast and crew with every nuance perfectly shaded and underlined. Dark, rich and dense, it leaves much for its audience to consider.
"Tracy Letts, in his Broadway debut, creates a hugely ambitious, highly combustible saga that will leave you reeling. AUGUST: OSAGE COUNTY may make you think twice about going home for the holidays…it's a great big exhilarating gift." —NY DAILY NEWS.

August: Osage County exposes a large family in a spectacularly entertaining meltdown during a hot August in Oklahoma. A missing father, an alcoholic, pill-popping matriarch, three squabbling sisters and relentless revelations of indiscretion catapult the viewer into a riveting theatre experience.

Tracy Letts is an American playwright, screenwriter and actor who received a Pulitzer Prize and Tony Award in 2008 for August: Osage County. He also won a Tony Award for his portrayal of George in the revival of Who's Afraid of Virginia Woolf?

August: Osage County is based on influential events in Letts's own Oklahoma family: His maternal grandfather's suicide (when he was 10 years old) and his grandmother's ensuing drug addiction. The 2013 movie version starring Meryl Streep and Julia Roberts loses a lot in translation during its 121 minutes. Whereas, the play has three acts that last three hours and is stocked full of humour and sorrow.
3 hours with 2 intermissions • Mature themes • Frequent course language • 15+
August: Osage County A Tragicomedy by Tracy Letts
Directed by Keith Digby and Cynthia Pronick
April 23 to May 09, 2015 | Preview April 22nd
Tickets: $19/$21
2 for $20 Preview (Wed, Apr 22)
2 for $30 Tuesdays (Apr 28 & May 5)
$10 Student Rush Ticket (15 min before curtain with ID, based on availability)
For more information, contact Langham Court Theatre:
805 Langham Court
Victoria BC V8V 4J3
Box Office / Admin: 250-384-2142
Email: boxoffice@langhamtheatre.ca
Website: http://www.langhamtheatre.ca/
Twitter: https://twitter.com/LanghamTheatre
Facebook: https://www.facebook.com/langhamtheatre
Flickr: https://www.flickr.com/people/langhamtheatre/
CAST (Actor / Character):
Nick Stull – Beverly Weston
Susie Mullen – Violet Weston
Lorene Cammiade – Barbara Fordham
Shara Campsall – Ivy Weston
Renee Yakemchuk – Karen Weston
Wayne Yercha – Bill Fordham
Amanda Wear – Jean Fordham
Hilary Allan – Mattie Fae Aiken
Peter McNab – Charlie Aiken
Mark Riishede – Little Charles Aiken
Perry Burton – Steve Heidebrecht
Michael Gosselin – Sheriff Deon Gilbeau
Keshia Palm – Johnna Monevata
PRODUCTION TEAM:
Directors: Keith Digby & Cynthia Pronick
Producers: Michael Gosselin & Angela Henry
Stage Manager: Jon Scheer & Sylvia Lindstrom
Assistant Stage Manager: David Larsen & Alex Carroll
Set Designer: Dan Thachuk
Lighting Designer: Karrie Ayotte
Sound Designer: Al MacKenzie
Costume Designer: Lisa Leighton
Set Decor: Linda MacNaughton
Properties: Maureen Colgan & Debbie Laverty
Photography by David Lowes / Art Studio 21 Photography
http://www.artstudio21photography.com/
Disclaimer: I received complimentary tickets to August: Osage County and was asked to provide a review. As always, I retain complete editorial control over all content published on this website.