Dr Jekyll and Mr Hyde at Langham Court Theatre April 19-May 6 2017. A review.
Crackling with energy, suspense, intrigue and thrills, and filled with dazzling special effects, Dr Jekyll and Mr Hyde (at Langham Court Theatre April 19-May 6, 2017) keeps the audience on the edge of their seats with a masterful blend of drama and horror.
Lights flicker, sparks fly, the very air thrums with intensity as Dr. Jekyll (Wayne Yercha) hovers over incandescent test tubes. Designers (Bill Adams—set, Paul Hilton—lights, Jason King—sound) go for the wow factor right from the opening. In the background, two large brains (which remain on stage throughout) harbour creepy and threatening simulacra (Cole Bodin, Wendy Cornock, Jason Vikse)—versions of Mr. Hyde–who push insistently against the veil separating them from the real world.
Intricate period costumes (Lisa Leighton) highlighting class differences and projections of notable landmarks serve to firmly situate the era, as does the hallmark fog prevalent during the time.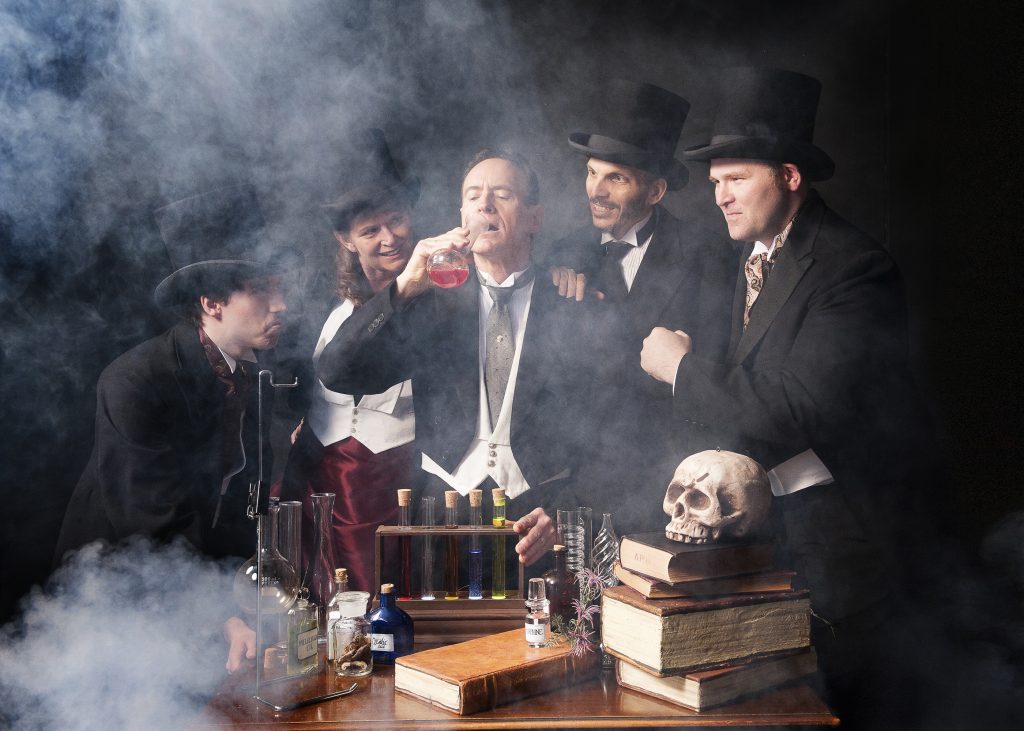 Cole Bodin as Hyde 1, Wendy Cornock as Hyde 4, Wayne Yercha as Dr. Jekyll, Mark Daley as Hyde 2 and Justin Guthrie as Hyde 3. Photo: David Lowes
Jeffrey Hatcher's 2008 adaptation of Robert Louis Stevenson's classic 1886 novella The Strange Case of Dr. Jekyll and Mr. Hyde is brisk, propelled with intensity to a nail-biting conclusion. Directors Keith Digby and Cynthia Pronick retain a powerful sense of mystery and tension throughout—particularly between Jekyll and Hyde (the suave, slippery and at times perplexed Justin Guthrie), and Hyde and Elizabeth–his lover (Keeley Teuber emanates bravado and desire in equal measure, and operates with clear agency—a departure from the usual Victorian-era heroine).
The playwright uses a series of well-placed flashbacks (harkening to modern-day police procedurals) to unravel the mystery of the murderer abroad in the heart of London at night.  Under the bleak glare of lights, each has a moment to provide their version of an episode in the story.  Particularly telling is a young witness (Emily Case) to the murder of Jekyll's professional nemesis Sir Danvers Carew (the perfectly pompous and cocksure Perry Burton) wide-eyed with trepidation and guilt at the idea she couldn't stop watching.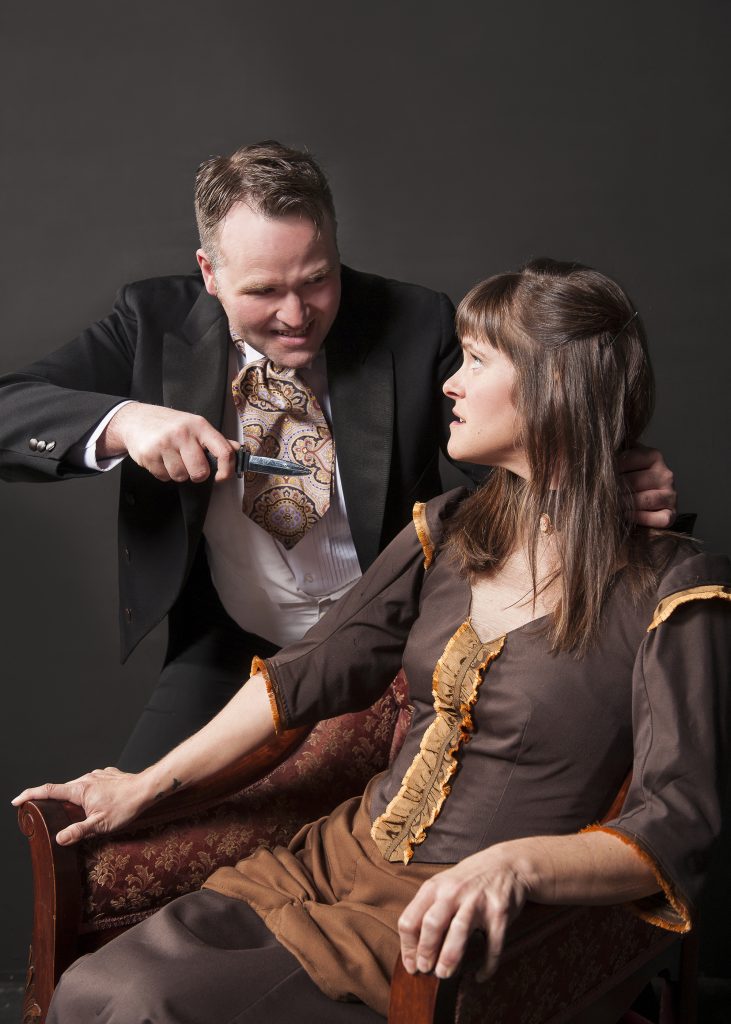 Justin Guthrie as Hyde 1 and Keeley Teuber as Elizabeth. Photo: David Lowes
Here lies the heart of this tragic tale—the shameful admission of the strange admixture that lies within each person, good and evil combined.  Wayne Yercha's Jekyll is compelling, torn between his sense of propriety and the villainy that threatens to erupt.  Eric Grace is assured as Jekyll's sollicitor and confidant Gabriel Utterson, Ken Yvorchuk as Dr. Lanyon, Jekyll's colleague at the hospital, jovial. Rosemary Jeffery bustles with efficiency as Poole, Jekyll's man servant.
Attention to detail and a true spirit of the ensemble is always readily apparent in any Langham Theatre show, given its mandate as a community theatre; Dr. Jekyll and Mr. Hyde is no exception.  It's always a pleasure to see the professionalism actors bring to what could be considered smaller roles.  And, a shout-out to Jason Vikse who had but three days to step into the role of Hyde 2.
When the three Hydes come out to tease and tantalize, all holds are off—the characters present a disturbingly attractive force; it's easy to see why Hyde would succumb to their promptings.
Over 100 years later, people still grapple with their deepest desires. It's a dilemma that propels us to consider the implications when they run amok, and to sympathize with the "evil" character.
Langham Court's Dr. Jekyll & Mr. Hyde maintains a taut and fine balance of sympathy and aversion, identification and loathing and is the theatrical equivalent of a "page-turner"—deeply satisfying.
Decades of Evil: The repressed imaginations of Late Victorian England gave us a host of Gothic horrors, both real and fictitious. In 1897, Count Dracula emerged from the pen of Bram Stoker; in 1888, Jack the Ripper perpetrated unimagined horrors in the dark alleys of Whitechapel; and in 1886, Robert Louis Stevenson wrote The Strange Case of Dr. Jekyll and Mr. Hyde.

The road to Hell, they say, is paved with good intentions. Dr. Henry Jekyll's experiments with powders and tinctures – intended to isolate the evil in mankind – have instead created Mr. Hyde, his other self: a villainous, atavistic creature set free to perform horrendous acts of evil that upright Victorian Dr. Jekyll is initially too civilized to comprehend… but Jekyll soon finds that freedom from morality can be terribly addictive.

In this new, dramatized version of Stevenson's classic Gothic tale, there is not one Hyde, but many… and the result is highly theatrical mayhem.

Enter a world of fog-bound, lamp-lit alleys and furtive misdeeds hidden behind righteous facades. Victorian London – and Hyde – are waiting for you.

Lock your doors! A singular evil stalks the bloodstained streets of Whitechapel.

MATURE THEMES  | VIOLENCE  |  COARSE LANGUAGE
Dr. Jekyll and Mr. Hyde
A Gothic Melodrama, adapted by Jeffrey Hatcher from the novella by Robert Louis Stevenson
Directed by Keith Digby & Cynthia Pronick
A Langham Court Theatre Production at Langham Court Theatre, Victoria, BC
Performances April 19 – May 6, 2017
Tickets: $16 students $20 seniors, $22 adults with special prices for previews and Tuesdays
Tickets may be purchased: online: langhamtheatre.ca by phone: 250-384-2142 or in person at the box office 805 Langham Court 12 noon to 4:00 pm Monday to Friday and 6:00 to 8:00 pm on performance days
Email: boxoffice@langhamtheatre.ca
Directors Keith Digby and Cynthia Pronick
Assistant Director Jason Vikse
Producer Michael Gosselin
Stage Manager Sylvia Lindstrom
Costume Design Lisa Leighton
Lighting Design Paul Hilton
Properties/Set Décor Joyce Kline
Set Design Bill Adams
Sound Design Jason King
Makeup Design Adrienne Jenkins
Cast
Dr. Henry Jekyll Wayne Yercha
Gabriel Utterson Eric Grace
Dr. Lanyon Ken Yvorchuk
Enfield/Porter/Police Doctor James Johnson
Sir Danvers Carew Perry Burton
Edward Hyde Justin Guthrie
Hyde 1 Cole Bodin
Hyde 3 Wendy Cornock
Hyde 2 Jason Vikse
Elizabeth Keeley Teuber
Poole Rosemary Jeffery
Old Man/Sanderson Michael Gosselin
Inspector Rick Rodrigues
Woman/Prostitute/Maid Emily Case
Surgical Students Alex Carroll, Peter Gatt
Young Girl Ariel Glidden

Disclaimer: I received complimentary tickets to attend the opening night of Dr. Jekyll and Mr. Hyde.