She Stoops to Conquer at Langham Court Theatre, June 8-25, 2016. A review.
Equal parts comedy of romance, manners, errors and situation, She Stoops to Conquer by Oliver Goldsmith, with its sharp observations and witty banter, transcends time and place. Originally written in 1773, the version currently onstage at Langham Court Theatre (June 8-25, 2016) has been adapted by director Toshik Bukowiecki to the 1920s—a time of shifting societal roles, between genders and classes, that sees parallels with the Industrial and American Revolutions of the late 1700s. The human elements of the script are as timely and entertaining in 2016 as they were during these periods—star-crossed lovers, mistaken identities, risible characters.
The set design (Don Keith and Eric McWilliam) is suggestive rather than realistic and makes use of retractable screens to create the various environments—the interior of Liberty Hall (the Hardcastle family home), the Three Pigeons Ale House, the garden—with Jason King's projection designs adding the scenic touches rather than paint. Depth of field is introduced via a central focal point which becomes the library, a courtyard, the countryside at night.  In one particularly beautiful effect large tree cut-outs are incorporated into a pastoral scene with an overlay of projections and light (Paul Hilton) bringing out a three dimensional aspect.
Costumes by Lisa Leighton highlight the differences between low class (the workers at Liberty Hall), landed gentry (Mr Hardcastle-Randy Parker and Tony Lumpkin-Jordan Bell–his step-son–are in tweed jackets and corduroys) and the society set of London (structured and buttoned down suits for Charles Marlow –Jason Vikse and George Hastings-Sean Dillman). The woman's apparel varies between high detail for Mrs Hardcastle (Rosalind Coleman) and the cleaner lines of flapper fashion for Kate Hardcastle (Keely Teuber) and Constance Neville (Euphemia MacMurchy).
Sound design (Jason King) interjects music from the 1920s into the scene changes, accomplished by the servants and pub regulars (Blake Handley, Jay Fedorak, Carl Powell, Ian Ofukany, Matt Mathiason), aided and egged on by the show-stealing maid, Pimple—a role in which Beverly Van Druten-Blais conveys volumes while scarcely uttering more than a line or two of dialogue.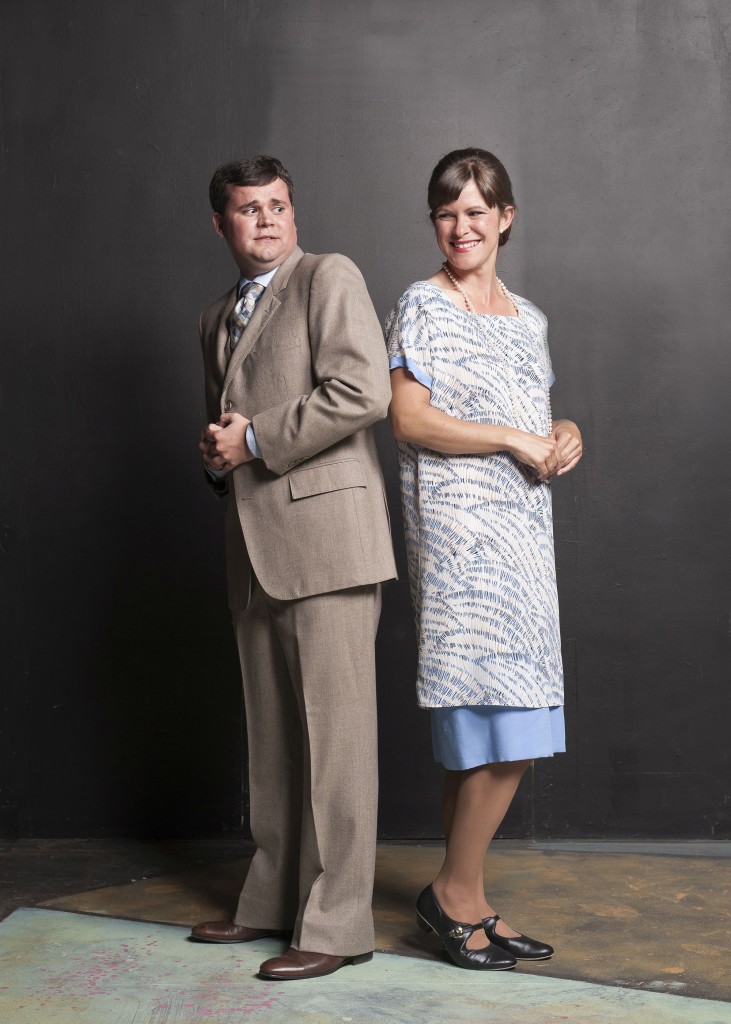 Jason Vikse and Keely Teuber. Photo: David Lowes
It's an ages-old story of overindulgent and meddling parents and guardians (an avuncular and imposing Randy Parker and snobbish and haughty Rosalind Compton) attempting to direct the romantic aspirations of their children who have ideas of their own as to potential mates. Characters are oblivious to their faults—particularly Mrs Hardcastle in regards to the machinations of her rascal of a son Tony.  The dynamic between these two actors is highly entertaining, garnering loud laughter, especially when Tony leads his mother on a wild goose chase through the country, while never straying from home.  The subterfuge is delicious. What audience doesn't love to see a character taken down a notch or two?  And while Tony receives his comeuppance in the end, his chastened and reformed manner is ultimately endearing.
Romantically, Charles Marlow and Kate Hardcastle should have a match made in heaven—their families are well-suited and the fathers—friends–if not for the almost pathological difficulties Marlow encounters while speaking to woman of his own class.   Jason Vikse as Marlow is perfectly mannered, his eloquent gestures reminiscent of a period years hence, his speech precise in its inflection. When coupled with Keely Teuber's impishness, the interactions are a pleasure to watch and hear.  Euphemia MacMurphy is a rational Constance as she works hard to unfetter herself of her aunt's restrictions to settle down with her love, the upright George Hastings (Sean Dillman in a remarkable stage début).
Under the expert guidance of director Bukowiecki dialogue is crisp and interaction illuminating.  Whether raising a glass at the ale house, scampering about the house hiding jewels, regaling the company with old war stories or swooning with love, the results are hilarious.
Almost two and a half centuries later, people are still reveling in what Goldsmith aptly called his "laughing comedy".  Langham's 87th season ends on a high note with an approachable play suitable to a wide range of theatre-goers.
Further reading:
http://www.enotes.com/topics/she-stoops-conquer
She Stoops to Conquer by Oliver Goldsmith, directed and adapted by Toshik Bukowiecki
Langham Court Theatre
June 8-25 2016
Tickets: available online at langhamtheatre.ca or by phone : 250-384-2142
$21 Adults
$19 Students / Seniors (ages 65+)
$16 per ticket for Groups 10+
2 for $20 Preview (June 8)
2 for $30 Tuesdays (June 14 & 21)
$10 Student Rush Ticket (15 minutes before curtain with ID, subject to availability)
Production Team:
Director Toshik Bukowiecki
Producer Vinnie Chadwick
Stage Manager Jon Scheer
Set Design Don Keith, Eric McWilliam
Lighting Design Paul Hilton
Sound/Projection Design Jason King
Costume Design Lisa Leighton
Properties/Set Décor Jean De Cartier
Cast: (in order of appearance)
Mrs Hardcastle Rosalind Coleman
Mr Hardcastle Randy Parker
Tony Lumpkin Jordan Bell
Kate Hardcastle Keeley Teuber
Constance Neville Euphemia MacMurchy
Pub Regulars/Servants Blake Handley, Jay Fedorak, Carol Powell, Ian Ofukany, Matt Mathiason
Landlord Bill Tolson
Charles Marlow Jason Vikse
George Hastings Sean Dillman
Maid Beverly Van Druten-Blais
Sir Charles Marlow Jay Fedorak