Early Music Society of the Islands presents Bach's Mass in B Minor August 6th. Interview with Artistic Director James Young.
The Early Music Society of the Islands (EMSI), in conjunction with Early Music Vancouver, Ottawa Chamber Music Festival and the Lamèque Baroque Festival in New Brunswick, presents one of their most ambitious concerts to date—J.S. Bach's magnificent Mass in B Minor—August 6th at Christ Church Cathedral, featuring eight world-class soloists, a professional chorus (the Vancouver Cantata Singers) and a 25 piece orchestra, Montreal's Arion Baroque Orchestra (rounding off their 35th season).
James Young, artistic director of EMSI, was kind enough to answer a few questions about this musical highlight.
What is the most significant aspect of this concert?
JY:  It would have to be the sheer scale.  It's one of the biggest events we've ever done and of course, the mass itself is one of the pinnacles of the Western classical repertoire. To my knowledge, this piece has never been performed in Victoria on period instruments before.
Who will it appeal to?
JY: I'd love to say that it will appeal to serious fans of classical music, to people who truly appreciate great music—it's very serious and profound work.  If you are looking to introduce young people to classical music, I would recommend it for ages 12 and over.    EMSI has a "bring a teen for free policy" for adult ticket holders—this applies to rush tickets at the door.
What would you say to someone who has never been to an early music concert before to entice them to come?
JY:  If they have never been to an early music concert before, they are most likely not familiar with the sheer range of colours of the instruments.  In the 19th century the sound of instruments became homogeneous (and louder); instruments lost their individual characteristics.  In a baroque concert, the oboe is more "oboe-like", the flutes are woodier.

It will be a period-style performance—the choir is smaller, singing is done without vibrato; the result is more intimate and concert-goers will be able to hear more detail.  Bach is the great contrapuntalist!
Early Music Society of the Islands & Christ Church Cathedral Present
J.S. Bach: Mass in B Minor
Saturday, August 6, 2016 at 8pm with a pre-concert talk at 7:10pm
Christ Church Cathedral, 911 Quadra Street at Rockland Avenue
Tickets $26-35 at earlymusicsocietyoftheislands.ca or 250- 386-6121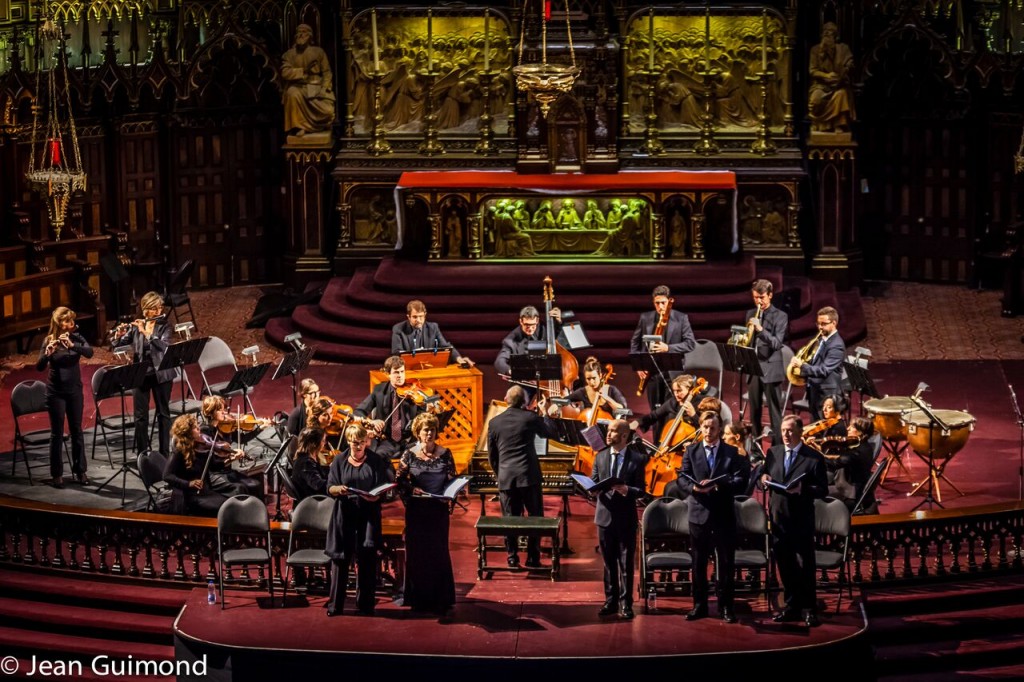 Early Music Society of the Islands (EMSI) and Christ Church Cathedral announce their co-presentation of J.S. Bach: Mass in B Minor taking place August 6, 8pm at Christ Church Cathedral. Esteemed conductor Alexander Weimann leads an ensemble of eight internationally-renowned soloists, a professional chorus comprising of some of the finest singers in the region, and Montreal's Arion Baroque Orchestra on period instruments.

"The Mass in B Minor is a stunning compendium of J.S. Bach's greatest musical ideas," says James Young, Artistic Director of the Early Music Society of the Islands. "As one of the largest scale works in Bach's repertoire, it can only be achieved to its full potential with the combined talents of virtuosic vocal and instrumental soloists. To make this event possible, we are proud to collaborate with three other major Canadian classical music organizations – the Ottawa Chamber Music Festival, the Lamèque Baroque Festival in New Brunswick, and Early Music Vancouver. Working together has allowed us to assemble a "dream team" of vocalists from all over the world specializing in Bach's chamber music, in addition to some of North America's most respected period wind and brass players."

Composed by J.S. Bach in Leipzig, Germany in 1749, the Mass in B Minor is considered one of the most extraordinary accomplishments of any composer from any era. Compiled and completed in the year before his death for reasons that are not completely clear, it is widely recognized as a comprehensive and deeply satisfying demonstration of the full range of Bach's expressive capacities – from evocations of despair and suffering to exuberant expressions of hope and joy. Written for no specific religious function, and never performed in his lifetime, the Mass in B Minor is instructive as an inspirational model of Bach's technical mastery of harmony and counterpoint.

A distinguishing feature of this co-presentation of the Mass in B Minor will be its use of vocal soloists for many of the ensemble sections that are often performed by large choirs. A minimum of three extra supporting professional voices will be incorporated per part for the sections that Maestro Weimann believes still work more effectively with larger forces. This flexible arrangement will offer the widest possible variety of timbres & textures. The ensemble of vocal chamber soloists includes Yulia Van Doren and Shannon Mercer (sopranos), Krisztina Szabo and Laura Pudwell (mezzo-sopranos), Philippe Gagné and Charles Daniels (tenors), as well as Christian Immler, and Sumner Thompson (baritones).

These all-star vocalists will be backed by the 26-piece Arion Baroque Orchestra who have been a cornerstone of North America's early music scene for more than 30 years. With countless accolades, including Juno and Opus Awards, over 25 recordings, and numerous international tours completed, the orchestra is widely respected as Quebec's pre-eminent period instrument orchestra. Maestro Alexander Weimann, well–known by regional audiences for his work with the Pacific Baroque Orchestra and Early Music Vancouver, will lead this stellar ensemble in what promises to be a highlight of Victoria's summer musical offerings.

Based in Victoria, BC, the Early Music Society of the Islands (EMSI) is one of North America's most active and successful early music organizations. It was founded in 1985 to promote interest in historically-informed performances of music composed before 1800. EMSI presents an annual concert series of music from the middle ages to the early classical age from its home concert venue, the beautiful Alix Goolden Performance Hall. Each concert spotlights an internationally-acclaimed connoisseur of period music. The Society offers an early music bursary, arranges master classes with visiting artists, promotes the concerts of local musicians, and makes its period instruments available to the community. EMSI is 100% managed by dedicated volunteers.