Female Transport at Langham Court Theatre March 2-19 2016. A review.
Female Transport by Steve Gooch at Langham Court Theatre (March 2-19, 2016) is an astonishingly vivid and gripping example of world history writ small, encapsulated in the confining world of a ship bound for Australia, in order to magnify the human tragedy of thousands of women convicts and render it relevant to theatre-goers.
No detail has been spared in this beautiful historical recreation and re-enactment, beginning with the atmospheric light (Karrie Ayotte) mirroring water, playing upon the closed stage curtain before the show's opening scenes and Jason King's musical score with the creak of plank, slosh of tide, and thwack of rope. Tidbits of information, intended to provide context, are projected on the curtain for audience members who are perhaps less versed in the history of the convict ships.
Individuals familiar with the model of the Discovery (Captain Cook's vessel on display at the Royal British Columbia Museum) will marvel at the intricacy of Doug Craig's set which features nooks and crannies for the various settings—Captain's cabin, fo'c'sle , sailors' quarters and prisoners' cells. The deplorable conditions to which the women were subjected—meager rations, contaminated water, cramped beds—are implied in the besmirched and soiled tones of the décor (Sally Crickman) and paint (John Smith and Bill Adams). Chris Stusek's detailed and authentic costumes become increasingly ripped and stained, subjected to six months without washing.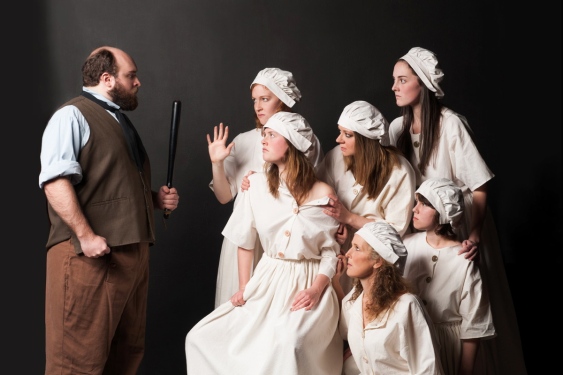 Graham Roebuck, Taryn Lees, Melissa Taylor, Demelza Randall, Deirdre Tipping, Sarah Cashin and Isobel Scott. Photo David Lowes.

Brawling, baying and hurling invective, they enter—six women, unrepentant. Melissa Taylor is feisty and pugnacious as Nance—the social warrior; Didi Tipping is protective as Madge, the oldest; Toni Scott is bewildered and child-like as Pitty, the simple village girl caught up in prostitution; Demelza Randall is a pragmatic and practical Madge, the caretaker; Taryn Lees (Charlotte) and Sarah Cashin (Sarah) are sly and slippery—accustomed to playing the situation to their advantage.
From the onset, it is clear that the ship's captain (an authoritative and ponderous David Biltek) and crew—nasty and brutish Sarge (Graham Roebuck) hardened by years before the mast; naïve Tommy (Alex Judd) on his first voyage; principled surgeon (Ian Simms)—are on the make, determined to exact the maximum profit and advantage possible.
Over the course of 153 days, six strangers learn to set aside differences and bond against the inhumanity displayed to them. Despite trials, tribulations and tragedy, in deplorable circumstances, they prevail in a stirring testament to the power of the human spirit.
Director Montgomery Björnson has taken a (mostly) young cast (women transported were generally in their twenties and thirties) who have dedicated their all to working diligently, and shaped a narrative that is engrossing and tragic in its scope. The hard work necessary to build a cohesive and committed ensemble is evident throughout—from the dialect work and postures, to the chaos during the storm as everyone is tossed about, to the hand to hand grappling and combat in close quarters (fight choreography Sylvie La Rivière).
100 minutes whisk by. Like the women, the audience is transported—to another time, place and situation—to live, if only for a short time, in the skin of people so desperately dissimilar, and become caught up in the group's struggles. Many questions arise and remain unanswered as the ship docks. It's a pity there was no sequel to this epic tale to recount the further adventures of prisoners and crew.
Written over 40 years ago, Female Transport retains its impact and attraction. Faithfully interpreted by an extremely talented cast and crew, this story of six women convicts will not fail to stir sympathies.
Sexism, classism, altruism, oppression, and repression punctuate this story of survival and solidarity as six women convicted of petty crimes endure a six-month voyage from 19th Century England to a penal colony in what we now know as Australia. A story of the human spirit and endurance, these women must overcome their personal prejudices and band together to survive both the journey and the fate that awaits them.
How have they changed when they finally emerge into the Australian sunlight?

"Female Transport" was first performed in London at the Half Moon Theatre, November 1973.
Female Transport by Steve Gooch, directed by Montgomery Björnson
Langham Court Theatre
March 2-19, 2016
Tickets $21/$19 online at https://www.langhamtheatre.ca/boxoffice/tickets/
2 for $30 Tuesdays (March 8 & 15)
$10 Student Rush Ticket (15 min before curtain with ID, based on availability)
Audience advisory: Extreme coarse language, violence, mature themes, suitable for ages 15+
For more information, contact Langham Court Theatre:
805 Langham Court
Victoria BC V8V 4J3
Box Office / Admin: 250-384-2142
Email: boxoffice@langhamtheatre.ca
Website: http://www.langhamtheatre.ca/
Twitter: https://twitter.com/LanghamTheatre
Facebook: https://www.facebook.com/langhamtheatre
Flickr: https://www.flickr.com/people/langhamtheatre/
Production Team:
Director Montgomery Björnson
Stage Manager Sylvia Lindstrom
Set Design Doug Craig
Lighting Design Karrie Ayotte
Sound Design Jason King
Costume Design Chris Stusek
Properties/Set Décor Sally Crickman
Fight Choreography Sylvie La Rivière
Dialect Coaching  Tony Cain

Cast:
Demelza Randall* Winnie
Deirdre (Didi) Tipping Madge
Melissa Taylor Nance
Isobel (Toni) Scott Pitty
Taryn Lees Charlotte
Sarah Cashin Sarah
Alex Judd Tommy
Graham Roebuck Sarge
David Biltek Captain
Ian Simms Surgeon
*Appearing with the permission of Canadian Actors' Equity Association
Disclaimer: I was provided with complimentary tickets to attend Female Transport.