Humble Boy at Langham Court Theatre June 10-27, 2015. A review.
Not your typical bucolic English country-side romp, this tale of a mother and son relationship gone terribly awry reserves many surprises for the audience. Sharply observed dialogue and situational comedy give way to rousing and revelatory soliloquies and deep philosophical ponderings.
Felix Humble (Kyle Kushnir) is a research fellow in astrophysics—more attuned to the music of the spheres and the particulars of string theory than the myriad sounds of the garden or the intricacies of human interactions. Completely undone by his father's sudden passing, not only must he try to make sense of the tragedy and restore order to his universe, he must also cope with the realization his mother Flora (Wendy Magahay) has moved on, far too quickly for his sensibilities.
Gardeners will swoon over the set (Doug Craig & Bill Adams), a perfectly re-created English country garden, complete with curved boxwood hedge, potting shed, garden beds, and, miraculously, vegetation that grows as the audience watches (this whimsical touch drew appreciative murmurs on opening night). The classic Cotswold cottage is visible only from the back deck—all the action takes place in the garden over the course of several weeks in June and July. Set décor (Joyce Kline) and properties (Geli Bartlett & Caitlin Reid) ratchet up the experience considerably, as do the lighting (Paul Hilton) and sound design (Timothy Watters). Light plays and cycles from the cool and quiet of the early morning, through the heat of the day, to the tranquility of the evening. The giant beehive—a central metaphor—pulses and glows from within. As Felix ponders the meaning of life, the skies come alive with effects similar to the Northern Lights, or perhaps a portal into the black holes he is researching. Bees buzz, birds twitter, mysterious noises—audible only to Felix—fill the air; in the background Flight of the Bumblebee is only one of the many themed musical allusions.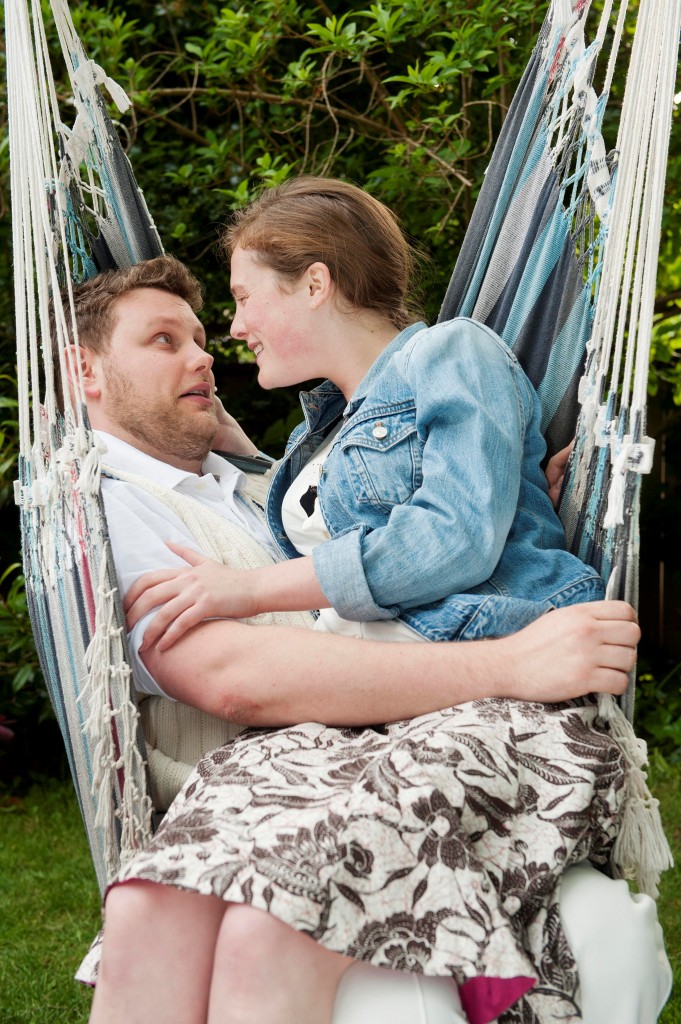 Kyle Kushnir as Felix and Melissa Taylor as Rosie. Photo: David Lowes Art Studio 21
Kushnir plays Felix to bewildered and befuddled perfection. Here is a man-child, more at home in the lab than among people, someone who flees all responsibility when the least opportunity presents itself—leaving behind his stricken love interest Rosie (Melissa Taylor) without so much as a backward glance or inquiry over the years as to her well-being—yet feels perfectly justified in judging his mother's actions, pouting and stomping his feet when she takes up with the neighbour George Pye (Bill Christie in a delightfully debonair and crusty characterization).
Everything turns around Flora Humble (Wendy Magahay)—her late husband was devoted to her, her friend Mercy (Elizabeth Whitmarsh) follows her every word, her lover injects joy into her world—and when things don't go exactly as planned, she turns, viciously, on those around her. Magahay is assured and gloriously mean as Flora—never at a loss for the precisely needed parry and thrust to magnify the wounds she inflicts.
Costumes by Jane Kriedger and Madeleine Mills highlight the differences between chic Flora and dowdy Mercy, while Felix is manifestly ill-at-ease in his father's cast-offs.
Charlotte Jones' witty and erudite script provides relief from the family drama in wonderfully slapstick moments—as George and Flora stumble tipsily through the garden after a night out, when Mercy inadvertently uses the wrong ingredient to flavour the luncheon soup or Felix and Rosie hide in the hammock to avoid detection.
Jim the gardener (Paul Terry) restores some sense of order to Felix's life with his methodical meanderings—grounding him when anxiety takes hold. Rosie's presence too is not only calming but also deeply rooted in reality—as Taylor so aptly illustrates.
Directors Angela Henry and Montgomery Björnson are judicious in marrying low comedy and farce with nuanced character studies—it's easy to see how Mercy, down-trodden over the years by Flora, comes completely unhinged during lunch as she delivers her manifesto. The audience can sympathize a little more with Flora when she begins to realize the depths of her late husband's love, and George Pye garners our admiration as he contemplates his late father's sacrifice.
Life and relationships are messy, no matter how much Felix tries to reduce them to a simple and neat theory. Tarry awhile with the Humble-Pyes as they grapple with the contradictions and come to terms with their failings.
Humble Boy by Charlotte Jones
Langham Court Theatre
June 10-27, 2015
Tickets: $21/$19
2 for $20 Preview (Wed, June 10)
2 for $30 Tuesdays (June 16 & June 23)
$10 Student Rush Ticket (15 min before curtain with ID, based on availability)
For more information, contact Langham Court Theatre:
805 Langham Court
Victoria BC V8V 4J3
Box Office / Admin: 250-384-2142
Email: boxoffice@langhamtheatre.ca
Website: http://www.langhamtheatre.ca/
Twitter: https://twitter.com/LanghamTheatre
Facebook: https://www.facebook.com/langhamtheatre
Flickr: https://www.flickr.com/people/langhamtheatre/
CAST:
Kyle Kushnir Felix Humble
Wendy Magahay Flora Humble
Elizabeth Whitmarsh Mercy Lott
Bill Christie George Pye
Melissa Taylor Rosie Pye
Paul Terry Jim, the gardener
PRODUCTION TEAM:
Directors Angela Henry and Montgomery Björnson
Producers Gil Henry and Chad Jarvie-Laidlaw
Stage Manager Rosemary Jeffery
Assistant Stage Manager Caitlin Reid
Set Designers Doug Craig and Bill Adams
Lighting Designer Paul Hilton
Sound Designer Tim Watters
Costume Designers Jane Krieger and Madeleine Mills
Costume Assistant Kerianne Garland
Set Decor Joyce Kline
Properties Geli Bartlett and Caitlin Reid
Disclaimer: I was provided with complimentary tickets to Humble Boy.