Forget About Tomorrow by Jill Daum at the Belfry Theatre. A review.
Theatre is a gift that can allow an audience an experience far above mere entertainment, offering a way to examine the human condition, with all its challenges and difficulties. Playwright Jill Daum, who for decades has been entertaining generations of theatre goers with the questions and antics of motherhood as one of the co-creators of the Mom's The Word series, turns her pen to an intimate and personal story—her husband John Mann's (Spirit of the West) diagnosis of early-onset Alzheimer's and the resulting changes within their relationship and family.
Forget About Tomorrow (January 23-Febrary 18 at the Belfry, Victoria and March 1-25 at the Arts Club Vancouver ) is a naturalistic, unflinching and often funny story of Jane (Jennifer Lines) a retail clerk, her therapist husband Tom (Craig Erickson) and young adult children Aaron (Aren Okemaysin) and Wynn (Aleita Northey), rounded out by Colleen Wheeler as Lori, Jane's powerhouse boss, and Hrothgar Mathews as Wayne, a customer turned love interest.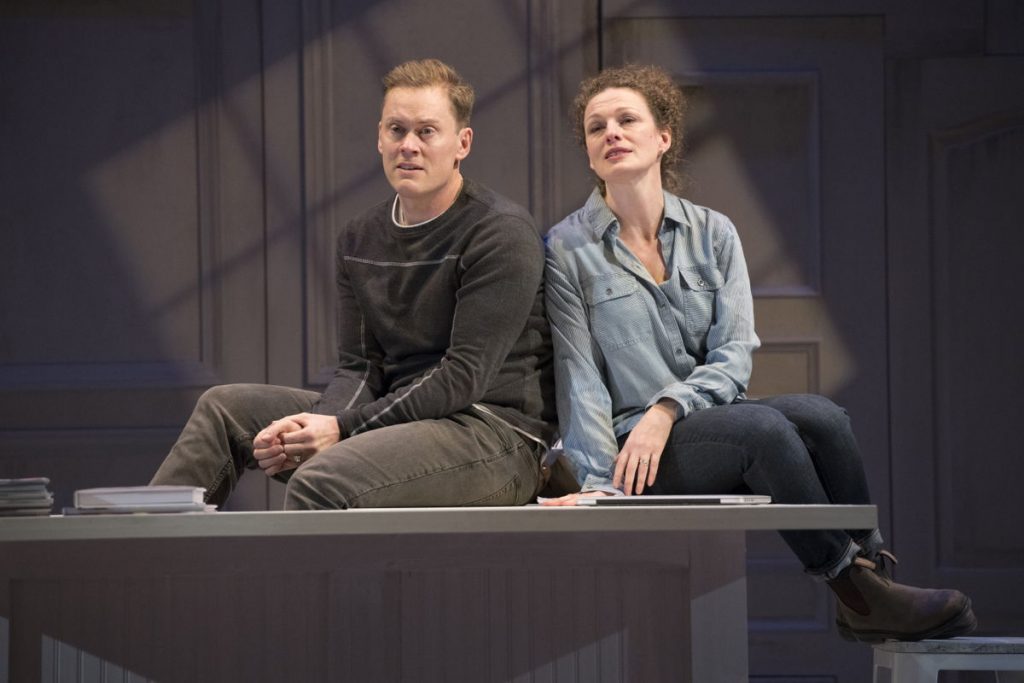 Craig Erickson as Tom and Jennifer Lines as Jane. Photo: David Cooper
Beneath the frequent jokes and wisecracks that fans of Mom's The Word will undoubtedly be familiar with, there is an emotional intimacy to Daum's writing that director Michael Shamata succeeds in capably conveying with the ensemble, balancing hilarity with heartbreak, constantly mining for truth and vulnerability.
Pam Johnson's set design is ingenious, an immense crenellated white wall, with hidden compartments and drawers that open to reveal the baby shop where Jane works and the kitchen of her home, and against which lighting (Bryan Kenney), projections (Candelario Andrade) and video are displayed to signal scene and set changes. Visual pleasures abound in the story—in addition to the surprises revealed with the set, there is the constant variety of the costumes (also Johnson), particularly the fashionable outfits worn by Lori as contrasted with Jane's more utilitarian, down-to-earth garb.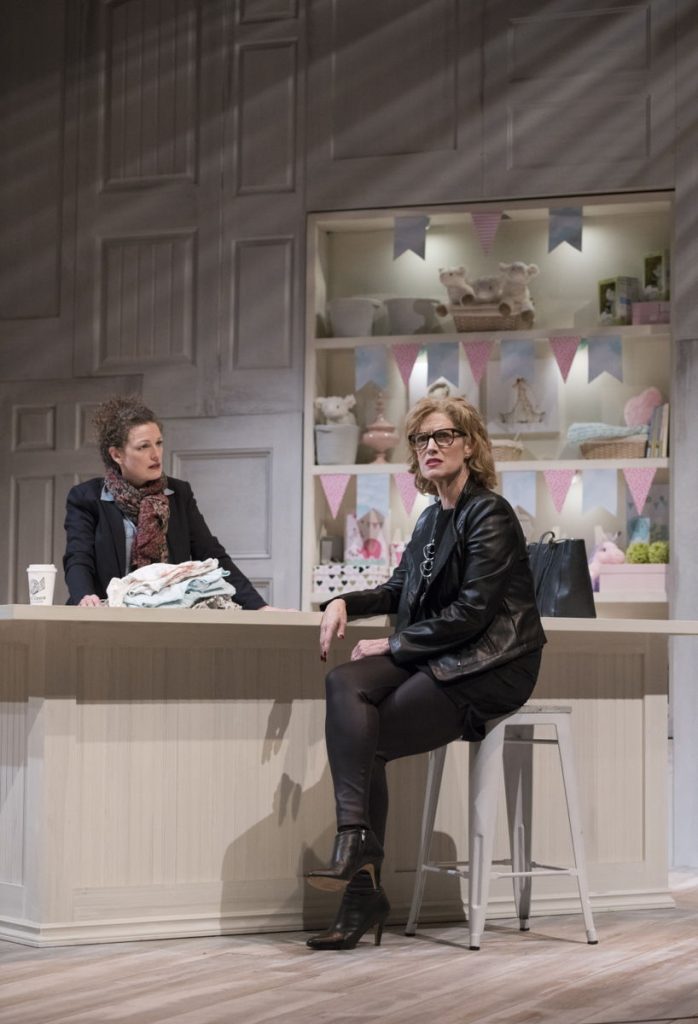 Jennifer Lines as Jane and Colleen Wheeler as Lori. Photo: David Cooper
Technology plays a large role in the overall esthetic—Andrade is not content to rely on static images, employing dark and sombre video footage of clouds and birds to capture mood, assisted by James Coomber's evocative soundscapes.  In a nod to the reality of today's era, Aaron (a musician who has recently flown the nest and moved to Montreal) and Wynn (at university in Toronto) appear by Skype—in fact Wynn is never seen on stage.  This adds a decided level of difficulty to the performance for the two young actors—interacting from backstage with those onstage, they are minus the close personal interaction that provides cues and builds connection.  And yet, the conversations they have with their parents, through all the gut-wrenching revelations of diagnosis, are heart-breaking and authentic. Overall the deep abiding love the characters have for one another is wonderfully portrayed.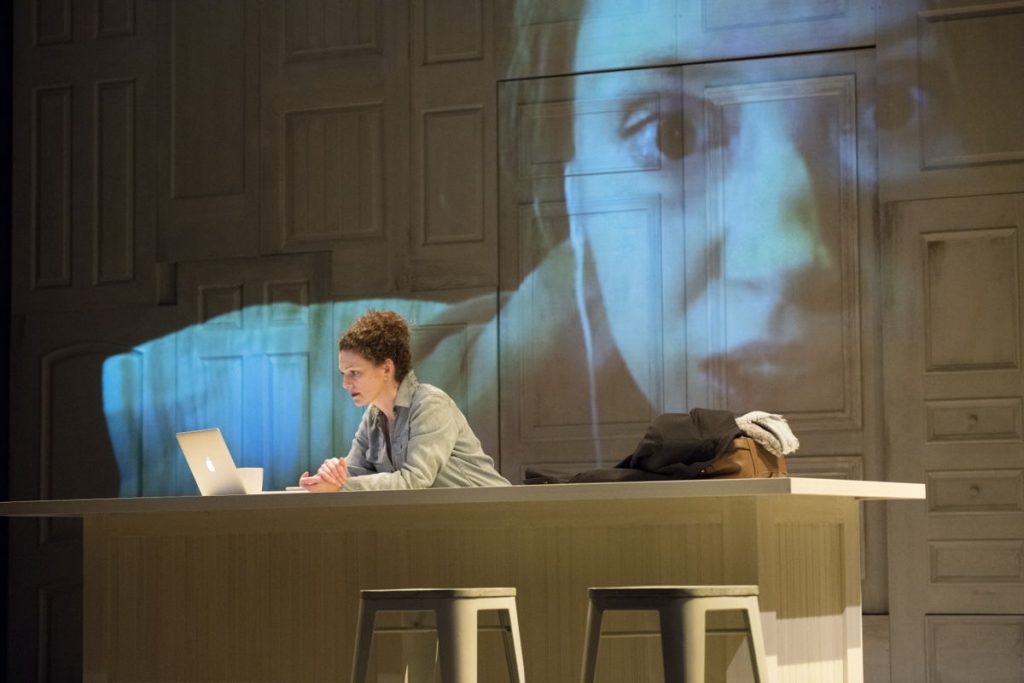 Aleita Northey as Wynn and Jennifer Lines as Jane. Photo: David Cooper
Despite this constant, Daum isn't afraid to flirt with the unthinkable and builds additional love stories into the script—that of Lori's much-talked-about affair with a younger man (never actually seen) and Jane's interest in Wayne.  Wheeler's performance as Lori is brash and bold without tipping into caricature—sparing no one, least of all herself, from frank observations. Weighed against her, Lines as Jane is definitely less certain, which lends another level of credibility to her dalliance with Wayne.  It's easy to see how someone, in a compromised state, could exercise questionable judgement—to disastrous effect.  Mathews as Wayne manages to be an entirely sympathetic fellow—a recent widower reaching out for companionship and toeing a careful line.
Erickson navigates difficult terrain as Tom—a man prized for his intellectual capacity upon which clients depend, now bereft of his faculties, resorting to daily lists of tasks, leaning on Jane and struggling to maintain shreds of his humanity.  His blow-up with Lines is devastatingly depicted. Rather than coming across as needy, he dives to the core of their relationship in a moment that distills its essence—love—and insists on the reality of "now" as they move forward.
As John Lennon so famously said, "life is what happens while you are busy making other plans."  In Forget About Tomorrow, Daum reveals powerful personal truth and in the process makes beautiful, uncompromising theatre.
At a time when the Grey Tsunami approaches, the subject matter of Forget About Tomorrow is highly relevant; the skill of playwright, performers and creative team ensure that it is also a work with great artistic merit.
Forget About Tomorrow by Jill Daum, with songs by John Mann
Belfry Theatre co-production with the Arts Club Theatre Company
Belfry Theatre, 1291 Gladstone Avenue
January 23-February 18, 2018
Tickets: range from $20 to $53 (plus GST). Tickets are available at 250-385-6815 or online at tickets.belfry.bc.ca. Prices are subject to change.
Cast
Jennifer Lines-Jane
Craig Erickson-Tom
Colleen Wheeler-Lori
Hrothgar Mathews-Wayne
Aren Okemaysim-Aaron
Aleita Northey-Wynn
Creative Team
Jill Daum –  Playwright
Michael Shamata – Director
Pam Johnson – Set & Costume Designer
Bryan Kenney – Lighting Designer
Candelario Andrade – Projection Designer
James Coomber – Sound Designer
John Mann – Songs
Caryn Fehr – Stage Manager
Christopher Sibbald – Assistant Stage Manager
Rush Tickets
For our weekday evening performances we offer a limited number of last minute rush tickets at a discount. Rush tickets are:
> available at the Box Office 30 minutes before each evening performance (Tuesday to Friday),
> in person only,
> subject to availability, and
> 40% off our regular Zone 2 (Yellow Section) and Zone 3 (Red Section) ticket prices.
Ticket Discounts
High School Students – 50%
University / College / Post Secondary Students – 25%
Seniors – 10%
Members of the Military – 25%
Groups (10 or more) – 10%
Performance Schedule (January 23 to February 18)
Tuesdays – Thursdays at 7:30 pm
Fridays and Saturdays at 8 pm
Wednesday Matinees at 1 pm (January 31 and February 7 & 14)
Saturday Matinees at 4 pm
Sunday Matinees at 2 pm
Live & Outreach Events during Forget About Tomorrow
To prepare and engage our audiences further in our productions the Belfry produces a number of events and online resources.
B4Play
Saturday, January 20 at 11 am
Belfry Theatre, Studio A, 1291 Gladstone Avenue
Free Event. A live talk show hosted by CBC Radio's Gregor Craigie, with guests including Michael Shamata (director), Jill Daum (playwright), Dr. Marjorie Moulton (Executive Director of We Rage We Weep Alzheimer Foundation) and Dr. Stuart MacDonald  (Associate Professor, UVic Department of Psychology).
B4Play is streamed live on Facebook. Our podcast of B4Play is available at belfry.bc.ca/podcasts.
Benefit Performance for The Actors Fund of Canada
Friday, January 26 at 8 pm
All single ticket sales for this performance will be donated to The AFC, which helps Canadian entertainment professionals maintain their health, dignity and ability to work.
Afterplay
Facilitated discussions – audience member to audience member – will follow every evening Mainstage performance of Forget About Tomorrow (except Opening Night and Talkback Thursday). These are a great opportunity to share your thoughts and hear fellow patrons' reactions to the production and the ideas it presents.
Talkback Thursday
Thursday, February 1
Meet some of the actors post-performance when they return to the stage to answer questions and provide insight into the play.
VocalEye Performance
Sunday, February 11 at 2 pm
For our patrons with low or no vision, we offer this VocalEye performance during Forget About Tomorrow. Trained Audio Describers provide descriptions of the visual elements of the show, allowing people with low vision to enjoy the theatrical experience without missing any of the details.
Podcasts
Listen and download the full interviews from each B4Play event, recent stories from The Flame, our storytelling series, and more at belfry.bc.ca/podcasts
Upstage Magazine
Our magazine provides insight into each Mainstage production, further enriching your experience. Upstage is available at most branches of the Greater Victoria Public Library, in the Lobby and on our website.
Show Sponsors
Forget About Tomorrow is generously supported by BMO Financial Group / Focus Magazine / 98.5 The Ocean / Jennifer Roberts Florist.
Disclaimer: I was offered a complimentary ticket to attend Forget About Tomorrow