Mom's The Word at the Belfry Theatre August 9-28, 2016. A review.
Twenty one years ago a group of young mothers, all professional actors, got together to share stories.  This process ultimately yielded the smash-hit Mom's the Word and, ten years later, Mom's the Word 2: Unhinged, about their life with teenagers.
Now, the Belfry Theatre reprises the original, updated for a contemporary audience, with a new group of young mothers.  The audience's reaction on opening night is proof positive of the universal nature of this very witty, earthy and profoundly honest material.  Seated beside me was a young mom, brought by her own mother who had purposely left her in the dark about the show.  To the delight of my seatmates—all older—her reactions rejoined our earlier ones—uncontainable laughter, exclamations of "that's my life", tears coursing down her face.
Pam Johnson's set is spare, a tall jumble of chairs mid-stage elegantly hinting at the chaos of maternal life.  Symmetrically aligned along opposing walls, more chairs hang in neat rows—carefully outlined (Bryan Kenney—light design).  Three doors punctuate the back wall.  Two large lockers are the only other furnishings.
Opening credits roll.  Headings group the stories into segments, providing context to the audience.
From the opening birth sequence (featuring Yumi Ogawa as Linda grunting and pushing while making pithy observations about her health care team), to the closing, these moms share, in unbridled fashion, their hopes, dreams, missteps, fears, and ultimate realizations—through sleepless nights, randy partners and near-death experiences, their transformative journeys are fraught with polarizing love and "hate"—it's no less shocking in 2016 to hear a mom use the "f" word in relationship to her children, or admit to "playing dead" to get them to calm down.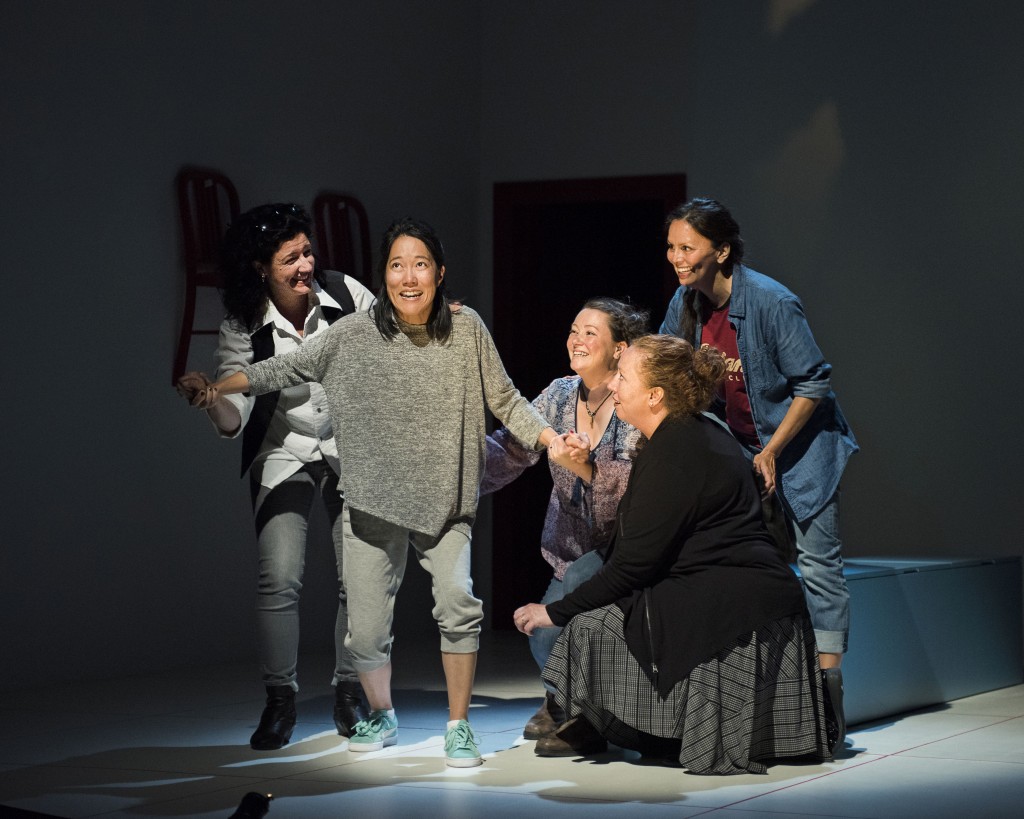 Sarah Donald, Yumi Ogawa, Jennifer Paterson, Trish Cooper, and Lisa C. Ravensbergen. Photo: Emily Cooper
Director Michael Shamata has assembled a diverse cast for the moms of 2016. Pam Johnson's costumes reflect the wide variety of clothing choices available and the unique traits of each woman—from track suits to blue jeans, peasant blouses to tuxedo shirts, dresses to leggings—there is a sense of personal fashion that serves to separate and differentiate them.
Lisa Ravensbergen as Robin has a mouth like a trucker; rough-edged she refuses to abide by a set of rules dictated by polite society.  Jenny Wasko-Paterson captures Deborah's brash and tempestuous nature–wishing desperately to end one day as Mary Poppins, rather than Cruella De Ville.  Trish Cooper's portrayal of a jiggling Alison—trying to sooth her baby to sleep—had people chuckling in recognition.  Sarah Donald as Jill is the coolest and most tempered of the bunch while Yumi Ogawa's ongoing epistles to her partner were filled with deadpan comedic flair.
Sound designer Paul Tedischini has fun with a "Mission Impossible" themed segment while the actors themselves play children's instruments during a sequence when Linda tries to recite a poem.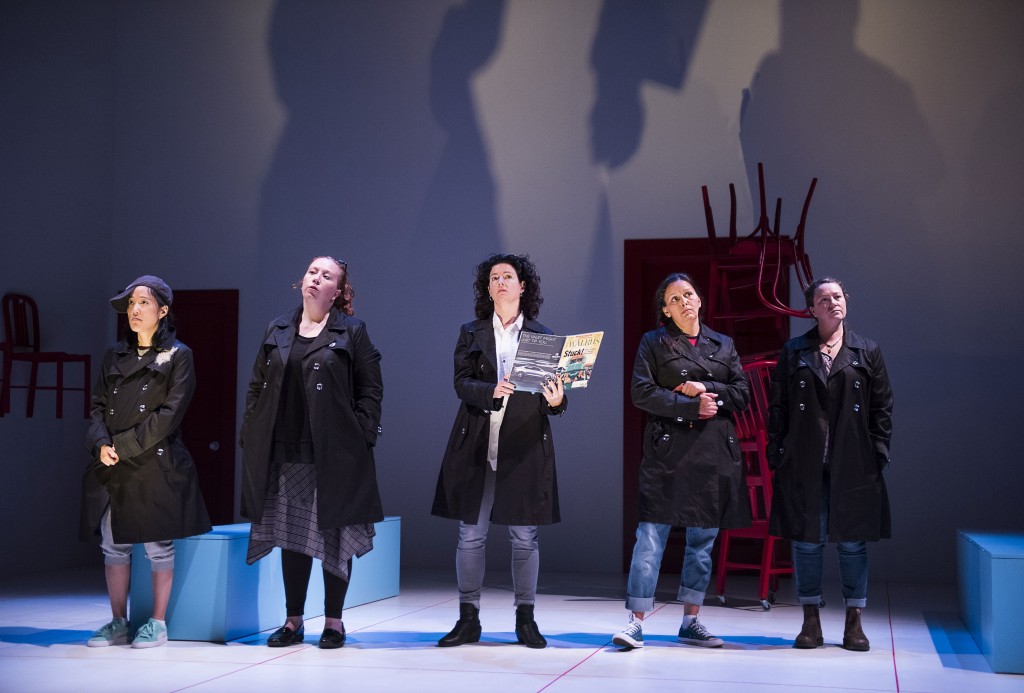 Sarah Donald, Yumi Ogawa, Jennifer Paterson, Trish Cooper, and Lisa C. Ravensbergen. Photo: Emily Cooper
Whether clowning, streaking, shouting or weeping—in profound, silly or sexy moments, these moms speak for all of us. The moms of Mom's the Word grant all parents permission—to admit to horrible thoughts about our own progeny.  It's the ultimate brilliance of the material. Who hasn't spent the afternoon fantasizing about Paolo at the park? Tried to force a child to eat just one morsel?  Gone to an event with spit on their clothes?
All too soon –it's over.  Guffaws subside, heads nod in agreement one last time, deep cathartic sighs well up.
Fast-paced and funny, brash and brave, Mom's the Word is life in all its messy and hilarious glory.  Thank you for the laughs and the tears.
Mom's the Word at the Belfry Theatre
1291 Gladstone at Fernwood
August 9-28, 2016
Tickets for Mom's the Word range from $20 to $59 (plus GST). Tickets are available at 250-385-6815 or online at tickets.belfry.bc.ca. Prices are subject to change.
Cast and Artists
Trish Cooper Alison
Sarah Donald Jill
Yumi Ogawa Linda
Jennifer Wasko-Paterson Deborah
Lisa C. Ravensbergen Robin
Linda A. Carson Playwright
Jill Daum Playwright
Alison Kelly Playwright
Robin Nicol Playwright
Barbara Pollard Playwright
Deborah Williams Playwright
Michael Shamata Director
Pam Johnson Designer
Bryan Kenney Lighting Designer
Paul Tedeschini Sound Designer
Jessica Hickman Movement Coach
Deborah Williams Assistant Director
Jennifer Swan Stage Manager
Sarah Robb Assistant Stage Manager
 Disclaimer: I was provided a complimentary ticket to the opening night of Mom's the Word.