From Door to Door by Bema Productions January 14-22 2017. A review.
Deeply human and leavened with ample doses of wry humour, From Door to Door, produced by Bema Productions and currently at Congregation Emanu-El until January 22nd, is a fine example of love and gentle conflict spanning three generations. Written by James Sherman as a tribute to his mother, From Door to Door focuses on the lives of three Jewish women in Chicago, from the 1930s to the 1990. Nonetheless it is universal in its themes.  The hopes and chagrins of all mothers and daughters are reflected by Bessie (Pam Miller) born in the Old Country, Mary (Christine Upright) her daughter and Debbie (Katya de Lancie) her granddaughter.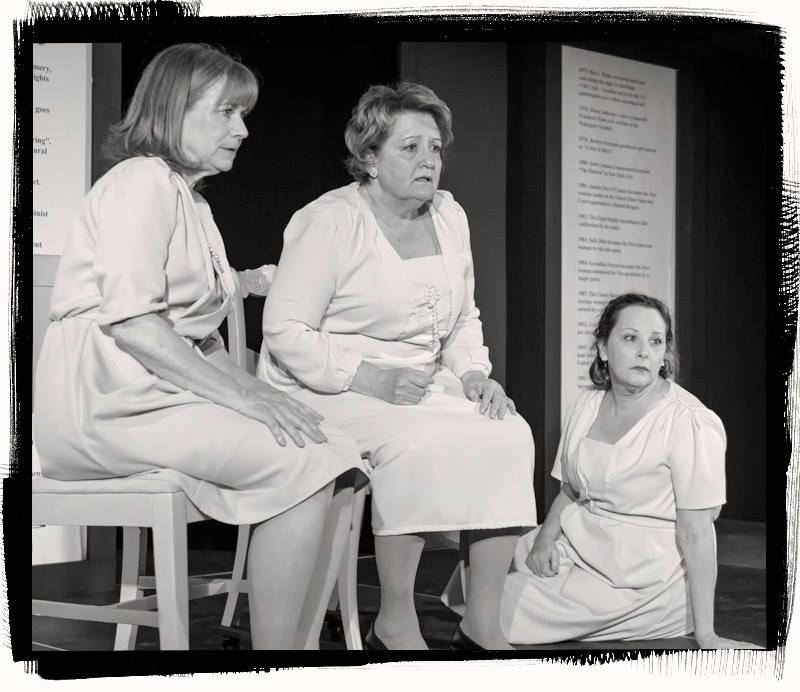 Christine Upright, Pam Miller and Katya de Lancie. Photo: Rob Macklem
On the stage prominence is given to three large posters of historical facts featuring women (did you know FDR's Secretary of Labour was Frances Perkins, the first women to hold a Cabinet post?).  Other than a backdrop wall with a simple opening for exits and entrances (set design Barbara Pollock), the only other furnishings are two chairs—colour coordinated to match some of the tones in the women's dresses (costume design Marie-Hélène Bourret), an interesting touch—on wheels, for ease of movement. The design elements, which also include lighting by Annie Weeks and sound by Chris Rudram, reflect elegance and simplicity—and allow the audience's attention to focus on the interaction between the actors.
Told from the perspective of Mary as the central character, Sherman's narrative traces the trials and tribulations of any immigrant family coming to a strange land; the struggle to fit in while maintaining traditions, to find work and love and to establish a place for self, separate from the expectations of family. With the historical narrative—a period of great social change–as a backdrop, Mary's journey, while more incremental in nature, is seen in this context to be significant.  Sherman highlights the importance of the personal, delving into the shame and guilt so often felt by women vis à vis their children.  The ensemble, under the meticulous direction of Zelda Dean, knows when to play a scene for the humour—and there are many moments where the audience laughs in recognition of some common maternal trait—and when to delve deep into the recesses of stories buried deep in memory. Pam Miller excelled as Bessie, exploding in anger after seeing Fiddler on the Roof and finally revealing the horror of her childhood. An intimate exchange between de Lancie and Upright over the right recipe for soup is a finely detailled moment that speaks eloquently to the loving relationship between mother and daughter, and the place of domestic ritual. The actors do great honour to the characters, and subsequently bearing the responsibility of being EveryGrandmother, EveryMother and EveryDaughter, and to the intent of the writer—showcasing generations who never hesitate to adjust to the challenges of changing roles while maintaining deep familial ties.
Audience members with closer ties to Jewish traditions will undoubtedly appreciate the finer details of the story—the script is sprinkled lightly with Hebrew and Yiddish references, sayings and song—but regardless of personal origin, theatre-goers will find a touch of their own mothers and grandmothers in these women, and might even say "that's me!"
Once again, Bema Productions illuminates the power to be found in "ordinary" lives.
From Door to Door by James Sherman, directed by Zelda Dean
Bema Productions
January 14-22, 2017
Congregation Emanu-El
1461 Blanshard Street, (at Pandora)
Tickets $20 via Ticket Rocket or at the door

Cast:

Christine Upright Mary
Pam Miller Bessie
Katya de Lancie Deborah
Production Team
Zelda Dean Director
Susan Holz  Stage Manager, Sound & Lighting Operation
Sharon Fitch Production Assistant
Barbara Pollock Set Design
Alf Small Set Construction
Marie-Hélène  Bourret Costume Design
Jill Swartz Front of House
Frances Aknai Publicity
Annie Weeks Graphics and Lighting
Chris Rudram Sound Design
Bill Nance Voice of the Announcer
Rob Macklem Photography
Next up for Bema Productions is Fiddler on the Roof, a Sing-A-Long in collaboration with the Getting' Higher Choir and The Klez, March 26 and 27.
From Door to Door received its premiere production at the Victory Gardens Theater under the direction of Dennis Zacek on November 12, 1999.
Disclaimer: I was offered a complimentary ticket to attend opening night of From Door to Door.