Gather by Passing Through Theatre at the Victoria Fringe Festival 2016. Interview with Lily Sutherland and Erin Morgan.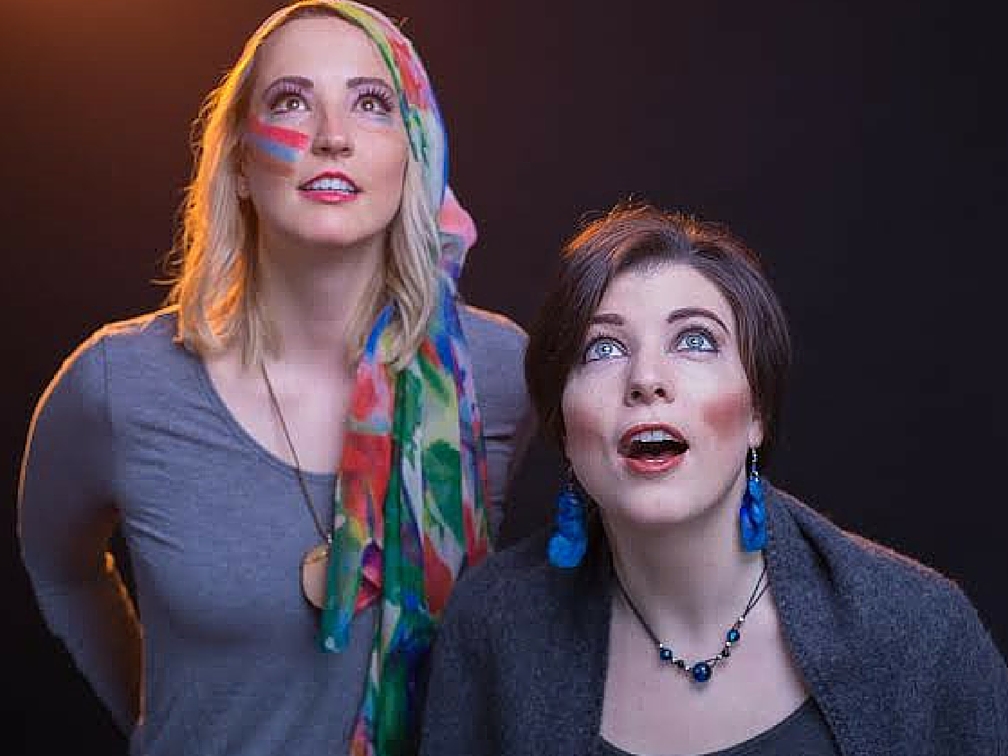 How long have you been producing work on the Fringe circuit?  As an artist/company?
This will be Passing Through Theatre's second year producing original work on the Fringe circuit. Last year we produced a play at the Toronto Fringe Festival and this year we are back with a completely different show which we have taken to the Winnipeg and Calgary Fringe festivals, and now eagerly anticipate performing at the Victoria Fringe. We have never visited Victoria before so we are very much looking forward to being a part of the festival this year!
Is your show a new work, or has it been performed elsewhere?
'Gather' was created intentionally for the Fringe and it was debuted in Winnipeg last month where it had been well received by audiences.
Can you speak to the creation process of this work?
The show will take place outside in a natural green-space on the grounds of Christ Church Cathedral. Our creative process began last year when we realized how invigorating and refreshing it was to rehearse for other theatre projects outside; in parks and other various green- spaces. We found our creative juices flowing and began asking ourselves what it might be like to invite an audience outside with us, to experience theatre in a new way. Since then we have been working to create a piece of theatre with this idea in mind, and it has been a ton of fun! Over the last year, our show has subtly developed into a surprisingly funny, yet thought-provoking and imaginative outdoor comedy.
Who will your show appeal to?  If it's an "all ages show" what is the age range you think it is most appropriate for?
Our show will certainly be of interest to Fringers who seek a unique play and will enjoy stepping out of our mundane, realistic world for a time, to immerse themselves in imagination. It pains me to limit this person to an age, however, it is important to note since it is outside it may not appeal to people who have difficulty walking short distances (1-2 mins), standing, or sitting on folding chairs (seating is optional).
What would you say to entice a potential audience member to come?
We like to describe our show as a party! As our description in the Fringe program reads, the play is a celebration at dusk and we are awaiting the arrival of the other elements- water, wind and fire. As we wait, we celebrate with singing, dancing and storytelling.
What do you hope to inspire in your audience?
The major theme of our show is unity. Through this play we not only hope to inspire a sense of adventure but an urge to celebrate our unity with others and establish a sense of value for community.
Your name is being called! Come find your place in the magical realm for the celebration at dusk. The elements and oh so much more, await you. Passing Through Theatre presents an outdoor theatre experience for audiences seeking a unique evening.
https://www.facebook.com/Beginagame/?fref=ts
Gather by Passing Through Theatre, Toronto ON
Location: Christ Church Cathedral Grounds (Fringe Site C) corner of Quadra and Burdett
Created: Erin Morgan and Lily Sutherland
Advance price: All Seats $11 + s/c*
Door price: All Seats $11
Duration: 60 mins
Rating: All Ages
Genre: Outdoor Theatre, Comedy
Thu Aug 25 – 7:45pm
Fri Aug 26 – 7:45pm
Sat Aug 27 – 7:45pm
Sun Aug 28 – 7:45pm
Wed Aug 31 – 7:45pm
Thu Sep 1 – 7:30pm
Fri Sep 2 – 7:30pm
Sat Sep 3 – 7:30pm
Sun Sep 4 – 7:30pm