You Can't Take It With You at Langham Court Theatre September 30-October 17, 2015. A review.
You Can't Take It With You, the 1937 Pulitzer Prize winner by Moss Hart and George S. Kaufman, currently at Langham Court Theatre September 30-October 17, 2015 is a joyous celebration of individuality and unique family bonds.
Filled with a riotous explosion of creative juices—from the wacky, off-kilter and impressionistic set, designed by Tony Hubner, to steam-punk inspired outfits (Costume designer Elodie Adams) worn by fireworks creator Paul Sycamore (Greg Marchand) and his goofy sidekick Mr. De Pinna (Jaymes D Goodman) to animated props (Vanessa Tom) guaranteed to provoke shivers—You Can't Take it With You is a fine illustration of gifted ensemble work.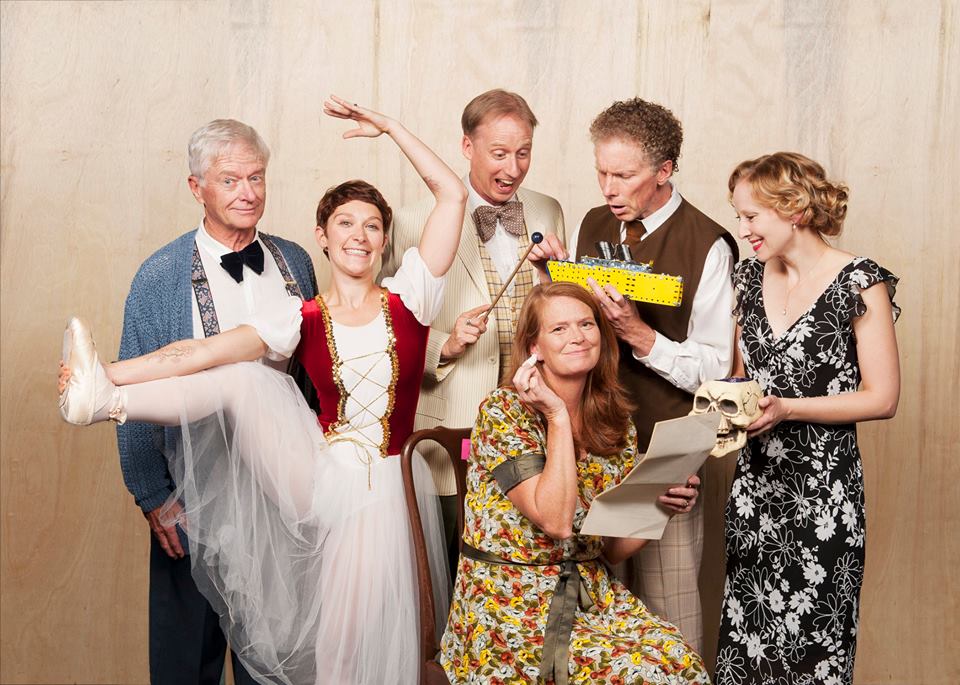 (L to R): Malcolm Everett Harvey, Michelle Mitchell, Mitch Barnes, Wendy Cornock, Greg Marchand, Tara Britt
Photo: David Lowes

At a time when most people struggled to get by, with the Great Depression in full swing, Hart and Kaufman produced a tale of an unconventional family, fully invested in exploring their hearts' desires in the most unique way possible. Mother Penelope Sycamore (Wendy Cornock) is a playwright, daughter Essie Carmichael (a pixieish and kinetic Michelle Mitchell who never stops twirling and jumping) aspires to being a ballet dancer, Essie's husband Ed (Mitch Barnes) yearns to print on his in-house press, while grandfather Martin Vanderhof (Malcolm Everett Harvey) attends commencement exercises and circuses, and collects stamps and snakes. Most of their enterprises are doomed to happy failure. Daughter Alice Sycamore (Tara Britt) is the only seemingly normal person in the household, with a job working on Wall Street for Mr Kirby (Drew Waveryn) and his son Tony (James Johnson).
Under the accomplished direction of Chris Moss (in his Langham Theatre début), the large cast magnificently sustains the essential frenzy of perpetual motion necessary to convey the bizarre nature of the combined Vanderhof/Sycamore/Carmichael families. There is pandemonium and mayhem aplenty, and at any given moment, an abundance of possible conversations and actions to follow onstage.
The retinue of servants and hangers-on—Rheba (Jo Barnes) the put-upon maid, her suitor Donald (Michael Gosselin), Boris Kolenkhov (Graham Roebuck) the Russian ballet teacher, Mr. De Pinna, who came one day and never left —provide support and counterpoint.
Aside from the intriguing notion of this unusual family life, the central conflict (with predictably hilarious results) resides in the differences between Grandpa and his clan, and the Kirbys (Beverly Van Druten-Blais as Mrs K), a pair of stuck-up, high society types. When Tony and Alice fall in love and the families are introduced, fireworks go off—sound designer Flemming Sorvin had a field day with special effects.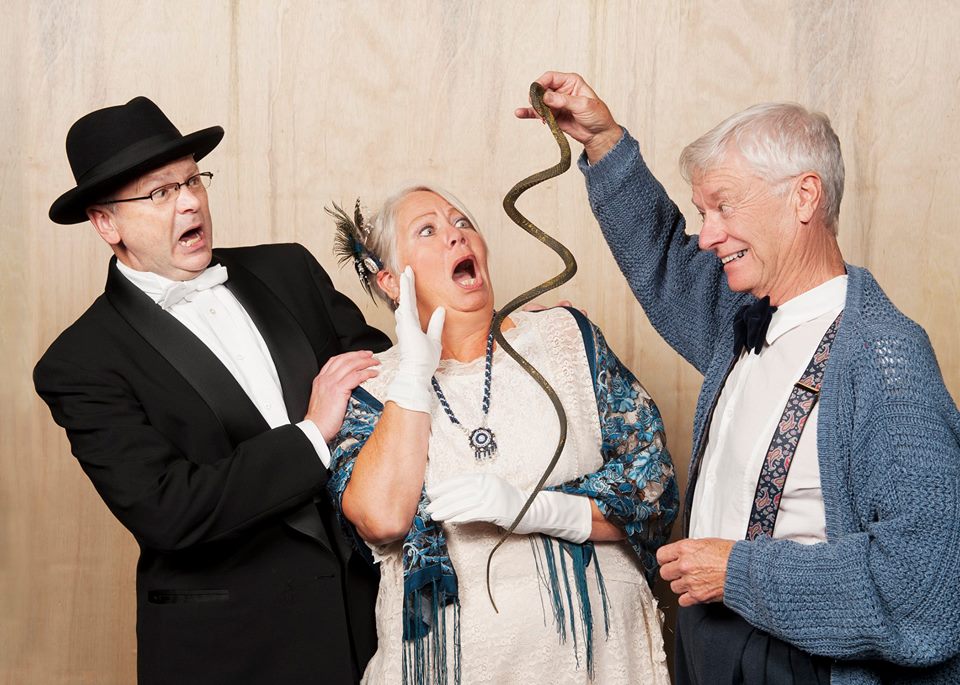 Drew Waveryn, Beverly Van Druten-Blais, Malcolm Everett Harvey. Photo: David Lowes

Add in sub-plots of a visit by an IRS inspector (Ian Chaprin), and an investigation by a trio of menacing G-Men (Tom Holder, Carl Powell, Nathan Black), with cameos by Elizabeth Brimacombe as a dipsomaniac actress and Diana Keating as the Russian Grand Dutchess Olga Katrina and the whole enterprise becomes a glorious mess.
This is escapist theatre, two and a half hours of sheer entertainment, as the audience cheers on this intrepid band of goofballs, and hopes against hope they will prevail versus Big Government and The Man.
Who wouldn't want to believe that following your heart's bliss is the key to happiness in life? Long before New Age thought permeated our collective consciousness, Hart and Kaufman were exploring the notion, allowing audiences through multiple generations (this is the third time Langham has staged You Can't Take It With You and the show was recently revived on Broadway to acclaim) to live, albeit briefly and by proxy, in the realm of wildest dreams, without a care in the world, or the need to earn a living.
Harvey as Grandpa delivers a top-notch performance as the spinner-of-homilies, every word ringing true with earnestness while Britt is the perfect young ingénue.
An all-ages laugh-fest, You Can't Take It With You opens Langham Court Theatre's 87th season with panache.
"Zany! Bizarre! A laugh from start to finish! Begin your Fall Season at Langham Court with the somewhat "batty" families of Vanderhof, Sycamore, and Carmichael, as they skewer the status quo in this winner of the 1937 Pulitzer Prize for Drama. Let the fireworks begin! Fun for the whole family!"
"Sheer joy… an escapist tonic… this giddy romp is a perennial favourite"
– DAVID ROONEY, THE HOLLYWOOD REPORTER
You Can't Take It With You by Moss Hart and George S. Kaufman
Directed by Chris Moss
Langham Court Theatre, Victoria, BC
September 30 to October 17, 2015
Tickets $21/$19 online at https://www.langhamtheatre.ca/boxoffice/tickets/
2 for $30 Tuesdays (October 6 & 13)
$10 Student Rush Ticket (15 min before curtain with ID, based on availability)
Production Team:
Director Chris Moss
Producers Michael Gosselin, Irene Doerksen
Stage Manager Nick Stull
Assistant Stage Managers Irene Doerksen, Tony Cain
Set Design Tony Hubner
Lighting Design Anastasia Schwarze
Sound Design Flemming Sorvin
Costume Design Elodie Adams
Properties Vanessa Tom
Set Decor Marilyn Kuss
Cast:
Penelope Sycamore Wendy Cornock
Essie Carmichael Michelle Mitchell
Rheba Jo Barnes
Paul Sycamore Greg Marchand
Mr. De Pinna Jaymes D. Goodman
Ed Carmichael Mitch Barnes
Donald Michael Gosselin
Martin Vanderhof (Grandpa) Malcolm Everett Harvey
Alice Sycamore Tara Britt
Mr Henderson Ian Chaprin
Tony Kirby James Johnson
Mr. Kirby Drew Waveryn
Mrs. Kirby Beverly Van Druten-Blais
Boris Kolenkhov Graham Roebuck
Gay Wellington Elizabeth Brimacombe
Duchess Olga Katrina Diana Keating
G-Man #1 Tom Holder
G-Man #2 (Mac) Carl Powell
G-Man # 3 (Jim) Nathan Black
For more information, contact Langham Court Theatre:
805 Langham Court
Victoria BC V8V 4J3
Box Office / Admin: 250-384-2142
Email: boxoffice@langhamtheatre.ca
Website: http://www.langhamtheatre.ca/
Twitter: https://twitter.com/LanghamTheatre
Facebook: https://www.facebook.com/langhamtheatre
Flickr: https://www.flickr.com/people/langhamtheatre/
Disclaimer: I was offered complimentary tickets to attend the opening of "You Can't Take it With You".