Next to Normal at Langham Court Theatre September 28-October 15, 2016. A review.
Next to Normal, the 88th season opener for Langham Court Theatre, is a heady mixture of high-powered music and complex drama. Musical theatre lovers will applaud this timely and vocally challenging work, while fans of traditional theatre will appreciate the sensitive exploration of family dysfunction and mental illness.
Next to Normal is a modern behemoth demanding exceptional virtuosity from musicians and cast.  Director Gregg Perry (in his début at Langham, assisted by Leah Moreau) has assembled veteran musical theatre performers and rising stars to tackle, head-on, the stylistic intricacies of these pop-rock songs.  Musical Director Stephen Horak (who also plays a mean electric guitar) leads a seven piece band comprised of bass guitar (Brian Tetlow), percussion (Russell Lovat), violin (Victoria Hartman), keyboards (Julian Greenwood and Alex Denis), and guitar (Doug McLeod)—situated at the very top of the stage, overlooking the action and performing behind a scrim, their sound is tight and focused, ranging from soft and intimate to outright rage.  A nod to the sound engineers and operators (Larry Taylor, Jason King) is in order—in a small theatre like Langham Court it's important to modulate all the considerable energy generated while ensuring distinct voices are heard.  Next to Normal contains many moments of cross-talking and cross-singing that could become an unintelligible muddle if not for careful direction and singing, and skillful sound operation.
Caroline Mitic's set is all hard angles and surfaces—on multiple levels—with the occasional piece of furniture to signify rooms in the house or outside world (set décor Drew Waveryn). Costumes (Geli Bartlett and Diana Keating) ground the show in the here and now with baseball-cap wearing teens, a dad struggling with his tie and mom in housewife garb.  Lighting (Adam Wilkinson) plays off the rock concert riff with washes of brilliant hues spotlighting the backstage.
It's Just Another Day in the Goodman household–mother Diana (Frances Bitonti) rushes around preparing lunches for her kids Natalie (Molly Lydon) and Gabe (Zander Felton) while architect dad Dan (Dwayne Gordon) struggles to get out the door.  The frantic nature of Diana's rushing becomes apparent all too soon—she's having a manic episode and needs to see her doctor (Craig Wilson) as soon as possible.  Seeking refuge at school Natalie spends more and more time with Henry (Rowan Wolfe).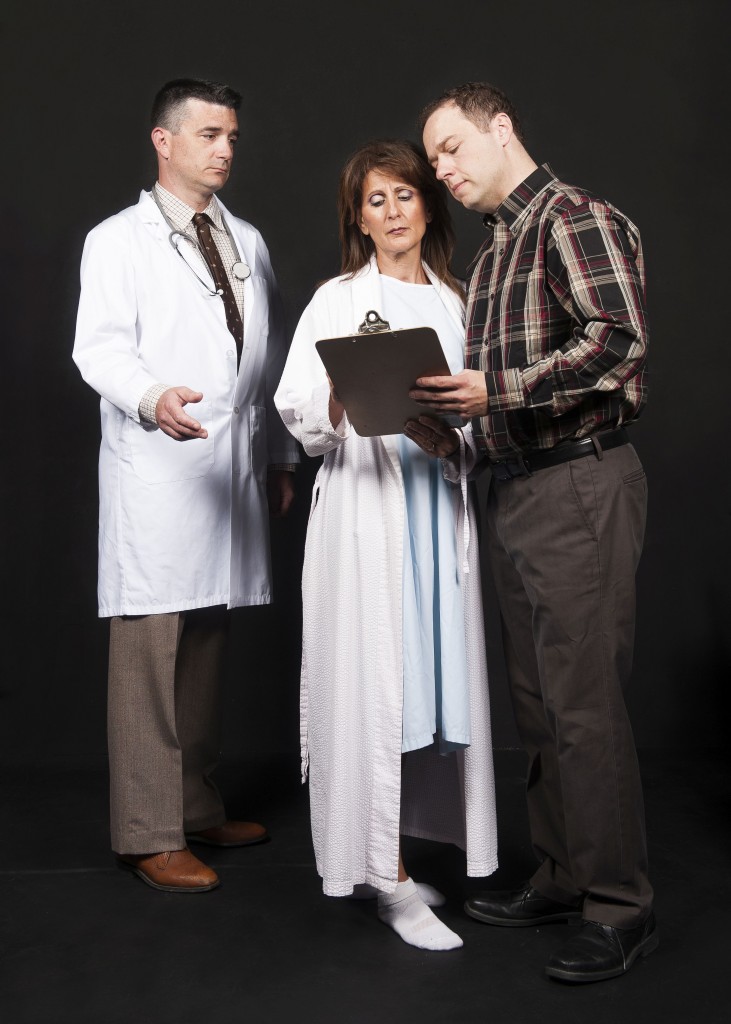 Craig Wilson (Dr Fine), Francesca Bitonti (Diana), Dwayne Gordon (Dan). Photo: David Lowes
The family tries to find an even keel balancing care for Diana's mental illness with the challenges of raising teenagers. Slowly, a terrible secret is revealed.
Next to Normal is painfully honest—a keening violin echoes Diana's inner state (Catch Me I'm Falling); Bitonti's anguished cry in I Miss the Mountains is heart-breaking. As the dad who needs to hold everything together, Gordon's performance is incredibly down-to-earth—bound by love and devotion, he puts his own needs on the back-burner, refusing to let go (A Light in the Dark).
Lydon navigates the tricky waters of teen angst with aplomb and a grace that belies her young age while Wolfe is sweet, concerned and as pre-occupied as any typical teen boy might be.  Their duets together (Perfect for You, Hey) convey all the conflicting emotions of first love and friendship.  Zander Felton channels anger and malevolence, moving with the seductive grace of a caged tiger refusing to be tamed (I'm Alive).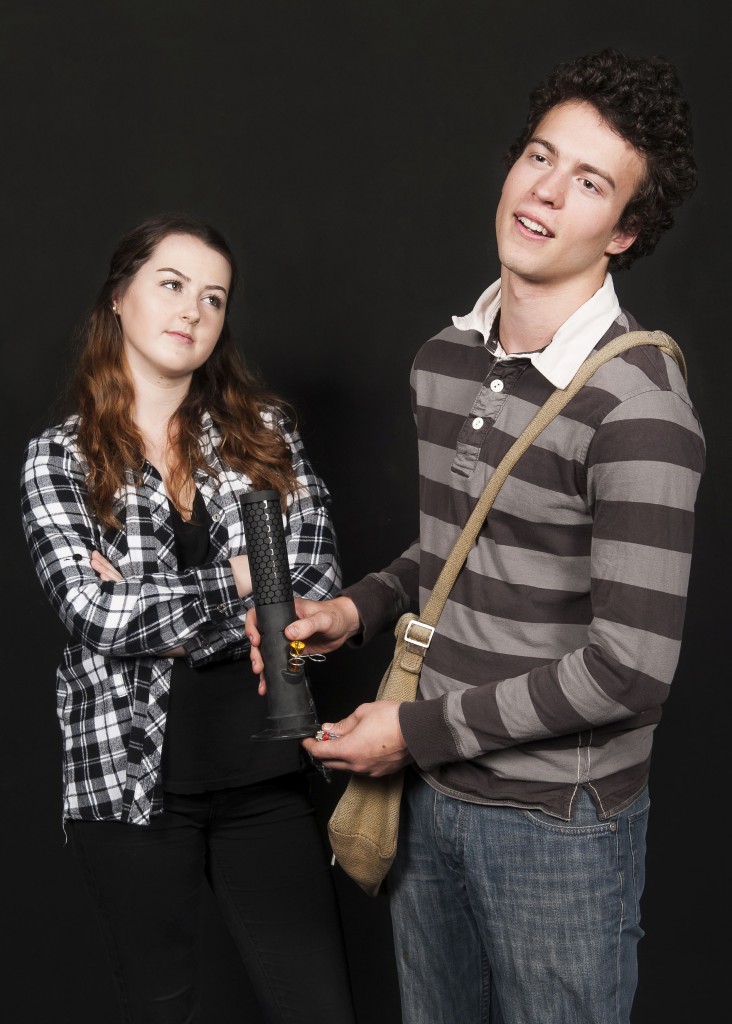 Molly Lydon (Natalie) and Rowan Wolfe (Henry). Photo: David Lowes
Wilson's Dr Fine is perfectly calm and reassuring.  His rich voice is a wonderful complement particularly on ensemble numbers like Make Up Your Mind/Catch Me I'm Falling while a rock star turn as Doctor Fine (Who's Crazy/My Psychopharmacologist and I) is hilarious
Next to Normal avoids simplistic clichés in favour of hard-hitting and hard-won truth.  Life is not always easy, but as Diana sings in Light "You find some way to survive. And you find out you don't have to be happy at all, to be happy you're alive."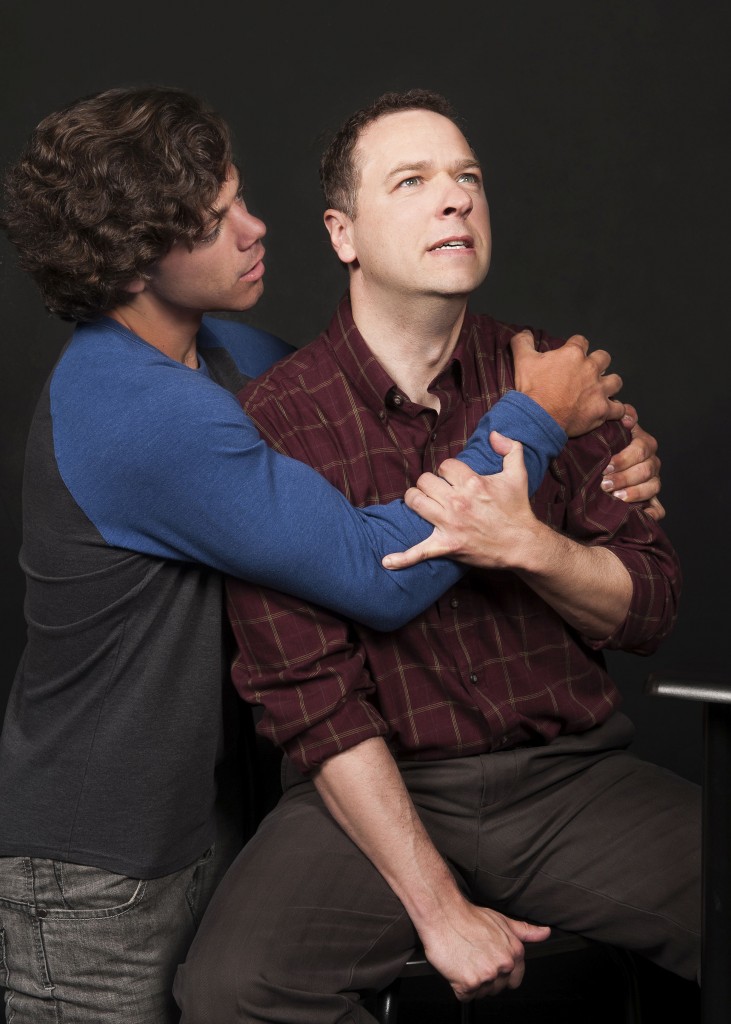 Zander Felton (Gabe) and Dwayne Gordon (Dan). Photo: David Lowes
Thank you Langham Court Theatre for taking up the challenge of staging this thoroughly contemporary musical with flare and incredible heart. Everyone involved in Next to Normal gives their all—it's the musical equivalent of running a marathon and the dedication to training and rehearsal shows.
An aside—Next to Normal was developed at Village Theatre in Issaquah Washington, a small regional theatre that has developed an enviable reputation for its dedication to new musical development and where Brian Yorkey served as Associate Artistic Director for seven years.
Next to Normal won three Tony awards in 2009 for Best Original Score, Best Orchestration and Best Performance by a Leading Actress in a Musical as well as the 2010 Pulitzer Prize for drama.
Next to Normal by Tom Kitt and Brian Yorkey
Directed by Greg Perry
Langham Court Theatre September 28-October 15, 2016
Tickets: Adult $32, Senior $30, Student $26. Tuesday October 11th 2 for $40
Online, in person (Monday-Friday noon-4pm) or by phone 250-384-2142
Creative Team
Director Gregg Perry
Music Director Steve Horak
Assistant Director Leah Moreau
Producer Michael Gosselin
Stage Manager Caitlin Reid
Costume Design Geli Bartlett & Diane Keating
Lighting Design Adam Wilkinson
Properties/Set Décor Drew Waveryn
Set Design Caroline Mitic
Vocal Coach George Austin
Cast
Diana Francesca Bitonti
Gabe Zander Felton
Dan Dwayne Gordon
Natalie Molly Lydon
Henry Rowan Wolfe
Dr Madden/Dr Fine Craig Wilson
Band
Conductor/Lead Guitar Stephen Horak
Bass Guitar Brian Tetlow
Percussion Russell Lovat
Violin Victoria Hartman
Keyboard Julian Greenwood
Keyboard Alex Denis
Guitar Doug McLeod
Disclaimer:  I received complimentary tickets to attend Next to Normal.