Greater Victoria Shakespeare Festival 2018. Interview with Artistic Director Karen Lee Pickett.
The Greater Victoria Shakespeare Festival celebrates their 28th year in 2018. Now firmly established in the repertory model since 2014 under the artistic directorship of Karen Lee Pickett, they benefit from two professional mentor actors—this year, Trevor Hinton who audiences will remember from the 2015, 2016 and 2017 seasons, and new to the festival, Richard Stroh from Vancouver—as well as acclaimed local senior actors Wendy Magahay (King Lear—Outpost 31, Old Lady's Survival Guide—Bema Productions, Victoria Fringe Festival, Jocasta Regina, Lie of the Mind—Theatre Inconnu, Humble Boy, Small Room at the Top of the Stairs, Lady Windermere's Fan—Langham Court Theatre) and festival regular Cam Culham.
Returning to the festival as director of Pericles is Bard on the Beach co-founder and CCPA faculty member Christopher Weddell who last directed a haunting Romeo and Juliet in 2015.  New to the festival is UVic alumna and award-winning director Chelsea Haberlin who local audiences see here all too infrequently since graduation (lastly with Shop Talk for Theatre SKAM). Pickett remembers a production of A Midsummer's Night's Dream Haberlin directed as a student in Finnerty Gardens, describing it as "wonderful". Later they worked together on Shop Talk. "Chelsea is daring, innovative and creative" says Pickett.
Working under Christopher Weddell will be a "summer long master class for the company" she states—he teaches classes at CCPA and elsewhere and has a way of creating a cohesive ensemble. I'm super excited to be working with both these directors."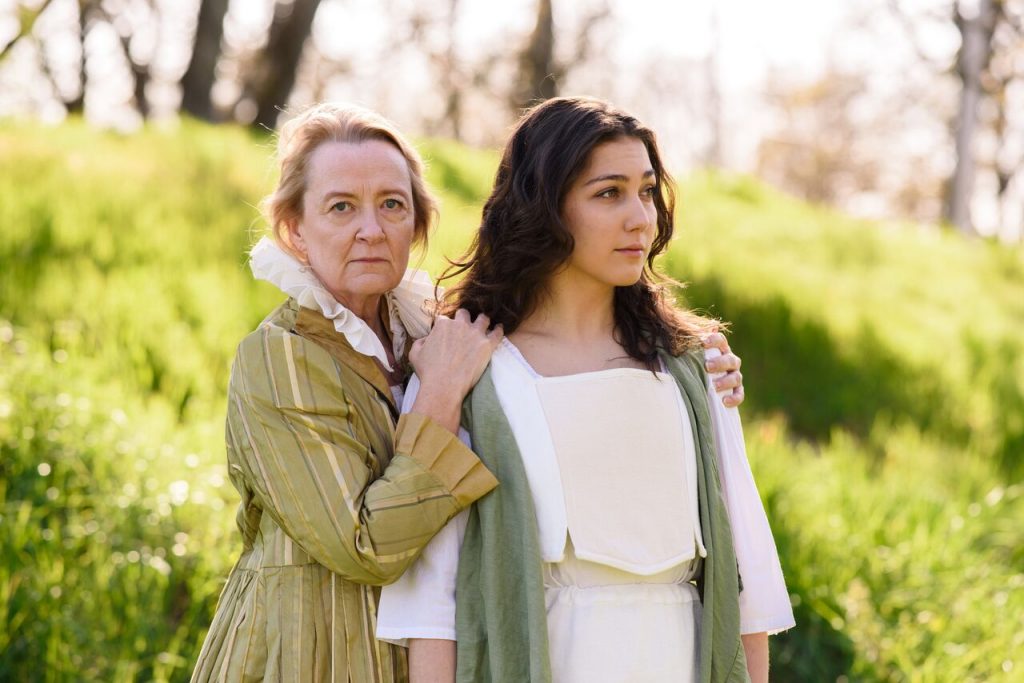 Wendy Magahay as Prospera and Nicole Bartosinski as Miranda in The Tempest, directed by Chelsea Haberlin. Photo: Lara Eichhorn
The GVSF was able to secure sponsorship from local company Slegg Lumber which has allowed for the revamping of the Camas Stage—originally designed by Paddy Crawford—to make it easier to disassemble and store at the end of the season. Crawford engineered the re-design.
Carole Klemm returns as production designer, "she's an amazing designer, a world class scenic painter" says Pickett. New staff members Candace Woodland and Brian Quackenbush are job sharing as general managers and continue the process of developing the capacity of the company.  They've created both a Shakesblog and a vlog so that fans of the festival can follow along as the season comes together.
Audiences who attend local theatre during the year will recognize cast members from productions at both the University of Victoria and the Canadian College of Performing Arts.  "I love the students who work for us for two or three seasons before moving on in their careers; and then we get another influx," states Pickett.  The year's junior company (13-16 year olds) represents one of the festival's largest cohorts of young players—they'll be the chorus in The Tempest and take on various roles in Pericles. Nicole Bartosinski, a CCPA alumna, is creating choreography and playing Miranda in The Tempest and Thaisa in Pericles; Frankie Mulder (another CCPA alumna) is assistant director for Pericles and plays Antonio in The Tempest; Mary Van den Bossche who recently graduated from UVic is Alonso in The Tempest and Jack Hayes, another UVic alumnus is Pericles.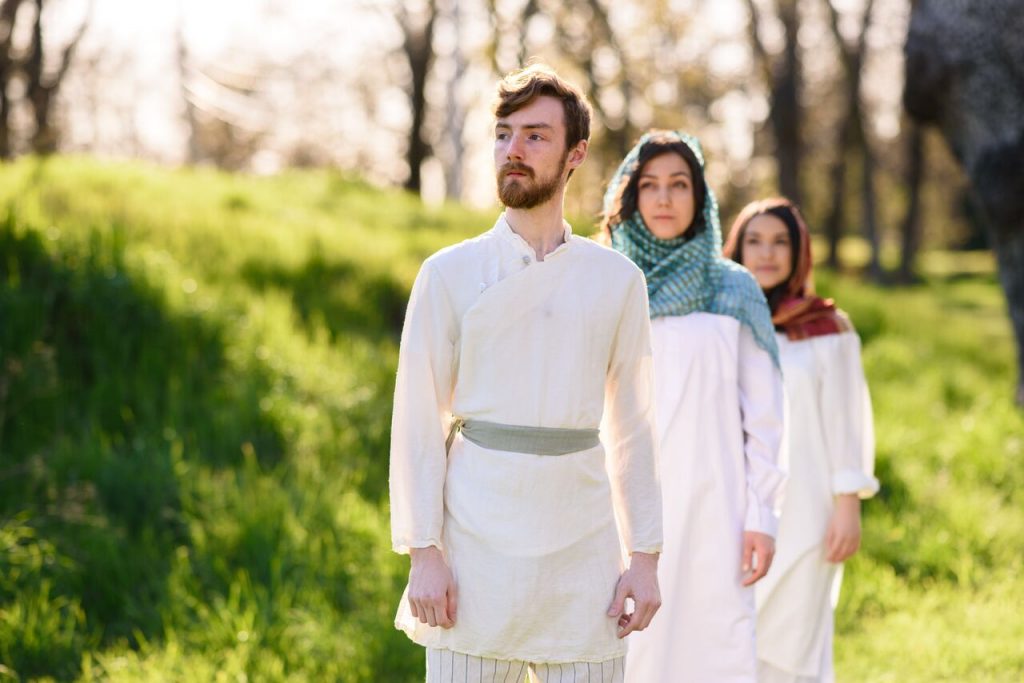 Jack Hayes as Pericles, Nicole Bartosinski as Thaisa, and Lara Hamburg as Marina, in Pericles, directed by Christopher Weddell. Photo: Lara Eichhorn
For a second year the festival partners with the Township Community Arts Council TCAC of Esquimalt for Bard Across the Bridge at Saxe Point Park August 2-4. "The beautiful location really lends itself to a production of The Tempest, set at the seaside" mentions Pickett.
Popular half-price tickets are still available at The Papery downtown and Ivy's bookstore in Oak Bay, as well as Fernfest, the Moss Street Market and Canada Day on the Gorge.
It takes a contingent of volunteers to make the festival a reality.  If you'd like to help you can contact volunteer co-ordinator Holly Lam through the website.
For me, the true essence of summer means being comfortably ensconced on the lawns of the Lansdowne Campus at Camosun College in the early evening, watching the players gambol and strut on the Camas Stage, bringing the Bard's immortal words to life—it is the quintessential festival experience, which continues to get better and better with each passing year.
28th exciting season for the Greater Victoria Shakespeare Festival

Victoria, BC. The GVSF's upcoming 28th season begins July 5, 2018, with Pericles, directed by Christopher Weddell, and The Tempest, directed by Chelsea Haberlin. The plays will be performed in repertory through July 28 on the Festival's Camas Stage outdoors at Camosun College's Lansdowne Campus, with special Bard Across the Bridge performances of The Tempest August 2-4 at Saxe Point in Esquimalt in partnership with the Township Community Arts Council.

Christopher Weddell, notable director, playwright, and award-winning founding member of Bard on the Beach, directed the dynamic GVSF production of Romeo and Juliet in 2015. This season, he returns to direct Pericles, a classic swashbuckling tale which follows the adventures of Pericles, Prince of Tyre, a man on the run with a dangerous secret.

Chelsea Haberlin is an award winning director, Co-Artistic Producer of ITSAZOO Productions and Associate Artistic Director of Neworld Theatre in Vancouver. A newcomer to the GVSF, she joins the production team as director of The Tempest. Commonly believed to be Shakespeare's final play, The Tempest combines drama, humour, and romance in a fanciful tale of a ship wrecked on a deserted island.

Continuing GVSF's tradition of intentional casting, Wendy Magahay will take on the role of Prospera, who uses powers of sorcery and mastery over the spirit Ariel to manipulate fates, and to exact revenge.

The GVSF continues its commitment to education through the use of a repertory company, in which most actors take roles in both plays. Additionally, two professional actors are cast in mentorship positions, to provide guidance and create learning opportunities for the other members of the cast. "Every year, our commitment to raising the bar artistically is supported by our layered acting company," says Karen Lee Pickett, GVSF artistic director. "It's so exciting to see Shakespeare's works come to life in an environment of collaborative support."

The GVSF is excited to announce their continued partnership with the Township Community Arts Council (TCAC) in Esquimalt, with a return of Bard Across the Bridge. The TCAC will provide partnership support to host three additional performances of The Tempest in beautiful Saxe Point Park, August 2-4.

The GVSF is committed to making Shakespeare accessible, and this community program was very successful last year, with many patrons new to the Festival enjoying Macbeth against a blood-red sunset.

Also new this year is the Shakespeareance Card, a six-show punchcard for ShakesFans. "We've had some requests for a punchcard in the last couple of years," says Candace Woodland, co-general manager. "This gives six admissions, and can be used all at once, or over the course of the season. Bring five friends to one performance or see one of the plays six times – it's up to you!"

Pre-season discount tickets will be available May 26. Regular tickets and passes available through TicketRocket and at the door. Children 12 years of age and younger are always free!
Pericles
Directed by Christopher Weddell
Tuesdays, Thursdays and Saturdays at 7:30pm
July 5 through July 28
Preview: July 3
Opening: July 5
The Tempest
Directed by Chelsea Haberlin
Wednesdays and Fridays at 7:30pm;
Saturdays at 1:30pm
July 6 through July 28
Preview: July 4
Opening: July 6
All plays perform at Camosun College Lansdowne Campus, 3100 Foul Bay Road. Performances of The Tempest at Saxe Point Park Aug 2-4.
Tickets are $26, and $21 for students and seniors 65+. Festival passes are available. Children 12 and under are free.
Parking at Lansdowne Campus is $3.50 and a ticket must be obtained to avoid fines.
For more information, please contact: Candace Woodland, candace@vicshakespeare.com