Gut Girls at the University of Victoria Phoenix Theatre February 9-18, 2017. A review.
They're a feisty lot, the gut girls of the eponymously named play by Sarah Daniels, currently at UVic Phoenix Theatre to February 19th.
Written to highlight the social, economic and gender inequalities of Victorian-era England (the gut girls—over 500 in number—worked long hours, in brutal conditions, in the slaughter sheds of the Foreign Cattle Market, where all imported cattle were killed upon arrival in England to prevent the spread of disease), the inherently heavy message of the script hits home in a week that saw US Senate Majority Leader Mitch McConnell chillingly silence Senator Elizabeth Warren on Tuesday night with the terse "She was warned. She was given an explanation. Nevertheless, she persisted".
Through a profound feminist lens, Daniels examines the boisterous, independent and riotous lives of five young women—Annie (Pascale Lamothe-Kipnes), the new arrival, hides a shameful secret; Kate (Shea O'Connor) the youngest, assigned to sweeping floors, is the only one with a beau; Maggie (Mary Van Den Bossche) is the assured leader; Polly (Emma Grabinsky) the clown and Ellen (Caitlin Holm) the union organizer and vegetarian.  Despite thirteen-hour days, the girls are proud of their ability to earn far more than other young women working in service, and revel in nights at the pub or music hall.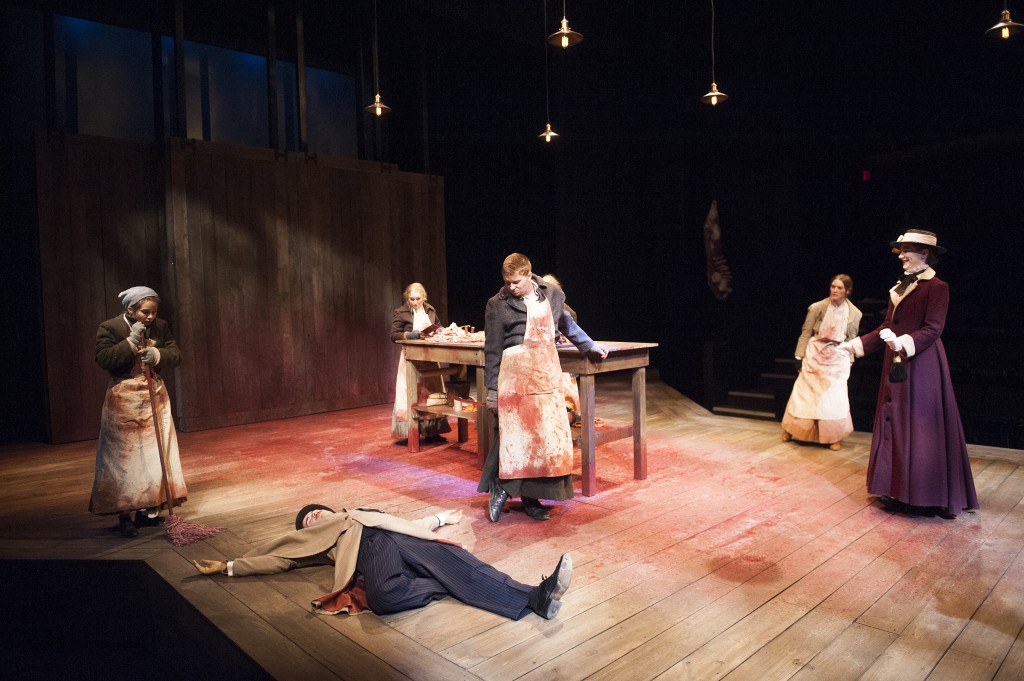 The 'gut girls' (Left to right: Shea O'Connor, Emma Grabinsky, Mary Van Den Bossche, Caitlin Holm and Pascal Lamothe-Kipnes) look on as Lady Helena's (Gillian McConnell) guest, Lord Tartaden (Chris Driscoll) passes out, overcome by the gutting shed stench.Photo: David Lowes
Unbeknownst to them, things are about to change. Lady Helena (Gillian McConnell) has decided to improve their lot (and manners) and has instituted a social club. She's assisted in her endeavours by Priscilla (Rachel Myers) the mousy and timid wife of Arthur Cuttle-Smythe (Kristof Melling) an investor in the market.
On the thrust stage of the Chief Dan George Theatre the floor is awash in blood and gigantic carcasses of beef dominate the audience's view.  Laurin Kelsey's set is vast, reflecting a damp, dank and dark environment barely lit with bulbs hanging from the ceiling (lighting design Eryn Griffith) and then folds out to unveil Lady Helena's cultivated milieu.  Sound designer Michelle Fortier utilizes the light and joyful music of Satie and Rossini to create a counterpoint to the grim nature of the girls' lives. At times, as the girls skip from the sheds at the end of day, there is a choreographed quality to their movement.
Costumes by Emma Bozoian and Clara Van Horn-Foy span the gamut from soiled work clothes, to rumpled working class dress and the beautifully cut dresses, morning suits and evening clothes of the upper classes.
In contrast to the sympathetic treatment of these foul-mouthed and funny young women, the men are portrayed as venal, weak and cruel—Lord Tartaden (Chris Driscoll) swoons upon entering the sheds and exacts vengeance when his lust is thwarted; Jim (Julien Bruce), Kate's beau, is a dreamer; Harry Dedham the foreman (Perry Burton) rules with an iron fist; Arthur Cuttle-Smythe (Kristof Melling) is a vicious brute hiding underneath a cloak of respectability.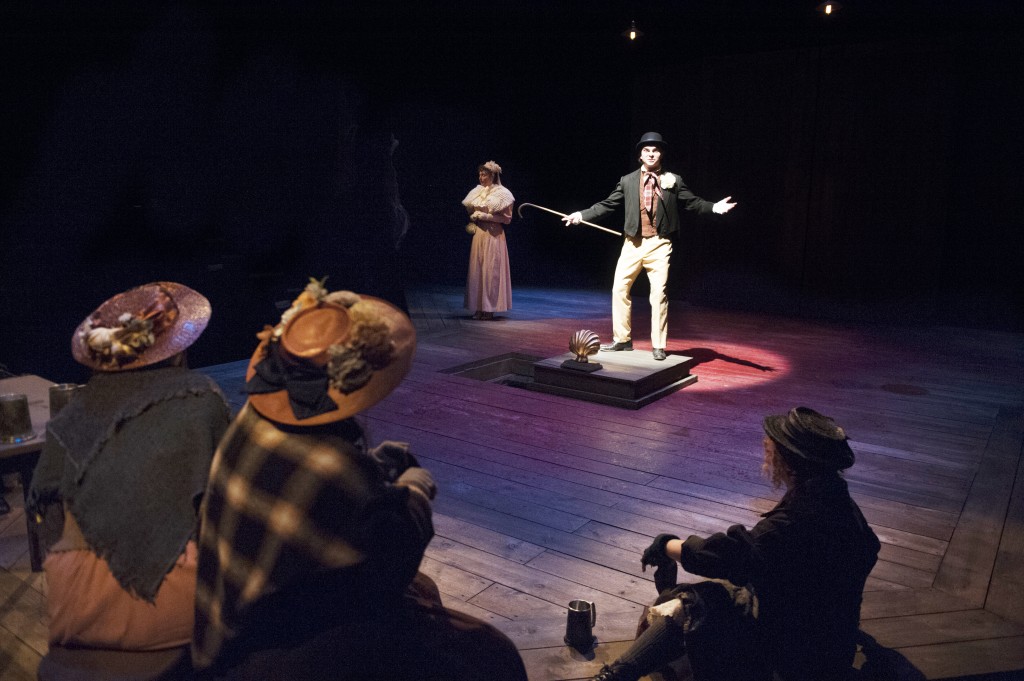 Priscilla Cuttle-Smythe (Rachel Myers) comes looking for the 'gut girls' as they heckle Mad Jacko (Julien Bruce) for his bad jokes. Photo: David Lowes
Gut Girls is extremely well-structured, providing insight into not only the working and social environment of the day, but also into the personal lives of the characters.  It is in these insightful vignettes and unguarded moments that the steady and intelligent direction of MFA student Alix Reynolds is evident, as the collective storyline separates into individual threads to then be rewoven into the whole. Despite the grueling conditions of working class life, there is levity and laughter to be found.
The ensemble is to be commended for breathing life into these characters—Mary Van Den Bossche swaggers with a sense of power and strength as Maggie; Caitlin Holm radiates fervour as Ellen; Shea O'Connor is impish and puck-like as Kate; Emma Grabinsky's Polly is irreverent and sly; Pascal Lamothe-Kipnes emerges victorious from Annie's state of "fallen woman"; Gillian McConnell is unwavering with moral certitude as Lady Helena; Rachel Myers' transforms from drab to confident as Priscilla; Perry Burton is loathsome as the boss Harry and a cheery bud as Len; Chris Driscoll is a snake as Lord Tarteden; Julien Bruce is a lost soul as Jim and Kristof Melling is chilling as Arthur Cuttle-Smythe.
As joy devolves into tragedy, and the inevitability of being out of work hits home, the girls must buckle and submit, or risk the horrific consequences of rebellion.
At the end, the moral order re-asserts itself, in a sobering series of episodes and final monologues.  As Kate so poignantly states "it's no good hankering over what was".  The girls' lives are changed irrevocably.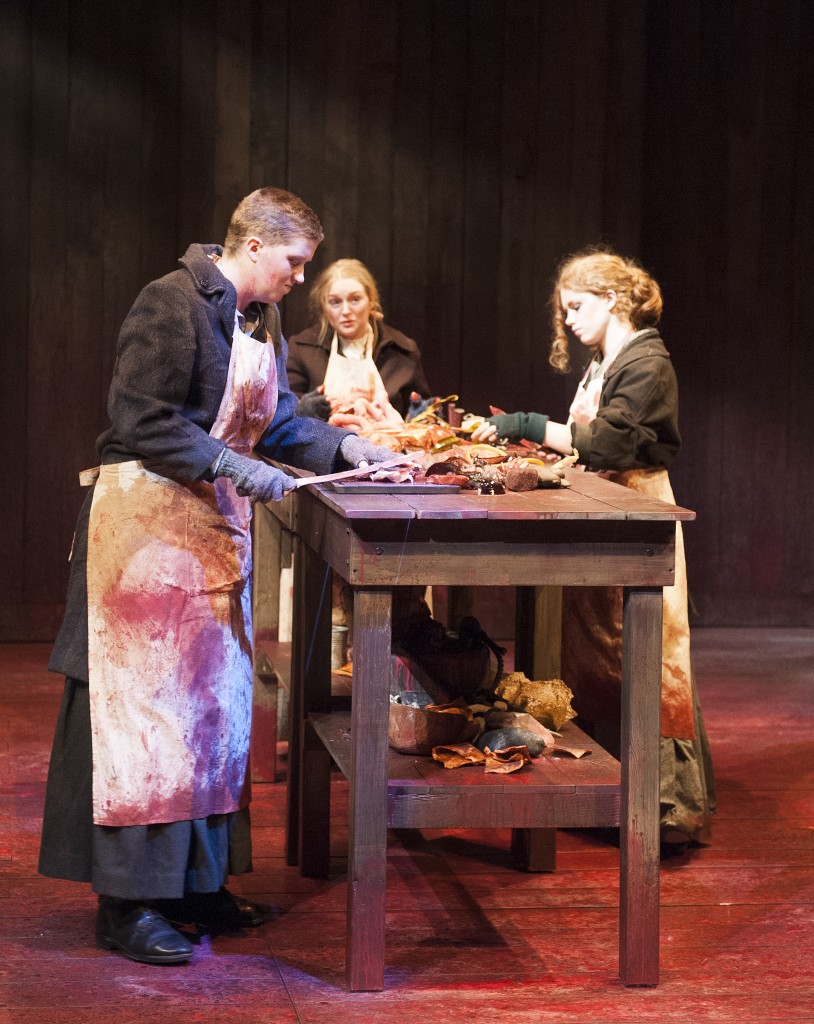 The 'gut girls,' Maggie (Mary Van Den Bossche), Polly (Emma Grabinsky) and Ellen (Caitlin Holm), chat away the hours while they work chopping up and sorting through hearts, livers, kidneys and lungs.Photo: David Lowes
Foul-mouthed and brash, an unrefined group of young women toil in the Cattle Market slaughterhouses. But not everyone thinks this is an appropriate way for women to earn a living! The gutting sheds are closed down when a well-to-do lady decides to improve their lot in life by training them as maids. The 'gut girls' quickly realize that this newfound employment comes at a high price. With sharp dialogue and dazzling humour, Gut Girls cuts right to the heart of women's struggle for emancipation.
Gut Girls by Sarah Daniels
University of Victoria Phoenix Theatre
February 9-19, 2017
Tickets:
$26 Friday/Saturday evening
Monday – Thursday at 8pm & Matinees at 2pm Adult: $25 Senior: $20 Student: $15 UVic Alumni: $15 (Matinees only)
available through the Phoenix Box Office, by phone 250-721-8000 or in person, Monday-Saturday 12 pm-8:30pm
CREATIVE TEAM:
Director Alix Reynolds (MFA Candidate)
Set Designer Laurin Kelsey
Costume Designers Emma Bozoian & Clara Van Horn-Foy
Lighting Designer Eryn Griffith
Sound Designer Michelle Fortier
Stage Manager Brendan Agnew
Dramaturge Sophie Underwood
Assistant Sound Designer Marites Frazer
CAST:
Mary Van Den Bossche Maggie
Caitlin Holm Ellen
Shea O'Connor Kate
Emma Grabinsky Polly
Pascal Lamothe-Kipnes Annie
Perry Burton Harry Dedham / Len
Julien Bruce Jim / Mad Jacko
Gillian McConnell Lady Helena
Chris Driscoll Lord Edwin Tartaden
Kristof Melling Arthur Cuttle-Smythe
Rachel Myers Edna / Priscilla Cuttle-Smythe
Chantal Gallant Emily / Eady / Nora
Gut Girls is presented by special arrangement with SAMUEL FRENCH, INC.
Appropriate for ages 14+
 Disclaimer: I was provided with a complimentary ticket to attend Gut Girls.