You'll laugh out loud at the antics of the middle-aged women in Calendar Girls, Langham Court's final production of their 84th season. Be fore-warned, tickets are sold out for the dates of the original run (June 11th – 29nd) and are moving fast for the extra week (July 2nd-6th) that was added.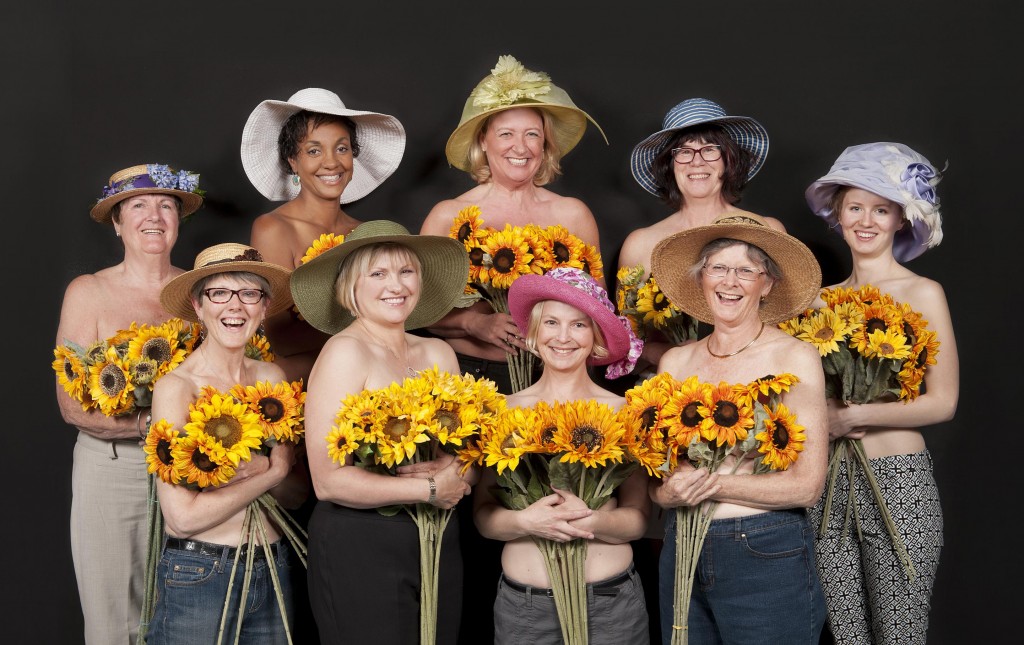 Back Row Wendy London (Brenda), Rosemary Jeffery (Marie), Wendy Magahay (Celia),
Leslie Sanchez (Cora), Randi Edmundson (Lady Cravenshire & Elaine)
Front Row Joy Farrell (Ruth), Vicki Etchells (Chris), Tracey Roath (Annie), Elizabeth Whitmarsh (Jessie)
Photo: David Lowes,Art Studio 21
Most readers will be familiar with the story-line from the 2003 movie of the same name, starring Helen Mirren.  A group of women, members of the Women's Institute (formed in Britian in 1915 to revitalize rural communities) decide to fundraise for a settee in the visitor's lounge of a nearby cancer treatment centre after the husband of one of their members passes away from leukemia.  They hit upon the idea of producing a tasteful nude calendar featuring poses of the ladies in traditional WI activities – jam making, gardening, knitting, baking. No one imagined the firestorm of media attention this would set off, nor the fundraising success they would achieve, sparking copy cats world-wide – including, locally, Salt Spring Island Women Preserve & Protect 2001 and Babes Go Bare for Cancer  2010, 2011 (in which my husband and I posed).
Lisa Preston's set design invokes the quintessential church hall, complete with out-of-tune piano, stained glass windows and a hodge-podge of chairs. Set against this backdrop the ladies of the Knapely WI chafe, in small defiant ways, against the leadership of the ever-so-perfect Marie (Rosemary Jeffery) whilst practicing Tai-Chi and preparing for various contests and fairs.
The cast, under the capable direction of Michael King, has succeeded in creating highly differentiated characters with just the right touch of rebellion, foible and whimsy to guarantee laugher – Joy Farrell performs Ruth to mousey perfection, and by the end transforms slowly into "the mouse that roared"; Elizabeth Whitmarsh is Jessie, a crusty, no-nonsense, "say it like it is" former teacher; Leslie Sanchez (Cora) manages to play  the piano badly (no mean feat), her ex-hippie ways most evident in her eclectic choice of clothes; Wendy Magahay (Celia) brings verve, vigour and a dash of class to the group; Vicky Etchells (Chris) is pure spunk, with an edge of something to prove; Tracey Roath (Annie) channels quiet determination and devotion; Rosemary Jeffery (Marie) the WI leader, is biting, and driven.
Nothing is perfect or quite as it appears, however; beneath their seemingly conventional facades lie stories of marital infidelity, sickness, familial estrangement, business failure, envy and loneliness.
Our natural inclination is to root for these matrons – as audience we want them to succeed, and of course, there's the ever-so-slight titillation of seeing people disrobe onstage. It's one thing to pose nude, in carefully controlled circumstances, for a calendar – it's another entirely to choreograph movement and drapery and appear nude in front of an audience night after night. These Calendar Girls had the audience on-side from the moment the idea was hatched. During the photo-shoot scene, the cheers and applause grew with each successive disrobing, creating a remarkable camaraderie in the house.
Langham Court Theatre has always had an enviable reputation of excellent in production values of their shows, and Calendar Girls is no exception.  Although the program mentions that the cast members provided many of their own costumes, Lisa Leighton and Chris Stusek, Costume Design, have co-ordinated the overall effect to be contemporary, individual and esthetically pleasing.  Karrie Wolfe's lighting design reflects the fun-loving nature of the original Calendar Girls. The music and sound design (Max Terpstra and Diana Keating) ranged from Jerusalem (which I am still singing days later) and other church songs, to English country songs, the Brandenburg Concertos, and a marvellous bit of Peer Gynt as the ladies stealthily prepared for the photo shoot – the soundscape was wonderfully rich, multi-toned and complex.
Minor cast roles – Randi Edmundson (Lady Cravenshire/Elaine), Wendy London (Brenda), Morgan Cranny (Rod), Drew Waveryn (John/Liam), Henry Skey (Lawrence) -served as the perfect foils to the hijinks of the ladies.
You'll cheer at the good-natured fun of Calendar Girls, and be overcome, as they were, by emotion at the magnitude of what they accomplished, and the lives they touched.
Regardless of how it all played out in the end, the ladies of the Knapely WI re-defined charity fundraising. In 2009 the Calendar Girls re-united for a 1oth anniversary calendar.  If you've ever wondered why the film and play only include six of the eleven original Calendar Girls, there is more information here and in the book of the same name
Calendar Girls by Tim Firth
June 13 – July 6, 2013 at Langham CourtTheatre
Tickets: $21 for Adults $19 for Students / Seniors (seniors ages 65+)
CREATIVE TEAM
Michael King – Director
Paul Gillan – Producer
Nick Stull – Stage Manager
Lisa Preston – Set Design
Karrie Wolfe – Lighting Design
Max Terpstra & Diana Keating – Sound Design
Chris Stusek & Lisa Leighton – Costume Designer
Pearl Arden & Angela Henry – Properties
CAST
Vicky Etchells – Chris
Tracey Roath – Annie
Leslie Sanchez – Cora
Elizabeth Whitmarsh – Jessie
Wendy Magahay – Celia
Joy Farrell – Ruth
Rosemary Jeffery – Marie
Randi Edmundson – Lady Cravenshire & Elaine
Wendy London – Brenda
Drew Waveryn – John & Liam
Morgan Cranny – Rod
Henry Skey – Lawrence
Disclaimer: I was offered complimentary tickets to attend Calendar Girls for the purpose of writing a review. As always, I retain complete editorial control over all content on my blog.