Wild Honey at the UVic Phoenix Theatre February 11 – 20, 2016. A review.
Wild Honey, by Michael Frayn, currently at the UVic Phoenix Theatre (February 11-20, 2016) is equal parts Greek tragedy, Shakespearean comedy of errors, and modern day soap opera, liberally salted with Frayn's signature farcical stylings.
Frayn, well-known for the hilarious comedy Noises Off, and the award-winning drama Copenhagen, was also a Russian translator in his younger years. His decision to tackle Chekhov's rather unwieldly début effort known as Platonov (largely considered unstageable) in 1986 results in a play that is simultaneously modern, and eternal.
It doesn't take much digging to realize that human beings can be base creatures, no matter the rank and station in life. As Annie Lennox famously sings "Everybody's looking for something".
Within moments of the play's beginning this become abundantly clear—the village's middle class (landowner Porfiry Glagolyev—Kristof Melling, and retired Colonel Ivan Triletzky—Colin Doig) are thrilled the young widow socialite Anna Petrovna (Arielle Permack) is back with news of the big city; the wealthy merchant Gerasim Petrin (Nicholas Guerreiro) wants to collect on his debt; and all the women want school teacher Misha Platonov (Jack Hayes) to fall in love with them—despite his boorish behaviour. Pity his long-suffering wife Sasha (Chloé Dufort).
Under the direction of Peter McGuire, Wild Honey proceeds with careful attention to pacing—hinting at the profound boredom of life in the country where any diversion is licence for escape from stifling routine. The class system predominant in Russia at the time is aptly illustrated in the interactions of the bourgeoisie among themselves, and with their servants. Platonov breaks with convention—lauded for his intelligence he delights in goading everyone with bitter and pointed barbs, employed with impunity until Sofya (Shea O'Connor), the young wife of Anna Petrovna's son Sergey (Aidan Dunsmuir) arrives and heads straight for the jugular with "why haven't you done better?".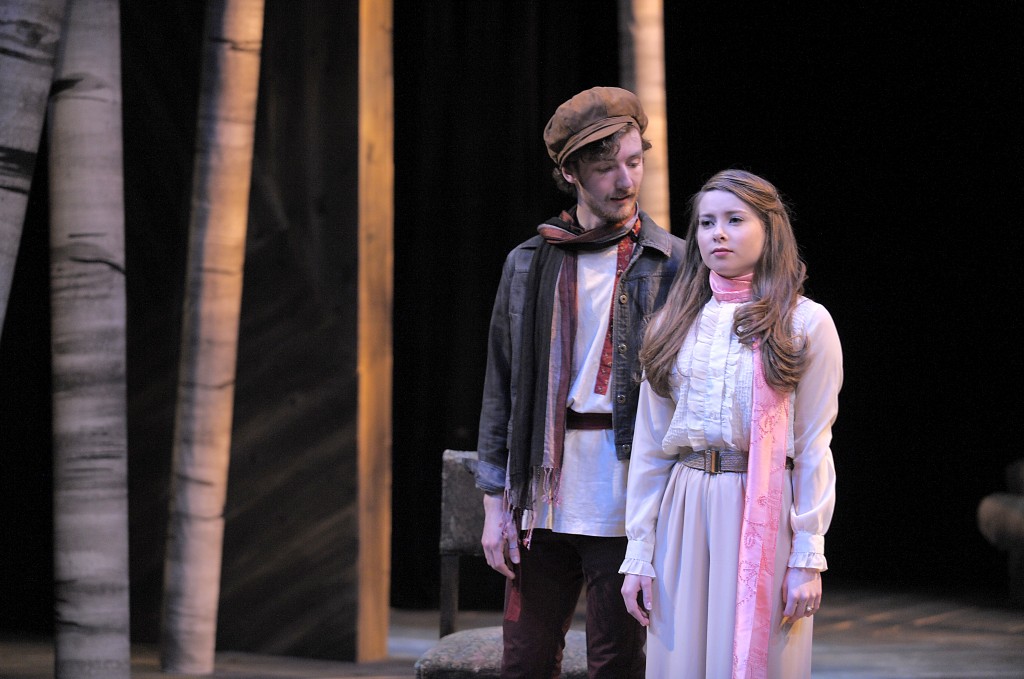 Jack Hayes as Platonov and Shea O'Connor as Sofya. Photo: David Lowes
As often in Russian literature, there are sub-plots within sub-plots and a large cast of characters in Wild Honey—thankfully the program lists them in family groups, and with descriptions, to help provide a road-map, should one wish to study it beforehand.
As Platonov, Jack Hayes is a wicked wastrel, too self-aware for his own good—("I ran away from myself") even when he longs to do better. What a terrible fate—hoisted on your own pétard and incapable of escaping the role everyone else has cast you in. Arielle Permack is a forceful Anna Petrovna—unafraid of her desires and bent of their satisfaction. Shea O'Connor's Sofya is calm, cool, sophisticated—a worthy match for Platonov. Chloé Dufort's Sasha is quiet resignation and duty—her low, slow voice and demeanour make Platonov's deliberate goads all the more startling.
Kristof Melling (Porfiry) and Colin Doig (the Colonel) bring comedic relief with their yearning portrayals of older bouffons—important in their own eyes and longing to recapture youth and former glory.
M. Van Den Bossche deserves mention for a stoic and dignified portrayal of horse thief Osip—truly a tragic character who has far out-reached his place in the rigid hierarchical order with his unrequited love of Anna Petrovna.
Pity too the other young men, given short shrift amid all the strong women—Aidan Dunsmuir brings youthful indecision and the sense of being on the cusp of adulthood to the role of Sergey while Sheldon Graham as Nickolai exhibits a sense of perpetual frustration at being associated in the same class as Platonov.
As summer-time passions rise and fall during the longest nights, lovers, townspeople and servants flit through the dim forest as if in a choreographed ballet—adding a pleasing visual element to an already beautiful design.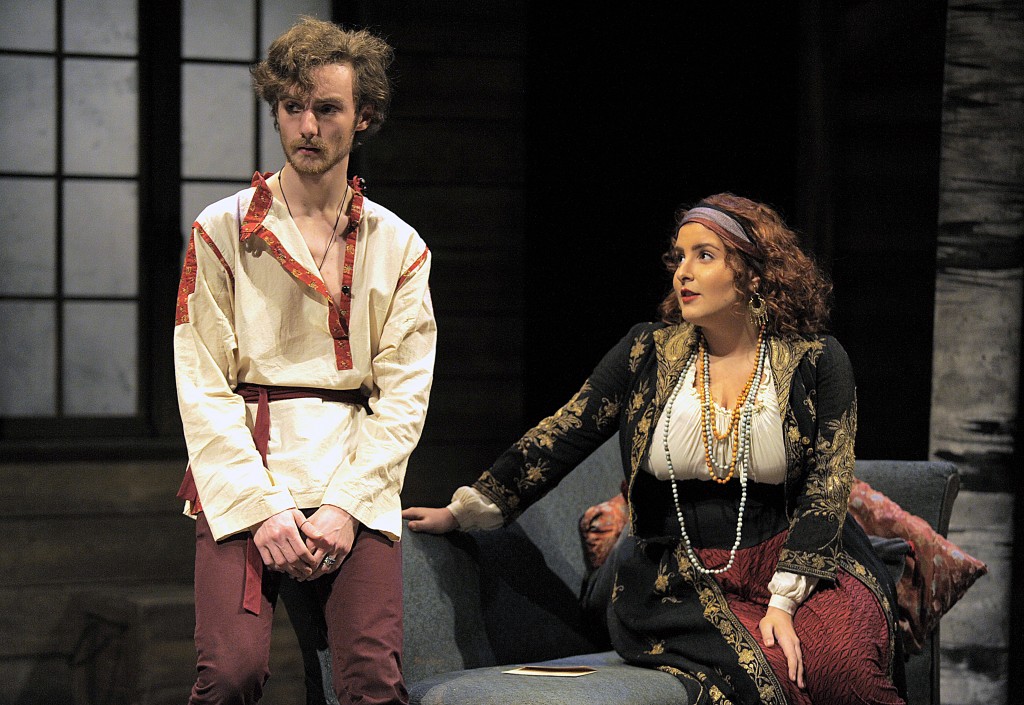 Jack Hayes (Platonov) and Arielle Permack (Anna). Photo: David Lowes


Dallas Ashby's set hints at vast expanses of birch forest and immense distance, later transforming into humble home in the woods; Michael Whitfield paints mood with stippled and filtered light, and traces the bursts of fireworks on the night sky; costumes by Graham McMonagle epitomize his signature style–they move with a flowing grace and ease and are inhabited by a perfect sense of elegance, regardless of the wearer's station in life. In her first main stage sound design, Carolyn Moon evokes discontent and longing, with minor chord gypsy jazz and eastern European melodies.
Wild Honey asks as many questions as it answers—beneath the comedy of people who fail to connect romantically, is the eternal existential angst of "what's to become of us?" The conclusion is as sudden as it is foregone. McGuire's staging of the cast, whispering like a Greek chorus around Platonov, is a reminder of the perfidy of life. More than anything else, the characters of Wild Honey inspire pity–revolution is on the horizon and they are completely unaware.
Wild Honey by Michael Frayn
Adapted from an original play by Anton Chekhov
February 11 – 20, 2016.
UVic Phoenix
Tickets: $15-$25. By phone 250-721-8000 or in person at the Phoenix Box Office
Alumni: Pay student prices when you attend on Saturday matinee.
Preview Nights: All seats $7.50?
Director Peter McGuire
Set Designer Dallas Ashby
Costume Designer Graham McMonagle
Lighting Designer Michael Whitfield
Sound Designer Carolyn Moon
Stage Manager Rebecca Marchand
Assistant Director Kate Loomer
Assistant Lighting Designer Eryn Griffith
CAST:

Evan Coates Vasily / Peasant / Servant
Colin Doig Colonel Triletzky
Chloé Dufort Sasha
Aidan Dunsmuir Sergey Voynitzev
Sheldon Graham Dr. Triletzky
Nicholas Guerreiro Petrin
Jack Hayes Platanov (Misha)
Jessie Johnston Mimi / Peasant
Grace Le Marya Grekova
Emma Leck Yakov / Peasant
Kristof Melling Glagolyev
Nikola Neral Marko / Peasant
Shea O'Connor Sofya
Arielle Permack Anna Petrovna
M. Van Den Bossche Osip
"The world can rejoice in a 'new' play by Chekhov…" – London Sunday Express
Anton Chekhov's first play, reimagined by Michael Frayn, is a comedy full of sensational love triangles. Platonov has a way with women, but it's both a blessing and a curse. When friends and neighbours welcome home the socialite and widow Anna Petrovna with a get-together on her country estate, the festivities get out of hand and everyone starts playing elaborate games of romantic cat and mouse. Declared "Brilliant!" by the London Guardian, Wild Honey swings between melodrama and farce and shakes them into one intoxicating cocktail.
Wild Honey is presented by special arrangement with SAMUEL FRENCH, INC.
Recommended for ages 13 and up.
Disclaimer: I received a complimentary ticket to attend the opening night of Wild Honey.