Iceland by Nicholas Billon at Belfry Theatre SPARK Festival 2016. A review.
Intense focus and crystalline dialogue propel the economic thriller Iceland, by Governor-General-award-winner Nicolas Billon (WhyNot Theatre), currently onstage at the Belfry Theatre SPARK Festival (March 15-19, 2016).
Discordant strings (sound designer Richard Feren) thrum and whine—setting an uneasy feeling even before the action begins. Set design (Joanna Yu) is minimal—three chairs, facing in opposite directions, sparsely lit (Kimberly Purtell), through which three characters rotate.
At only 65 minutes Iceland summons an incredible amount of character backstory in this inter-locking mystery that will have audiences puzzling for answers before the final dénouement.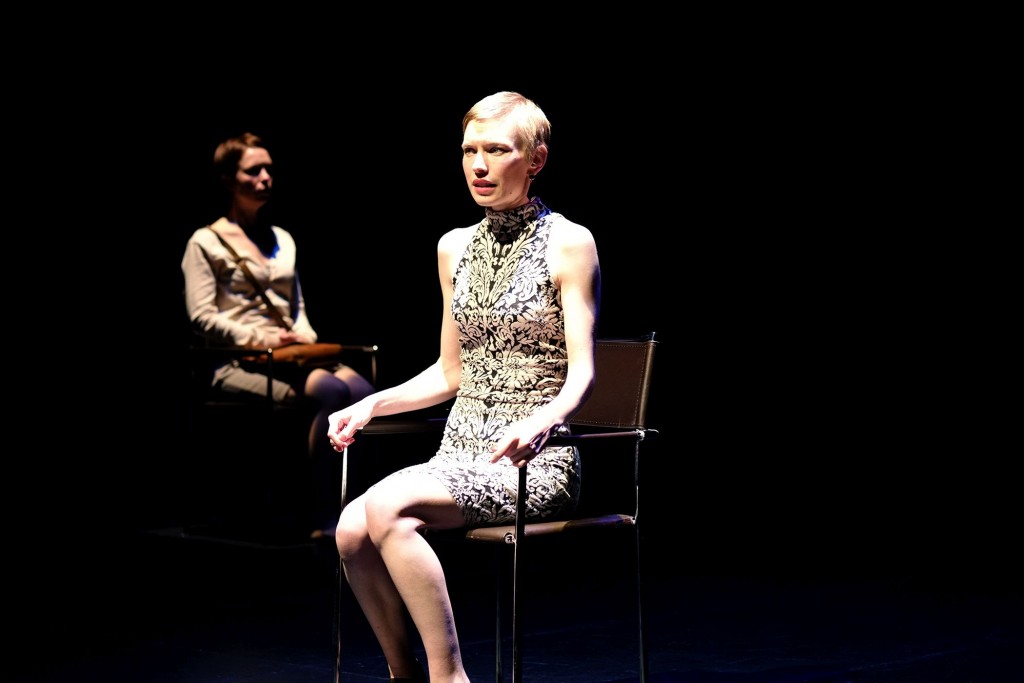 Christine Horne as Kassandra. Photo: Lacey Creighton
Inspired by a global fact (the Icelandic banking collapse that sparked the 2008 economic meltdown), Billon plays out the ripples through three incredibly disparate individuals whose lives, unfortunately, intersect in one fatal moment. Characters are fully-fledged despite the short length of the piece and show the playwright's extensive research into little-known facts.
Self-aware and not always likeable, they reveal themselves one by one.
Kassandra (Christine Horne) is an Estonian grad student at the U of T—forced by her twin brother's gambling debts into moonlighting as an escort. Horne's matter-of-fact recitation is replete with wry and laconic quips, making no excuses for her current situation. With exceptional clarity, she recites the story of her life to-date—born on the Baltic chain to a history professor mother, coming to Canada for a better life.
Anna (Shannon Currie) is almost pathologically repressed as the small-town-Christian, forced out of her apartment due to the owner's financial hardship. Currie captures the unsettled and unsettling nature of this conflicted character—eating soap when she swears but well-versed in Twitter and the Internet. Childhood trauma over the death of a pet guinea pig, and her mother's scolding admonitions, inform her current view of the world as an unsafe place she is constantly battling.
Halim (Kawa Ada), a real estate agent born in Canada to Pakistani parents, loves money and capitalism. Ada oozes greed and self-congratulation in this role—happy and gleeful, his is the only persona to break the fourth wall, addressing and even taunting the audience directly. Billon upends every good liberal construct as he invites us to simultaneously revile and empathize with his position.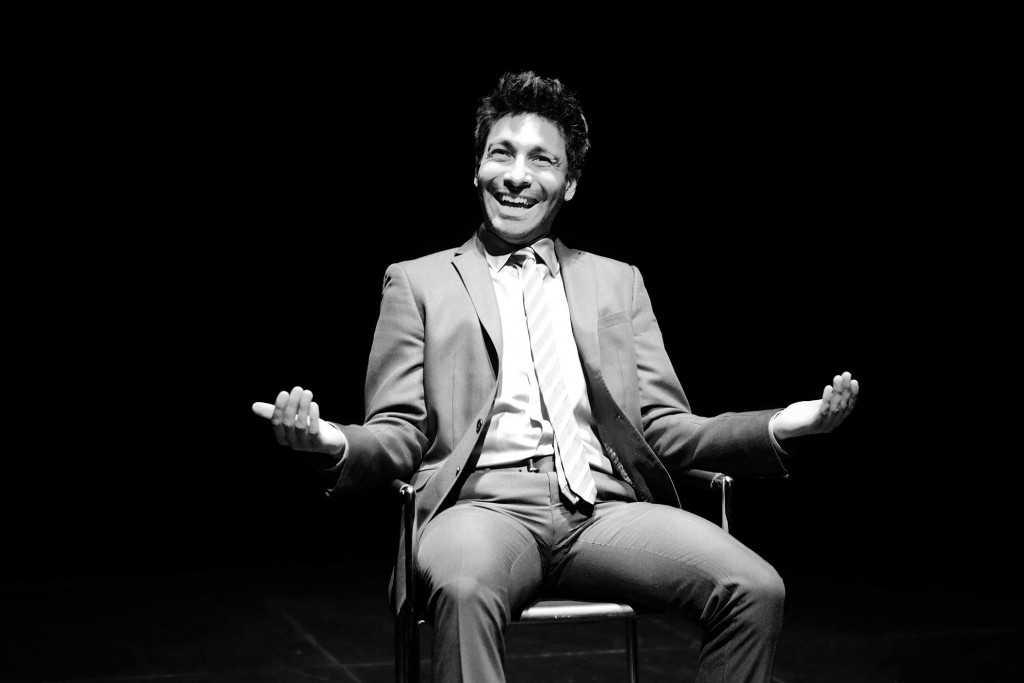 Kawa Ada as Halim. Photo: Lacey Creighton
Iceland is an unyielding dive into the lives of three people, drawn together unwillingly, far ripples on the pond of a much larger calamity. Director Ravi Jain's production is controlled and uncompromising—from opening line to final frame, the audience rests firmly in the grasp of articulate and intelligent storytelling.
This is the first of Billon's plays performed in Victoria; hopefully it will not be the last.
Set against the backdrop of the banking crisis, a confrontation between a real estate agent and a tenant takes an unexpected turn.
The Governor General's Award for Drama 2013
The Summerworks NOW Audience Choice Award
NOW Magazine Awards for Outstanding Production, Outstanding Ensemble, and Outstanding Direction
Iceland, by Nicolas Billon, directed by Ravi Jain (A Brimful of Asha)
Why Not Theatre, Toronto
March 15-19, 2016
Belfry Theatre SPARK Festival
Mainstage 1291 Gladstone Avenue at Fernwood
Tickets: $ Adults – $27.
Discounts: Seniors-10% off; University/College Students-25% off; High School Students-50% off
Tuesday, March 15 – 7:30 pm
Wednesday, March 16 – 7:30 pm
Thursday, March 17 – 7:30 pm
Friday, March 18 – 8 pm
Saturday, March 19 – 8 pm
65 minutes, no intermission. Recommended for ages 15+.
Performers Kawa Ada, Christine Horne, and Shannon Currie
Playwright Nicolas Billon
Director Ravi Jain
Set and Costume Designer Joanna Yu
Lighting Designer Kimberly Purtell
Sound Designer Richard Feren
Stage Manager Neha Ross
Disclaimer: I was offered complimentary tickets to attend Iceland.