Recently I met Monica Prendergast, professor of theatre at UVic, actor, director, reviewer and blogger. Our conversation was wide-ranging. At one point, she recommended a book "The Necessity of Theatre: The Art of Watching and Being Watched" by Paul Woodruff.
From the book description:
 A good audience is emotionally engaged as spectators; their engagement takes a form of empathy that can lead to a special kind of human wisdom. As Plato implied, theater cannot teach us transcendent truths, but it can teach us about ourselves.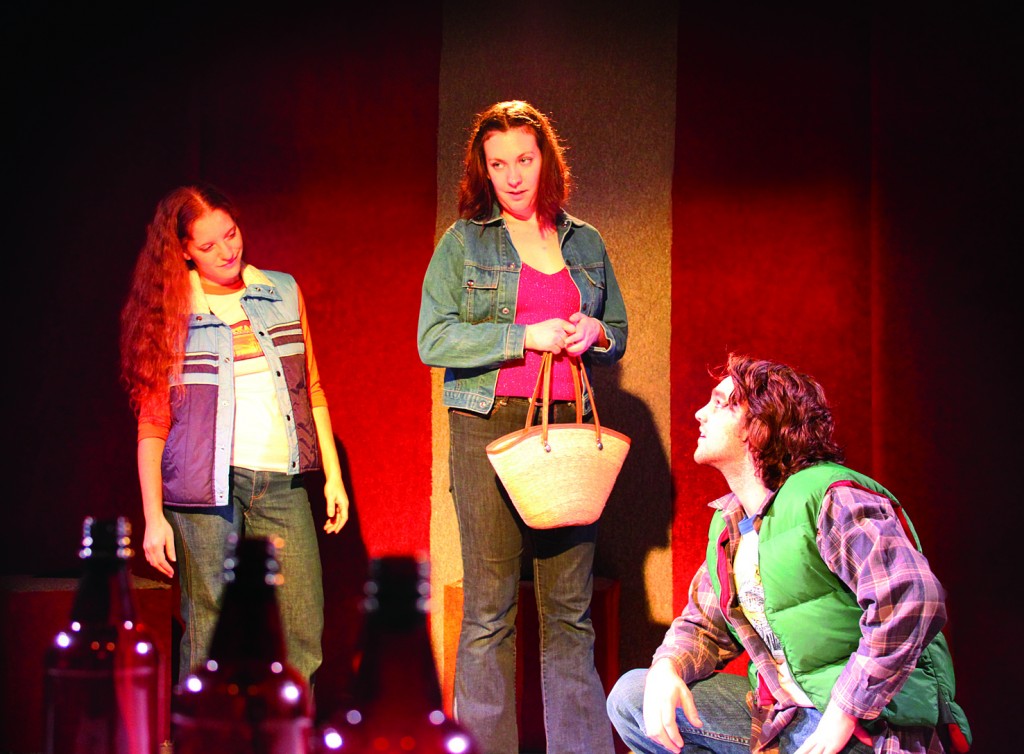 Bronwyn Steinberg (Sandy), Melissa Blank (Theresa), Joe Nicholson (Alan)
Photo: Graham McDonald, provided by Theatre Inconnu
What does this have to do with The Crackwalker, Theatre Inconnu's first play of their 2012 season? Much!  Peopled by marginalized individuals in tragic situations, it would be simple to distance yourself entirely from the action on stage, to consider oneself as better – whole in the face of much imperfection, to judge and remain emotionally remote.
The challenge then for the ensemble of actors is to not only make relevant and timely a story written 30 years ago, but to also convince the audience of our intrinsic similarities.  It's a challenge the Theatre Inconnu ensemble met capably – creating the space to allow me in.
Director Graham MacDonald's decision to employ a thrust stage was instrumental in breaking down the barriers. Naomi Simpson, as the busker, serenaded us before the opening, truly warming up the audience with musical selections from the period (my youth).
And then we tumbled into a world: part small- town-going- nowhere, part downtown-inner-city on crack (or this case, glue) and booze; peopled by characters we ignore every day, or wish we had never, ever known.  In some cases, we've moved far, far away to escape the inevitability that the two couples – Theresa and Alan, Sandy and Joe – confront with grinding regularity.
Melissa Blank as Theresa rises above stereotype, dancing between fragility, desire and raunch as she strives to make a life with Alan  (theatrical newcomer Joe Nicholson), imbuing her character (a woman with a definite intellectual deficit) with innocence without being cloyingly sweet.  It's a long way from her last Theatre Inconnu role as the mother of a severely disabled daughter in A Day in the Death of Joe Egg.
Nicholson may be new to theatre (it's only his second stage production) but his portrayal of Alan is heart-breaking. He tries desperately to do the right thing, seeing himself in the role of protector, and with the Herculean task before him, we hold our breath, willing him to succeed.  Herein lies the tragedy.
Julian Cervello was called at the very last minute to play Joe (the actor originally cast had to withdraw due to illness).  By the time of the preview, he had two rehearsals to his credit.  And, in addition, he's preparing for his own show The Wyf of Bath scheduled for March 10th as part of the YOU Show at Intrepid Theatre Club.
Joe's a character, used to getting his way with women and other men; he is the natural leader in all his slimy ability to manipulate others for personal gain.  He's not particularly likable, but he has the most drive and desire of the four. You can see him "going places" with his easy going nature.  Cervello's Joe has a physical plasticity – he plays large in life, and it's reflected in the action on stage. He'll jolly you along with an arm over your shoulder, but you'd better watch out – the menace runs as an icy undercurrent to his character.
Bronwyn Steinberg (Sandy), once described by Ottawa arts blogger The Visitorium as a "one woman theatrical army who is underestimated at your own peril" is a welcome addition to the Victoria theatre world.  Her Sandy is tough and tender, a bundle of contradictions yearning to be better – even if being better means learning to make a "Dirty Mother".  Smirk if you will; I remember when Black Russians and Grasshoppers were the height of sophistication in my small town.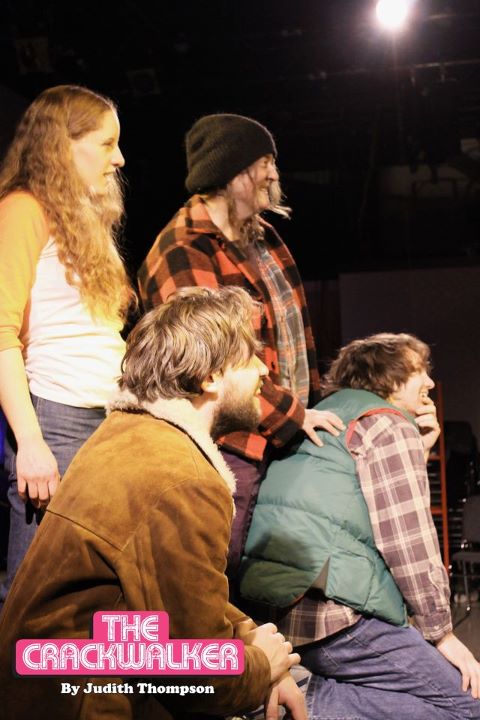 Bronwyn Steinberg (Sandy), Julian Cervello (Joe), Naomi Simpson (Busker), Joe Nicholson (Alan)
Photo: Graham McDonald, provided by Theatre Inconnu 
Naomi Simpson serenades us sweetly when we enter, but her busker turns incomprehensible and violent, eventually withdrawing even from the others.
MacDonald underscores the tragic themes of the piece by employing the actors as their characters, and as the crowd of bystanders (or Greek chorus).  In the final scene, with the spotlight on Theresa, they surround her as so many harpies, dragging her down to the conclusion.
Rather than modernize the play, the director, and production and costume designer Patricia Reilly, remained true to the era, with the backdrop serving to stage props and costume changes.
Raw, revealing and riveting, Theatre Inconnu's The Crackwalker brought to mind a scene from the Martin McDonagh film In Bruges, where the two low-life miscreants and small-time gangsters decide to get cultured, and visit the museum. They gaze upon The Flaying of the Corrupt Judge Sisamnes. 
Theatre Inconnu's The Crackwalker will take you  to places you might not want to remember or confront, and will do so with great respect for the humanity of both characters, and audience.
See Adrian Chamberlain's Times Colonist interview with the playwright, here.
The Crackwalker by Judith Thompson
Directed by Graham McDonald
Little Fernwood Hall 1923 Fernwood Road, Victoria BC
PREVIEWS 8pm March 1
OPENS 8pm Friday, March 2
8pm March 3, 6, 8, 9, 14, 15, 16, 17
2pm March 3, 4, 11, 17
Pay-what-you-can Tuesday, March 6
Tickets through Ticket Rocket online, in person or by phone             250 590 6291  
$14 Regular / $10 Students, Seniors, and the unwaged (plus a $2 Ticket Rocket surcharge)
Tickets at the Door:
Tickets not sold by reservation will be available at Theatre Inconnu (1923 Fernwood Road). Seating is general, and we suggest that you arrive at least a half hour before showtime (box office opens one hour before showtime).