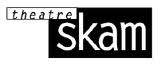 The fine folks from Victoria BC's Theatre SKAM are once again, prior to the next federal election, hosting, "Wrecking Ball" Monday April 25th 8pm at the Victoria Event Centre. Join them for an evening that promises to entertain, and engage!

Laugh, think, vote.

On Monday May 2nd Canadians will vote in their third Federal Election in five years after the Harper Government became the first in the history of the Commonwealth to be held in Contempt of Parliament. On Monday April 25th, one week before this historic trip to the polls, Wrecking Ball Victoria #2 unleashes a reckless coalition of artists who intend to make you laugh, think, and then vote.

Wrecking Ball Victoria #2

Monday April 25, 2011

Victoria Events Centre, 1415 Broad Street

Doors @ 7:15pm, Show @8pm

Tickets PWYC @ the door (proceeds to Actors' Fund)

As it did in 2008 prior to our last federal election, The Wrecking Ball, which originated in Toronto in 2004, has again become a national event. Wrecking Balls will occur on the same night in multiple cities in Canada, and technology will link the many Balls. Determined to uphold tradition, Theatre SKAM is spearheading an assemblage of high calibre talent who will address a nagging imbalance: too much theatre in our politics, not enough politics in our theatre.

A hand-picked coterie of Canadian talent will create brief, explosive plays about the election: the candidates, their policies, and who does Stephen Harper's makeup. All the plays will be less than a week old, so you know the theatre's gonna smell fresh.

Wrecking Ball Victoria 2 is: Ericka Bold, emcee Wes Borg, Allison Bottomley, Sean Dixon (Toronto), Mily Mumford, Matthew Payne, Jacob Richmond, Theodore Sherman & Marcus Youssef (Vancouver).

The Wrecking Ball was founded in Toronto in November 2004. There have been over six Wrecking Ball cabarets to date, all of which sold out, proving there is an undeniable appetite for politically charged work in this fine land.

Past writers for the Wrecking Ball in Toronto include: Jason Sherman, Judith Thompson, Karen Hines, Norm Foster, David Young, Michael Healey, Morwyn Brebner, Daniel MacIvor, Hannah Moscovitch, Andrew Moodie, Morris Panych, d'bi.young, Linda Griffiths,  and many others.

Check out the website for more information about political theatre throughout the world. www.thewreckingball.ca.