Langham Court Theatre turns 90. 2018-2019 season announcement. Media release.

Victoria's longest running theatre celebrates its ninetieth birthday this upcoming season. Established in 1929, Langham Court Theatre is gearing up for its 90th consecutive season. It is a Canadian success story of what happens when passionate, talented people work together doing something they love. With nearly 400 volunteers and members, Langham is also Victoria largest volunteer-run community theatre and operates its own theatre facility in the community. The theatre produces six shows per season, in addition to offering numerous events, workshops, and collaborations with other arts organizations in Victoria.
Langham's iconic building was originally constructed in 1876 as the carriage house of the home of the Robert Ward family. Over the next few decades, it housed various iterations of schools. In 1929 the Mimes and Masquers Guild was formed which eventually was re-named as the Victoria Little Theatre Association in 1931. The association went through several different temporary spaces, eventually acquiring the present day building in 1940 with construction beginning in 1938. The name was changed to The Victoria Theatre Guild and Dramatic School  in the summer of 1950. Over several decades, the building has gone through numerous additions, renovations, and upgrades thanks to its countless donors and dedicated volunteers, as well as a number of grants. Highlights of Langham's evolution process include the addition of the second floor of the auditorium in 1965, the rebuild of the stage in 1967, the refurbishing of the dressing rooms and kitchen in the early 1970's, the addition of the workshop wing in 1977, the rebuilding of the lobby in 1978, a new costume loft completed in 1982, and major reconstructions of large portions of the building in 1991 and 1995.
In present day, Langham Court Theatre fosters a thriving theatre community in Victoria. Over the years it has provided opportunities for over 27,000 volunteers.  Since 1929, nearly 3,000 performances have been staged using over 4,000 actors in over 500 shows, more than 3,200 set builders, 3,000 lighting technicians and over 500 directors and stage managers. Over a quarter of a million patrons have been greeted by more than 11,000 ushers and front-of-house volunteers. The theatre seats 177 people and offers a licensed lounge used at intermission and for receptions. Langham continues to grow and to offer performance, production, and learning opportunities for community members to explore and develop all aspects of theatre including acting, stage management, technical design and operation, costume design, set design, and more.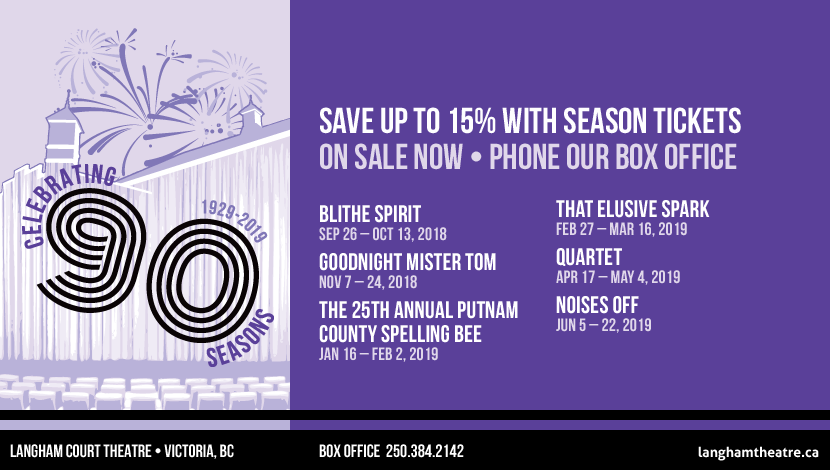 This season, Langham's six offerings include a mixture of different styles, genres and time periods, including some old favourites as well as some exciting new material. The season is bookended by classic comedic plays beginning with Noel Coward's Blithe Spirit and concluding with Michael Frayn's Noises Off. The remainder of the season is comprised of a wartime drama (David Wood's Goodnight Mister Tom), an irreverent musical comedy (Rebecca Feldman's 25th Annual Putnam County Spelling Bee), a piece by a local playwright and member of the Langham community (Janet Munsil's That Elusive Spark), and a thoughtful comedy about opera singers going through the aging process (Ronald Harwood's Quartet).
Celebrate our 90th season with us! Seasons tickets are already available through the box office, either in person or over the phone. Stay tuned to Langham's website and social media for the announcement of special events happening throughout the season.
Seasons tickets:
Full Season (All 6 Shows)
Adult $136   Senior 65+ $124
Excluding Musical (5 Shows)
Adult $105   Senior 65+ $95
Purchase before August 31, after which seating choice becomes limited.
PHONE OR VISIT OUR BOX OFFICE
250.384.2142   805 Langham Court
2018 / 2019 DIRECTORS: Toshik Bukowiecki (Blithe Spirit), Shauna Baird (Goodnight Mister Tom), Pat Rundell (The 25th Annual Putnam Spelling Bee), Mercedes Bátiz-Benét (That Elusive Spark), Jon Scheer (Quartet) and Don Keith (Noises Off).
2018 / 2019 PRODUCERS: Vinnie Chadwick (Blithe Spirit), Peta MacKenzie (Goodnight Mister Tom), Gil Henry (The 25th Annual Putnam Spelling Bee), Angela Henry (That Elusive Spark), Nick Stull (Quartet) and Vinnie Chadwick (Noises Off).
Blithe Spirit
September 26-October 13, 2018
A Comedy by Noël Coward
Directed by Toshik Bukowiecki
"Surely even an ectoplasmic manifestation has the right to expect a little of the milk of human kindness."
Socialite and novelist Charles invites the eccentric medium, Madame Arcati, to his house as literary research. But when the séance backfires, Charles' marriage is suddenly in jeopardy, as he is haunted by the temperamental ghost of his first wife. While Charles aims to get rid of the ghost, she is hard at work trying to get rid of his new wife! Laughter meets the supernatural in this magical comedy of manners.
SUITABLE FOR ALL AGES. Early Bird Discount before General Ticket Sales on Tue, September 4
Goodnight, Mister Tom
November 7-24, 2018
A Drama by David Wood
Based on a Book by Michelle Magorian
Directed by Shauna Baird
"Give me a smile I can keep all the while in my heart while I'm away."
Set during the dangerous build up to World War II, young William Beech is evacuated to the idyllic English countryside and forges a remarkable and heart warming friendship with the elderly recluse, Tom Oakley. All is perfect until William is suddenly summoned by his mother back to war-torn London. Winner of the 2013 Laurence Olivier Award for Best Entertainment, this wonderfully uplifting tale inspires audiences and brings generations together.
SUITABLE FOR ALL AGES. General Ticket Sales Monday, October 15
The 25th Annual Putnam County Spelling Bee
January 16-February 2, 2019
Conceived by Rebecca Feldman
Based on a Book by Rachel Sheinkin
Music & Lyrics by William Finn
Directed by Pat Rundell
"May I please have the definition of that word?"
A clever, charming, and sweet-natured musical comedy about six quirky tweens competing in the spelling bee of a lifetime. While candidly disclosing hilarious and touching stories from their home lives, they spell their way through a series of (potentially made-up) words, hoping never to hear the soul-crushing ding of the bell that signals a mistake. In the end, the youth learn that winning isn't everything, and that losing doesn't necessarily make you a loser.
SUITABLE FOR ALL AGES. General Ticket Sales Monday, December 3
That Elusive Spark
February 27-March 16, 2019
Written by Janet Munsil
Directed by Mercedes Bátiz-Benét
"It is a serious matter for a man to be acquainted with himself."
Phineas Gage was a construction foreman who miraculously survived an iron rod piercing his brain in 1848 (true story). Present-day neuropsychologist Helen Harlow, a direct descendant of the doctor who treated Phineas' injury, expertly understands the human brain, yet her own remains a mystery. Their stories entwine, showing how far we have advanced scientifically, and yet how little we still comprehend of how our own minds work.
SUITABLE FOR ALL AGES. General Ticket Sales Monday, February 4
Quartet
April 17-May 4, 2019
A Comedy by Ronald Harwood
Directed by Jon Scheer
"What harm is there in pretending to recapture what we once were..?"
A charming, funny and poignant tale of four ageing opera singers. Cecily, Reggie and Wilfred reside in a magnificent retirement home for musicians. The rumour circling the halls is that the home is soon to play host to a new resident, a star. Jean arrives and old rivalries resurface, secrets are revealed and chaos unfolds, but in true theatrical tradition… the show must go on! A celebration of the sunset years and the hilarity of growing old disgracefully.
SUITABLE FOR ALL AGES. General Ticket Sales Monday, March 18
Noises Off
June 5-22, 2019
A Comedy by Michael Frayn
Directed by Don Keith
"It's not midnight yet. We don't open till tomorrow."
The Opening Night performance of the farce Nothing On is just hours away and, as the manic menagerie of a cast stumbles through their final dress rehearsal, things couldn't be going any worse. With lines forgotten, love triangles unraveling and sardines flying everywhere, it's complete pandemonium… and we haven't even reached intermission! Can the cast pull their act together on the stage even if they can't behind the scenes?
SUITABLE FOR ALL AGES. General Ticket Sales Monday, May 6