ArtSmarts Monday Magazine October 2016. Spooky theatre among October events. This content was first published in the October 2016 print edition of Monday Magazine and I have been given permission to re-publish it online.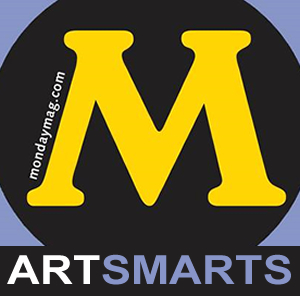 For theatre enthusiast in Victoria, October represents one of the year's busiest months with chances to experience shows in every genre in a wide variety of venues—including a scene shop and a federal institution. Whether your tastes run to drama, spooky, re-imagined fairy tales, and fantasy or murder mystery— there is something for you.
Julia Mackey celebrates 10 years since the creation of Jake's Gift, her one-woman show about a Canadian WW2 veteran who reluctantly returns to Juno Beach for the 60th Anniversary of D-Day to find the grave of the brother who never came home..  October 6th at the new Teechamitsa Theatre at Royal Bay Secondary School. Tickets through the school at 250.474.2377.
William Head on Stage (WHoS) celebrates their 35th season with Sleeping Giants, a devised piece based on folk and fairy tales about sleep, written by the inmates in collaboration with SNAFU. October 7-November 5 at William Head Institution. Tickets must be purchased in advance. 19+ only. Ticketrocket.co
As part of Intrepid Theatre's YOU Show, Vino Buono Productions present What a Nice Place to Be, a surrealist satire written by 5th year playwriting major Dominik Buconjic. Imagine Friends meets Twin Peaks.  October 9/11/12. Tickets at the door.
The UVic Phoenix Theatre celebrates 50 years! An Anniversary Alumni Special October 11-29 highlights the talents of Charles Ross (One-Man Lord of the Rings, Star Wars Trilogy, Dark Knight: A Batman Parody), TJ Dawe (Slipknot) and Shannan Calcutt (Burnt Tongue). Check finearts.uvic.ca/theatre/phoenix/ for specific show dates.
St Luke's Players begins their 68th season with a murder mystery, adapted from a story by Agatha Christie—A Murder is Announced, October 12-23.  Stlukes.org
Theatre SKAM's Shop Talk is a unique theatrical experience that transports the audience into the blue collar male life-style and explores sexual politics in the work place. The performance takes place in a functioning scene shop, and the cast assembles a full theatrical set as the show unfolds.  October 12-23. skam.ca
It's the month for murder mysteries as the Peninsula Players present Tainted Justice based on a 1914 book about a real murder real murder mystery on Cape Breton Island, Nova Scotia. October 14-16 at Berwick Royal Oak and October 20-23 at the Charlie White Theatre. thepeninsulaplayers.ca
Target Theatre celebrates 30 years of bringing seniors' theatre to Victoria audiences with Are You of Age? an evening of age-related drama and a fundraiser October 15th  at the Intrepid Theatre Club. Ticketrocket.co
Ballet Étoile presents PINEAPPLE POL a Gilbert and Sullivan-inspired comic ballet October 15th and 16th 2016 at the Dave Dunnet Community Theatre at Oak Bay High School.
Sin City (the Live Improvised Serial) returns for another season and is set once again in Las Vegas. Join the cast for Movies and Cocktails October 18th.   The season begins October 25th.  broadtheatrics.ca
The Dark Night returns to Craigdarroch Castle! Launch Pad Theatre Company brings back their sold out Halloween Spectacular, Arkenham Abbey, a Batmanesque thriller that combines the best elements from the most Gothic Batman comics and spins them into a live horror-comedy. October 19-31. launchpadtheatre.com
The students of the Canadian College of Performing Arts collaborative theatrical collective Company C present Thornton Wilder's enduring classic Our Town, October 20-23, 2016. Ccpacanada.com
Masters of improv meet the master of gothic horror in An Improvised Edgar Allen Poe by Paper Street Theatre October 26-29th at the Intrepid Theatre Club. Paperstreettheatre.ca
Now in their third season, Bema Productions is hosting a Dinner Theatre featuring Israeli cuisine and a staged reading of The Cemetery Club, Oct 29th.  ticketrocket.co
Langham Court Theatre's Readers' Theatre is staging Spooky Shakespeare, Act Two, October 29th with readings from famous plays including Macbeth, Hamlet, Midsummer Night's Dream and others. By donation. Langhamtheatre.ca