Small Town Hoser Spic at Intrepid Theatre Uno Fest 2017. Interview with Pedro Chamale and Derek Chan.
Derek Chan and Pedro Chamale are rice and beans theatre.
What sparked the creation of this show? Is this Pedro's first one person show?
Derek:
I'll leave the spark of creation in regards to this specific piece to Pedro, but in general, a lot of our work comes from bouncing ideas back and forth between the two of us. Even outside of the rehearsal hall, every time we chat about theatre, it inevitably turns into an impromptu jam session, and I love it.
When one of us is writing or devising a show, the other acts as the rice & beans in-house dramaturg, providing critical feedback. Over the years, we have become such close friends and trusted artistic partners, we have developed a telepathic artistic shorthand. Sometimes I can make as much as a grunt, and Pedro will almost always know exactly what I mean. We can get deep into the process real quick, without having to renegotiate a common vocabulary each time. What a blessing that is.
While we both have our distinct aesthetics as individuals, because we have such an intuitive understanding of each other's lives and immense respect for each other's artistic passion, whenever we put on our collaboration hats, it is almost second nature for us to arrive at that groove where our minds meet as one and ideas just flow. We keep each other inspired and grounded at the same time. There has always been an unspoken agreement between us that we will be brutally honest with each other's work, and it is always- always- out of love, and about the respect for the work itself. That's how most rice & beans shows come to be. What more can you ask for in an artistic partner, hey?
Of course, with all that being said, we wouldn't have got to where we are without putting in years of effort to get through dry spells and rough patches, and more importantly, all the mentors who have been watching out for us since the minute we graduated from SFU.
Right- yes, it is Pedro's first one person show!
Pedro:
Small Town Hoser Spic grew out of another show I wrote which we produced last year Mis Papás. In the early stage of that show I was telling stories of my parents with myself a main character and my folks represented with puppets. After a heated talk with Derek he asked me the best question a dramaturge ever asked me about that show "Is this show about you or your parents?" Derek's words struck me like lighting and I quickly pulled myself out of that show and saw that it was separate show all together. I kept promising to Derek that I had a script done when we were entering rehearsals for the 2015 Fringe (I didn't) and in that rehearsal process it was a lot of Derek pushing me to write and tell my stories with truth and trust that I could tell them with charm. To put the show into a one person form was also like a self-writing challenge. I had not particularly liked one-person shows in the past, nor had I written one so I challenged myself to do so. Now I really enjoy the form and have a lot of respect for those who practice it.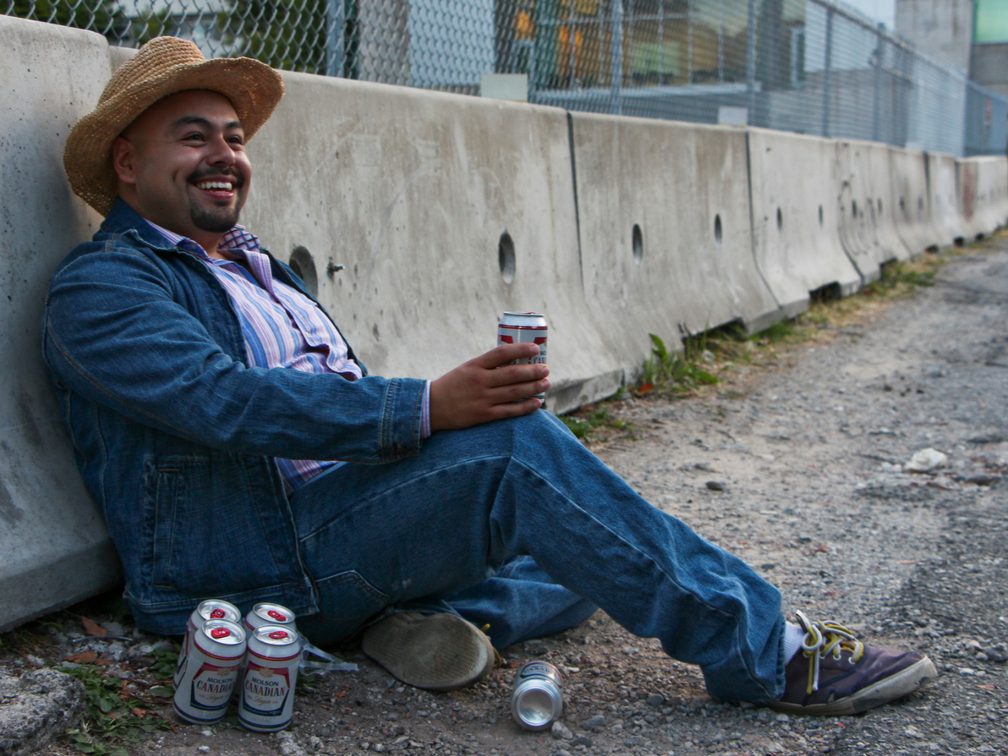 Small Town Hoser Spic debuted at the 2015 Vancouver Fringe.  How has it changed since the debut?
Derek:
Oooh great question! From my point of view, the 2015 version was relevant to the Pedro then, and the Canada we existed in. And now, Pedro has had two years to reflect on the questions he is asking with the piece. For the most part, the essence of Small Town Hoser Spic remains the same, because it is the same show, in a way. But this time around, we are hearing 2017 Pedro reflecting on the same pertinent and relevant ideas of the original version. It feels like he is approaching the piece from an even more vulnerable angle that only comes with maturity, but without losing his amazing sense of charm and humour. It is still the same fun-loving Pedro that can chuck a beer faster than anybody I have ever seen, but with an extra layer of intellectual and emotional complexity that only comes with age.
Can you comment on the design aspect of your show, its esthetic?
Derek:

This show used to have a slightly more elaborate set in 2015. But this time, we're trying something different. We have stripped away what was unnecessary, and reduced it to the one centrepiece: a big case of beer and a pile of empty cans. For the most part, we want to let the story and the performer shine through. While Pedro and I have big dreams about incorporating more complex technical elements into future iterations, our bare-bones approach to this production is a way to cement a setting that is honest and vulnerable: It's all fun and games, but there is nowhere to hide when the truth reveals itself.
Pedro:

Derek's right. It's a bare bones set. With nothing to hide me from the audience and a pile of beer cans building as I make my way through the show, every choice I make or don't make has a large impact on me and my relationship between the audience.
Also aesthetically rice & beans always has some sort of physical obstacle that our performers must overcome. In Mis Papás it was boxing and skipping rope, in Loomings it was a wild frenetic choreography of 6 people in a tight space. For Small Town, I am drinking real beer. I am getting progressively more drunk as the show goes on, part of the beauty of the show is that the audience is watching me navigate the storytelling while my inhibitions slowly melt away. I don't drink the beers to play a drunk, it is not method acting. It is a physical parameter for the show to happen.
What do you hope to inspire in your audience?
Derek:
In the context of this particular show, all I want is that, at the end of the day, we can all have an honest chat in the lobby over a drink about what it means to be Canadian.
Well, that's all we ever wanted- our shows are just the beginning. We don't have any answers. We just want to get the conversation going.
Pedro:
Discussion is what I want the audience to walk away with. I don't want to give the audience an answer or a feeling that we have wrapped all the loose ends up in a nice package. I hope that the question of what it means to be Canadian TODAY will stay with folks and not just the thought of "Well that was a nice show."
Who will be interested as a potential audience member?  What would you say to entice someone to come?
Derek:
Well, to start: guess how quickly Pedro can chug a beer in front of a full house? Yup- he can do it in even less time. Don't believe it? Oh, you will have the opportunity to challenge his record during the show. And did I mention there will be a sampling of his mum's out-of-the-world guacamole recipe? Trust me, it's that good- all love, no frills.
But really, Small Town Hoser Spic is actually a story that a lot of us here can resonate with. Whatever our cultural background is, we have always come across instances when we couldn't quite tell why we feel like we don't quite belong. Small Town Hoser Spic is not just a story for the so-called diverse audience. It is a place for everybody who cares about the Canadian identity to come together as human beings, to ponder on our rocky journey to arrive at a Canada that we can all believe in.
What's next?
Derek:
Last Train In with Adam Grant Warren at the rEvolver Theatre Festival in Vancouver. Both Pedro and I are also neck-deep in our next projects.
Pedro:
Immediately is the rEvolver Festival with Last Train In which is also here at UNOFest. Long term we have two new shows in development. It has a been a while since Derek and I have begun creating brand new shows at the same time so we are looking to find a new way of supporting both creation process simultaneously.  They are called (for now) Thirty Happy Ones and There Are No Gods Here. These projects are just in the beginning stages and we will be taking the summer to talk, share writings and furiously spill our madness onto the page.
Significant accolades or awards?
Derek:
rice & beans theatre was company-in-residence at Playwrights Theatre Centre in 2013 and 2014, developing Loomings, and Mis Papás respectively. We also were a part of a series of creation residencies with Boca del Lupo at the Fishbowl on Granville Island in Vancouver. In November 2017, rice & beans will be teaming up with PTC again in a brand new creation program, Playdates, to develop two new pieces.
In September 2015, I won the Vancouver Fringe New Play Prize. I was the Artistic Director Apprentice at Playwrights Theatre Centre during their 2015/16 season and received a Glassco Translation Residency in Tadoussac, Quebec hosted by Playwrights' Workshop Montreal in June 2016. Currently I'm the Associate Artistic Producer of Vancouver Asian Canadian Theatre, and will continue to serve VACT as their Resident Dramaturg for their next season.
Pedro:
For me not really. Funny that I have yet to receive an award. I have been working as a jack of all trades around the Vancouver theatre scene. Memorable experiences have been: being the Artistic Resident with Neworld Theatre, being in the acting company at the Banff Playwright's Colony, working the office for Rumble Theatre, the TD for The Only Animal and Upintheair Theatre for their show The City and the City at PUSH this year and now touring with Carmen Aguirre and Nightswimming with Broken Tailbone(also at UNO) as DJ Don Pedro.
Is there anything I haven't asked you that it would be important to know?  Can you comment perhaps on the genesis of rice & beans theatre? Did you meet at SFU?
Derek:
We did meet at SFU, and am I glad that we did. Pedro started a year before me. I still remember the first show we worked on together. It was a student-director project… This is my version of the story anyway:
I auditioned like a good first-year theatre student would, but did not expect to get a role. I still had a pretty thick accent back then, having spent most of my life in Hong Kong, so I get it. No grudges. But the day after the auditions, on my way from school to where I was staying, I got a call on the bus home- Somebody dropped out of the show and my director, Caroline Sniatynski was ready to give me a chance. It was just my luck that all my character had to do was a complicated movement score, assassinate an anti-revolutionary, and he had zero lines. And the character I had to kill? Pedro- a mile away. So, on the first day of rehearsal, Caroline sent us to a smaller studio next door and we were given the task of figuring out the elaborate kill-sequence. And without much verbal negotiation, Pedro and I decided that we could trust each other. Before we knew it, we were slinging each other across the studio like professional wrestlers…
That's when I thought, mid-air, (in Cantonese),Yup, I can trust this guy.
After that, throughout our university careers, we worked on many shows together, and have been in and out of each other's lives as much as theatre schoolmates would. Our comradery though, was cemented in our first ever tour together to Toronto with the SFU production of
Harmonia written by Ned Dickens, as a part of the City of Wine Festival by Nightswimming. This was when we hung out all the time and began chatting about our theatre dreams.
When we got back to Vancouver from Toronto, we found this 5-bedroom house in Burnaby with a few of our theatre friends- what an invincible time it was. That house was home to the beginning and conclusion of more independent theatre projects in Vancouver between 2009 and 2015 than I could remember. What a time it was indeed.
Well, that house was also where rice & beans theatre began:
It was 2010. Pedro and I just graduated together, somehow. I had been brewing up my first post-secondary project for more than a year. It was a typical rainy Vancouver night, and I was stuck at the kitchen table figuring out the production details of making my first play a reality. I yelled down the hallway of that 5-bedroom house in Burnaby,

– hey, Pedro, I can't just write  'Derek Chan wants your grant money.' Gimme a company name!
Two seconds later, from the other end of the hall,
– What about rice & beans theatre?
– What?
– Rice. And beans. Like, you are the rice, and I am the beans!
I could have told you all about how rice and beans make a complete protein, and how theatre is the food for our souls, and how rice is the food of my people, and beans of Pedro's. But that came after. It wasn't until about 3 more years later when we fully realise what it means to lead an independent company, and the social and communal responsibilities that come with it. I mean, as young, idealistic art-school graduates, we had an ideal of what we wanted to do, but now we are finally begin to understand the whole of it. Now we are beginning to realise that the name rice & beans means so much more than the dreams of two fearless, aspiring theatre artists.
With all that said, I wouldn't have done it any other way, with anybody else.
Pedro:
The more times I go over that genesis story the more it makes me laugh that we even exist today.
I cannot add more to that except to say that it is a unique bond that Derek and I share. When we first met we were not friends for a good year or more. To think that we would enter into the professional world as artistic partners would have been a thought far from my mind but for whatever reason I could not help but want to make art with Derek.
There is no where I feel more at home than in a studio with Derek, wildly creating without abandon.
Pedro grew up as a person of Hispanic descent in a small-town in Northern BC. As the first-generation son of an immigrant, his father told him to abandon his Guatemalan heritage, his mother refused to learn English, and he grew up with hockey and beer – what could be more Canadian?

Costume Design by christopher david gauthier, Sound Design by James Coomber, Lighting Design by Jaylene Pratt.
Small Town Hoser Spic rice and beans theatre (Vancouver)
created by Pedro Chamale in collaboration with Derek Chan
performed by Pedro Chamale
May 23 at 7pm  May 24 at 6:30pm
comedy/drama 60 minutes
adult themes, coarse language

Intrepid Theatre Club #2-1609 Blanshard Street (at Fisgard)
Tickets $18 via Ticket Rocket online. Tickets can also be purchased over the phone at 1-855-842-7575, or in person at 101-804 Broughton Street
May 23 is Pay What You Can