Me, Myself and Eye by Stephanie Morin Robert. Uno Fest May 2015.
Stéphanie Morin-Robert stands centre stage and delivers her secrets and past in conspiratorial fashion—drawing the audience into her seven and eight year old self. Life is about to change, from the comfort and routine of a town where everyone knows her story, to the terror of integrating into a new school and surroundings. On the family front, conflict reigns, between her parents, and with her older sister. She finds comfort in her cat Simba, tucking away under the bed in an effort to escape.
Morin-Robert matter-of-factly introduces her glass eye which she's had since the age of two when she was diagnosed with retinoblastoma.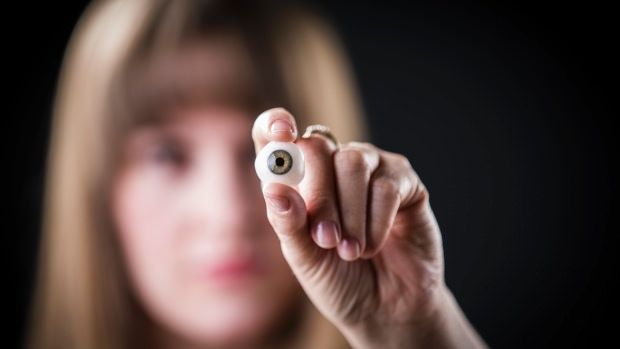 Her earliest memories of CT scans are rendered against a blue screen, in dance. In between story snippets, Morin-Robert stands in front of a video camera, and projects images of her face, and eye.
The stories are captivating, with a fine sense of timing and suspense—meeting a young boy who has a glass eye too, playing pranks, gaining acceptance as the ultimate dodge ball player, running through the house with a kite. Me, Myself and Eye combines sweet, nostalgic and delicate earnestness with child-like humour—the type that finds pleasure in grossing out the adults—in an authentic exploration of coming of age with a disability.
At the same time, Morin-Robert provokes our natural curiosity and answers the un-asked questions—what does it feel like to have a glass eye; is vision and depth perception changed ("don't throw things to me—I can't catch); how is a glass eye made; can you wear someone else's glass eye—and in so doing, normalizes the experience. There is great power in taking control of personal narrative. From the day she marched to her new school in dark glasses ("the fluorescent lights hurt my eyes") Stephanie Morin-Robert has been doing just that.
Me, Myself & Eye
For Body and Light (Montreal)
Created and performed by Stéphanie Morin-Robert
45 minutes – drama, dance, multi-disciplinary
Tickets $18 at Ticket Rocket online, in person (#2-1609 Fisgard at Blanshard) and by phone 250 590 6291

A young woman with a glass eye and a very singular outlook on life struggles to find acceptance. Both hilarious and poignant, Morin-Robert recounts her true-life adventures through sharp storytelling, dance and video.

'…so good it revives one's faith in the possibility of theatre and all of its magic.' -Rover Arts
INTREPID THEATRE CLUB
Thur May 21, 8:30* (Pay What You Can)
Fri May 22, 8:15
Sat May 23, 9:15
I was offered a complimentary ticket to Me Myself and Eye for the purpose of writing a review.