The Lion, the Bitch and the Wardrobe by Sharon Mahoney. Uno Fest May 2015.  This is a review of a previous production I saw at the Victoria Fringe Festival in August 2014.
Sharon Mahoney knows audiences, having played to hundreds of thousands world-wide (from London to Melbourne and across North America) as the "Canadian" busker, even appearing at the famed Glastonbury Festival.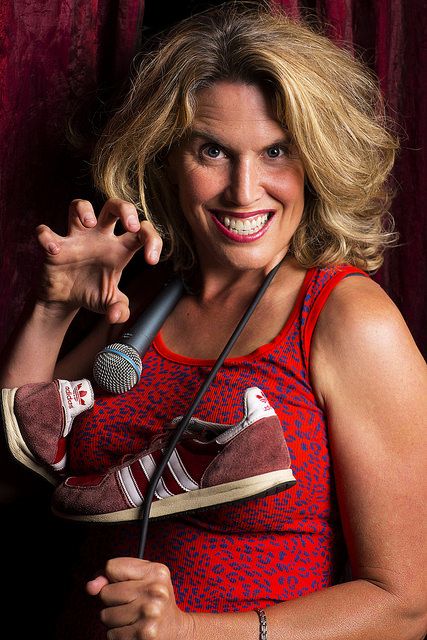 You would think, after having tamed rowdy crowds bent on interrupting, heckling and slut-shaming, that confronting an appreciative group of Fringe fans would be a veritable cake-walk.  Not so, for after more than 15 years touring, Mahoney found herself before a most terrifying nemesis—crippling anxiety she dubs "the lion".
What's an inveterate performer—on the edge of 40—to do to conquer this fear but write a Fringe show.  Assisted by director Trent Baumann (aka The Birdmann) and Atomic Vaudeville's Brit Small, Mahoney bares all.
With lithe grace, power and ferocious energy, she prowls the stage like her titular namesake and soon has us eating out of her hand.  "Cheer", she commands, and we obey. Anecdotes from her travelling show have us in stitches.  She relates how, slowly, with the assistance of health care professionals and cognitive behavioural therapy she got the lion under control—but it's not without a vicious whip-cracking puppet battle.
A cameo episode featuring a motivational speaker is particularly satirical and biting.
Fear conquered, and once again comfortable in her skin, Sharon Mahoney is a joy to watch. You'll cheer!
The Lion, the Bitch and the Wardrobe
Created and performed by Sharon Mahoney (Victoria)
60 minutes – comedy, stand-up
Tickets $20 at Ticket Rocket online, in person (#2-1609 Fisgard at Blanshard) or by phone 250 590 0691
METRO STUDIO
Fri May 22, 8:15 pm*
A globally acclaimed comedienne, actress and street performer from Victoria, Mahoney comes out roaring in this hilarious show. Mixing ballsy stand-up, anxiety-ridden hand puppets and laugh-out-loud character comedy, this is an epic tale of one woman's fight against the lions within!

'Engaging, humble and at times, unapologetically feminist. A must-see!' – The Western Australian

'Mahoney is a joy to watch. You'll cheer.' -Janis La Couvée