Tackling Ovid's epic poem Metamorphoses, in the famed Tony award-winning Zimmerman adaptation, is an ambitious undertaking for a group of high school students.
Anger, lust, revenge, guilt, greed, gluttony, eternal love, transformation – all the themes of human existence summed up in the classic poems by Ovid, re-imagined for the stage by Mary Zimmerman, and brought to life by the students of Kate Rubin's Advanced Performance Group.
I was fortunate to see the last Victoria production (by UVic students at the Phoenix Theatre) in 2005, and wondered  how Rubin and designer Carole Klemm were going to bring one of the central elements, a giant pool that occupies most of the space, into the much smaller Intrepid Theatre Club.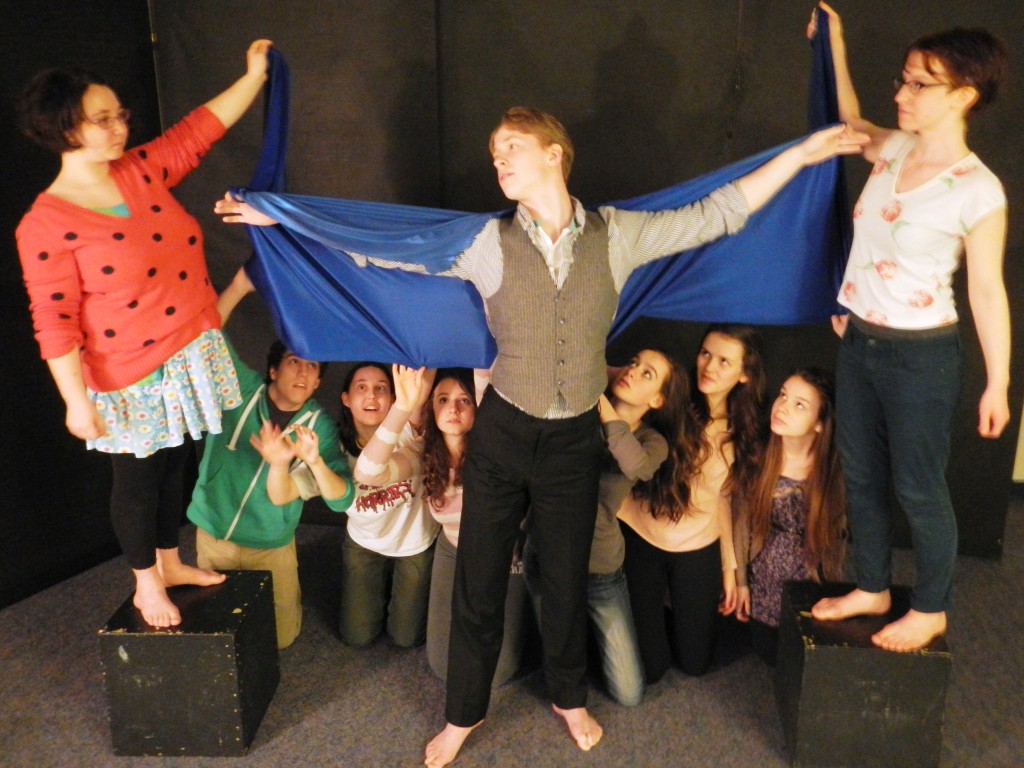 Metamorphoses cast. Photo: John Richardson
What an artistic triumph! Simple, elegant, lyrical, touching, and interpreted with exquisite attention to movement and song, Metamorphoses will leave you full of wonder and hope for the eternal nature of human-kind on this earth.  Truly, not much has changed in 2000 years.
A business-woman destroys her family in a quest for more wealth; true love triumphs; good wins over evil; kindness has an eternal reward; the love of a father or mother matters.
Captivated by the story-telling devices, the audience is carried along from one mini-adventure to another.  The costumes remind me of rummaging in Mr Dressup's Tickle Trunk; classic Greek and Roman garb mixes with bathing suits, crinolines, outlandish headgear and gold tuxedoes to evoke a level of playfulness that contrasts with themes of death and the after-life.
Rubin is so adept at providing each of her young actors with moments to shine that it would be a shame to single out individuals. The cast is comprised of members who have been part of Rubin's studio, and the Advanced Performance Group, for a number of years, as well as newcomers.  Their work together is strong, lucid and beautiful.  I sat entranced from beginning to end. It's a joy to see myth re-interpreted in such an open fashion, to see actors capable of taking the very notion of the un-fathomable and render it clear and true for our great pleasure.
Well respected local singer-songwriter Katrina Kadoski performed original music throughout, adding another layer of beauty.
Congratulations to all involved.
For more information on Kate Rubin's studio and classes (for children and adults) http://katerubintheatre.com/
Metamorphoses continues through May 12th at the Intrepid Theatre Club
# 2-1609 Blanshard Street (at Fisgard)
(suitable for ages 11 up)
Tickets at the door:  Adults: $12. Students and Seniors: $9.
For advance ticket sales, or to reserve seats for a school group, please call 250-370-9800 or email kellygreenandgold@gmail.com. Group rate for 10 or more; School groups – ticket price is $8 per ticket, and teachers and assistants receive a free ticket.
Thursday, May 9 at 12:30 pm (matinee) and 8 pm
Friday, May 10 at 12:30 pm (matinee) and 8 pm
Saturday, May 11 at 8 pm
Sunday, May 12 at 2 pm
Cast:
Cole Bodin
Emily Case
Lilli Gaston
Ariel Glidden
Katrina Kadoski
Shayna Linds
Sara Merner
Fiona Juniper
Lauren Sinclair
Corin Wrigley
Production:
Director: Kate Rubin
Stage Manager: Hana Bashford
Technician: Holly Vivian
Lighting Design: Kate Rubin, Holly Vivian
Set Design: Carol Klemm
Music & Sound: Katrina Kadoski, Cast, Kate Rubin, Brian Linds
Costume Design: Hana Bashford, Kate Rubin