A Midsummer Night's Dream at UVic Phoenix Theatre. A review.
Boisterous, rambunctious and full of heart, the current UVic Phoenix Theatre production of A Midsummer Night's Dream (November 2 -22, 2014) is a treat.  Director Fran Gebhardt has set the play in 1970s New York City, imagining factions of hippies, punks and preppies, complete with an extensive collection of music of the time (Kieran MacNaughton sound design)
The Duke—Theseus (Markus Spodzieja)—becomes Hermia's father, and Egeus (Alannah Bloch) her mother, the Duke's ex-wife.  Tatiana (Arielle Permack) rules a coven of hippies, and Oberon (Aidan Correia) is lord of a gang of punks. The young lovers —Hermia (Laura-Jane Tresidder), Lysander (Jenson Kerr), Helena (Sarah Cashin) and Demetrius (Logan Mitev) —are tennis-playing upper-class denizens of Park Avenue while the mechanicals (responsible for the play within the play) are construction workers, renovating the Duke's estate in advance of his marriage to Hippolyta (Zoë Wessler).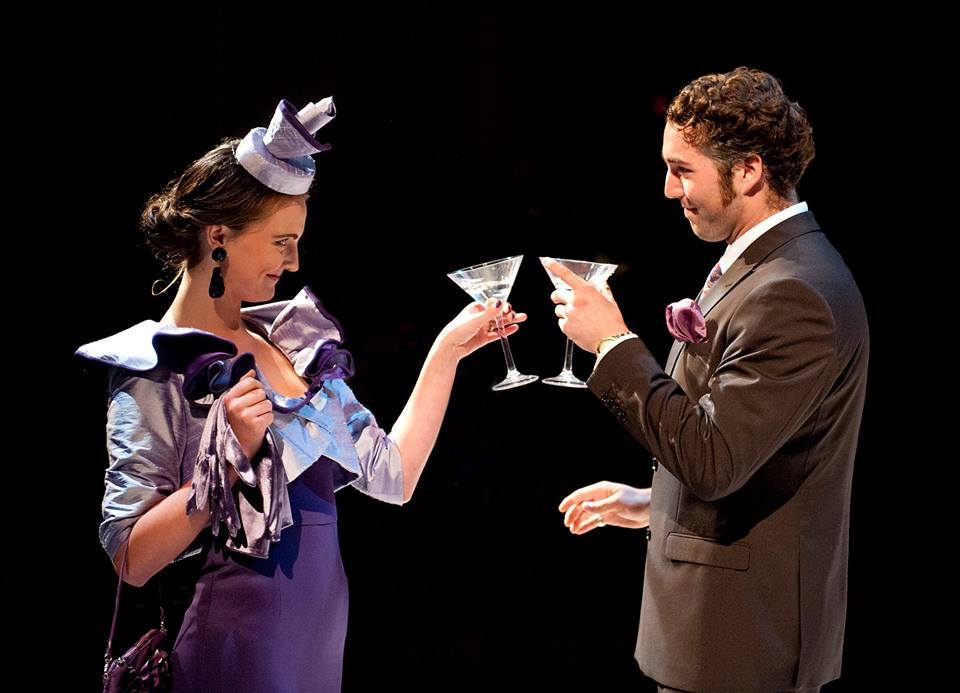 Hippolyta (Zoë Wessler) and Theseus (Markus Spodzieja). Photo: David Lowes Art Studio 21
Opening to a bare stage (set design Allan Stichbury) strewn in drop cloths and inhabited by one sparse scaffold—as construction noises bleat in the background—the audience could be excused for imagining a post-modern interpretation of the classic.
Enter the Duke's renovation crew—Peter Quince (Francis Melling), Flute the pipe fitter (Colin Doig), Snout the welder (Tyler Fowler), Starveling the painter (Nicholas Guerreiro) and Snug the joiner (Nicholas Yee)—Gebhardt has inverted scenes one and two of the original.  Rather than work, the men banter about the play they will present at the Duke's nuptials. Sean Dyer is brash and sure of himself as Nick Bottom, the Duke's driver, convinced he can take on all the roles.
The action begins to heat up once the Duke and his fiancée appear and the other major characters are introduced.  In rebellion, young lovers Lysander and Hermia steal into the vast and dangerous expanse of Central Park, followed closely by Dermetrius and Helena.
Here the full effect of Stichbury's design is revealed—corrugated sheet metal walls covered in graffiti roll in and the drop cloths are slowly removed to expose the paths and landscaping of the park.  Overhead, a delicate silhouette (assistant set designer Cearmarie Noreen Sajolan) evokes the New York skyline.
Costume designer Dallas Ashby, in her first major project, excels at creating distinctive styles for each group within this vast tale—of particular note are Hippolyta's exquisite gowns and hats, and the costumes of the mechanicals as characters in Piramus and Thisbe (pay close attention to little details—Flute the pipe fitter as Thisbe has a gown made of pipe) as well as Cobweb's (Bethany Neemskerk) dress
Athletic and agile Levi Schneider as the mischievous Puck embodies the notion of putting a "girdle round about the earth in forty minutes." Schneider is also to be commended for his sacrifices for the sake of art—his magnificent pink Mohawk is a sight to behold.
Gebhardt's vision brings this Midsummer Night's Dream much closer to the audience while retaining the sense of magic. Setting the play in a period most people at least know of makes it believable and earthy, particularly in the battles between Titania and Oberon.
Scenes from the punks' life on the edges hint at menace and danger— Spodzieja and Bloch appear as two homeless people they torment in a brief and effective cameo that is the polar opposite of their upper-class roles (Theseus and Egeus).
Musical highlights include Titania's entourage singing her to sleep with dulcet tones and harmonies —Stefanie Mudry (Moth) accompanying on guitar, Chloé Dufort (Peaseblossom), Bethany Heemskerk (Cobweb), Amanda Millar (Mustardseed), Fahad Al Suwaidi (Indian Prince)—and the grand finale.
There is a great physicality (movement consultant Jacques Lemay) evident throughout—Oberon launches himself in death defying fashion from on high; the punks leap and somersault with abandon; the fairies dance and sway languorously; the young lovers—in full spat of misplaced passion provoke laughter as they spar with one another; the mechanicals ham it up for Piramus and Thisbe —with the crowning moments being Bottom (Sean Dyer) transformed into ass revelling in Titania's love.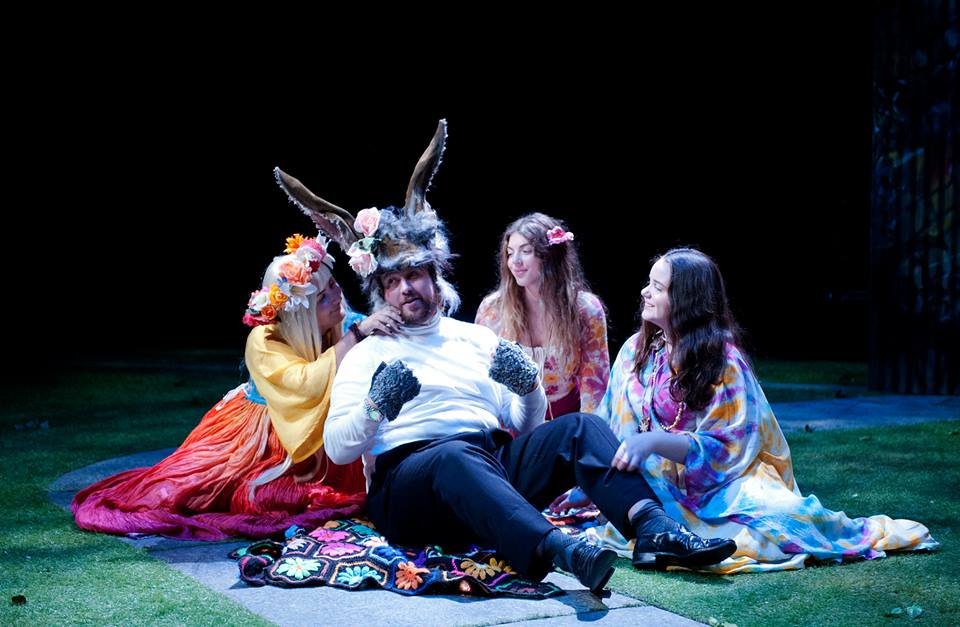 Titania (Arielle Permack), Bottom (Sean Dyer), Peaseblossom (Chloé Dufort), Mustardseed (Amanda Millar). Photo: David Lowes Art Studio 21
Lighting designers Clare Mathison and Imogen Wilson excel at creating a sense of mystery and chaos during the magical night in the park where worlds collide.
As A Midsummer Night's Dream draws to a close with the weddings of all the lovers (swoon over the magnificent bridal attire) the final musical celebration is a swirl of sound, light and glorious costuming involving an iconic 1970s tune that had the audience clapping and singing along. I'm not going to reveal the song in question—it would spoil the surprise for you.
Once again the University of Victoria theatre department spares no effort in bringing an extraordinary spectacle to the stage. Congratulations to everyone involved. If you are looking for an opportunity to introduce children and teens to the works of the Bard—you won't go wrong with this production.
A Midsummer Night's Dream, by William Shakespeare, directed by Fran Gebhardt
University of Victoria Phoenix Theatre
November 4-22, 2014
Tickets:  Adult: $24, Senior: $20, Student/Child: $16
Weekend Evenings: $24 (All seats on Friday and Saturday evenings)
UVic Alumni: Pay student prices when you attend on Saturday matinee
Previews: $7
Season Subscription: $36 for 3 plays. Details & order forms at www.phoenixtheatres.ca

Director Fran Gebhard
Set Designer Allan Stichbury
Costume Designer Dallas Ashby
Lighting Designers Clare Mathison & Imogen Wilson
Sound Designer Kieran MacNaughton
Stage Manager Claire Friedrich
Assistant Directors Alan Brodie & Rachel Millar
Assistant Set Designer Cearamarie Noreen Sajolan
Movement Consultant Jacques Lemay

Featuring (in alphabetical order):
Fahad Al Suwaidi Indian Prince
Alannah Bloch Egeus
Sarah Cashin Helena
Aidan Correia Oberon
Chloé Dufort Peaseblossom
Colin Doig Flute the Pipe Fitter
Sean Dyer Nick Bottom
Tyler Fowler Snout the Welder
Nicholas Guerreiro Starveling the Painter
Brett Hay Thorn
Bethany Heemskerk Cobweb
Jenson Kerr Lysander
Francis Melling Peter Quince
Amanda Millar Mustardseed
Logan Mitev Demetrius
Stefanie Mudry Moth
Arielle Permack Titania
Levi Schneider Puck
Markus Spodzieja Theseus
Laura-Jane Tresidder Hermia
Nikola Whitney-Griffiths Thistle
Matthew Wilkerson Spyder
Nicholas Yee Snug the Joiner
Zoë Wessler Hippolyta
Further resources:
http://www.shakespeare-online.com/plots/midsps.html
http://www.sparknotes.com/shakespeare/msnd/
Disclaimer: I was offered complimentary tickets to attend this production.