Theatre Inconnu is Victoria's longest surviving alternative theatre company, established in 1978 by Katya Kern-Aho and Clayton Jevne.  I've been a fan since 2005 when they produced The Ecstasy of Rita Joe in the round using masks. The play was almost 40 years old but this hard-hitting treatment made is as relevant to today's audience as it was in 1967.
Why had it taken me so long to appreciate their offerings?  During the 1980s and 1990s I was raising a family and had little time for theatre. This changed as my children graduated high school and moved out.
Since that day in 2005, I have rarely missed a show in their season.  Theatre Inconnu consistently produces thought-provoking, even controversial theatre, often  North American or Canadian premières.  Such is the case with Moscow Stations, part of the 2010-2011 season.
Moscow Stations was originally a psuedo-autobiographical prose poem "Moscow to Petushki" by the Russian writer and satirist Venedict Yerofeev. Written in 1970, it is a highly critical allegory of the régime of the time. Published first in Israel, then Paris, and only after petrastroika, in Russia, it was translated and adapted for the stage by Stephen Mulrine.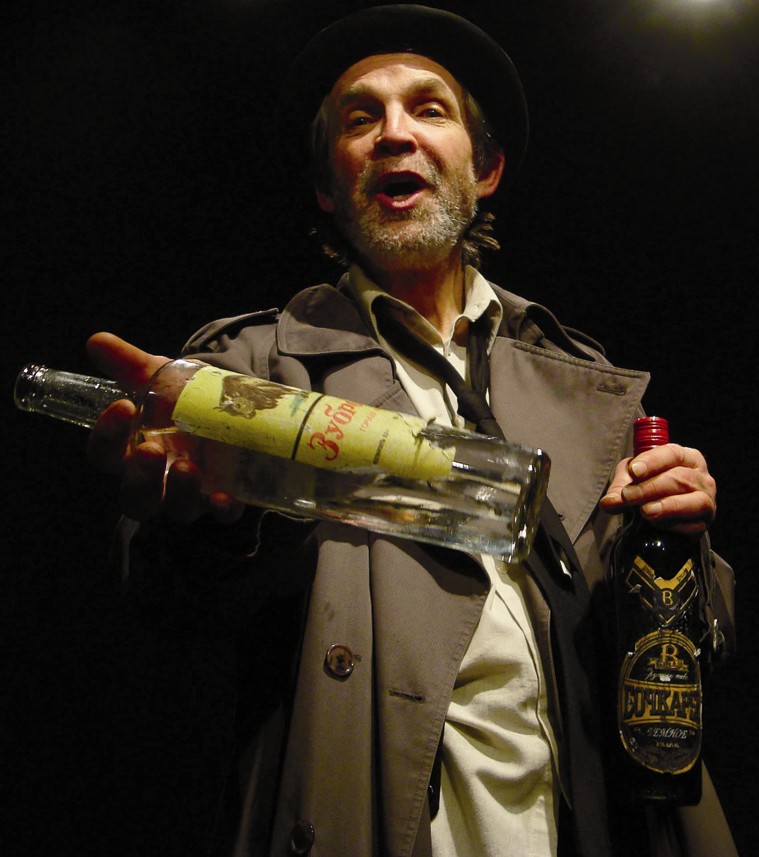 photo: Graham McDonald, used with permission
Following the protagonist, also named Yerofeev or Venya, as he drunkenly and heroically struggles to complete the 125 mile journey from Moscow to Petushki, all the while musing philosophically on the dissolution of his life (and Russian society), Moscow Stations demands an incredible virtuosity from its solo performer.  Clayton Jevne has an fine sense of dramatic and comedic timing, and turns the tragedy of Venya's life into an engaging 100 minutes on stage.
After a highly successful and critically acclaimed run in Victoria, Clayton and director Graham McDonald are taking Moscow Stations to New York as part of the 2nd annual United Solo Theatre Festival.
In order to fund the trip, several performances are scheduled Oct 26-30th at Little Fernwood Hall (1923 Fernwood Rd) and November 5th at Merlin's Sun Home Theatre (1983 Fairfield Rd).
You won't to miss the opportunity to experience this solo tour de force!
Tickets:
Shows at Little Fernwood Hall – $10 in advance (250 360 0234) or $14 at the door  October 26,27, 28 and 30th 8pm
Show at Merlin's Sun Theatre (includes caviar and cocktail reception) – $30 in advance (250 598 7488) November 5th 8pm